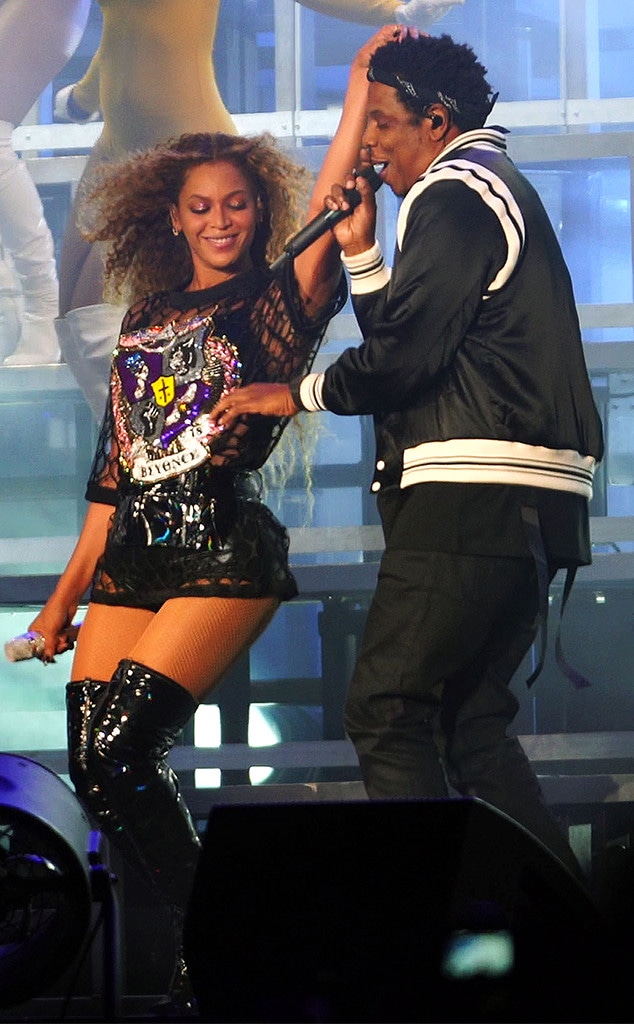 BeyZ/Splash News
If Beyoncé can forgive Jay-Z, why can't the Beyhive? 
Her self-titled fanbase and the rapper have a history of sorts, sparked by Beyoncé's many lyrics (2006's "Resentment" and 2003's "Mine" alluded to their relationship turmoil) and made all the more contentious when Solange Knowles physically attacked Jay-Z inside an elevator at a 2014 Met Gala after-party. 
Sources at the time blamed the blowup on Jay's flirtatious relationship with designer Rachel Roy. And in an attempt to deflect from the drama, the music power couple issued a rare statement, sharing in part, "Families have problems and we're no different. We love each other and above all we are family. We've put this behind us and hope everyone else will do the same."
Bey and Jay's On the Run tour kicked off six weeks later, effectively turning all the breakup speculation into a fairly distant memory. 
That is until April 23, 2016—when Beyoncé dropped Lemonade without warning.
Released as a visual album, the intensely personal project told the story of Jay-Z's apparent infidelity and Beyoncé's decision to accept her husband's betrayal as another chapter in their marriage. 
The Beyhive dutifully buzzed into formation, flooding Rachel Roy's social media with hateful comments based on the assumption that she was the "Becky with the good hair" mentioned in Bey's "Sorry." Roy said there was "no truth" to the rumored affair in a statement, and asked internet trolls who "targeted" her and her daughters in a "hurtful and scary manner" to consider the impact of cyber bullying. 
As for Jay-Z's response to Beyoncé's public indictment? With a metaphorical tale tucked between his legs, a source described the 21-time Grammy winner as "fully supportive" of Lemonade. 
"This is part of the process of being transparent," the insider shared with us, "and they have healed. He has been very humble about the experience. Beyoncé is the love of his life and he will do what it takes."
The business strategist in Jay-Z also recognized "dollar signs" in Beyoncé's magnum opus, according to a separate source: "Jay was involved in the creation of Lemonade and knew every song Bey was going to release. He knew the lyrics. He knew the implications."
Jay delivered the Beyhive's long-awaited apology with 4:44, his 13th studio album and direct response to the heartbreak described by Beyoncé on Lemonade. "The hardest thing is seeing pain on someone's face that you caused, and then have to deal with yourself," he later told the New York Times of the "very, very uncomfortable" recording process. 
But even a confession wasn't enough to win Beyoncé's collective following over. When the couple announced their On the Run II stadium tour, the response was admittedly mixed. The promise of seeing two music legends for the price of one didn't excite every member of the Beyhive, and some said they'd gladly escort themselves out before public enemy No. 1 took the stage. 
Billboard estimates On the Run II could gross more than $200 million, more than double the net earnings of their last joint tour. (The most expensive VIP package will run you nearly $2,000 and does not include a meet and greet with Beyoncé and Jay-Z.) 
In just a few hours, Bey and Jay will kick off their 36-date trek across North America and Europe at the Principality Stadium in Cardiff, U.K.
Consider this the hip-hop mogul's biggest chance to make things right with the Beyhive, and they'll have to listen to what he has to say if they want to hear from their Queen.