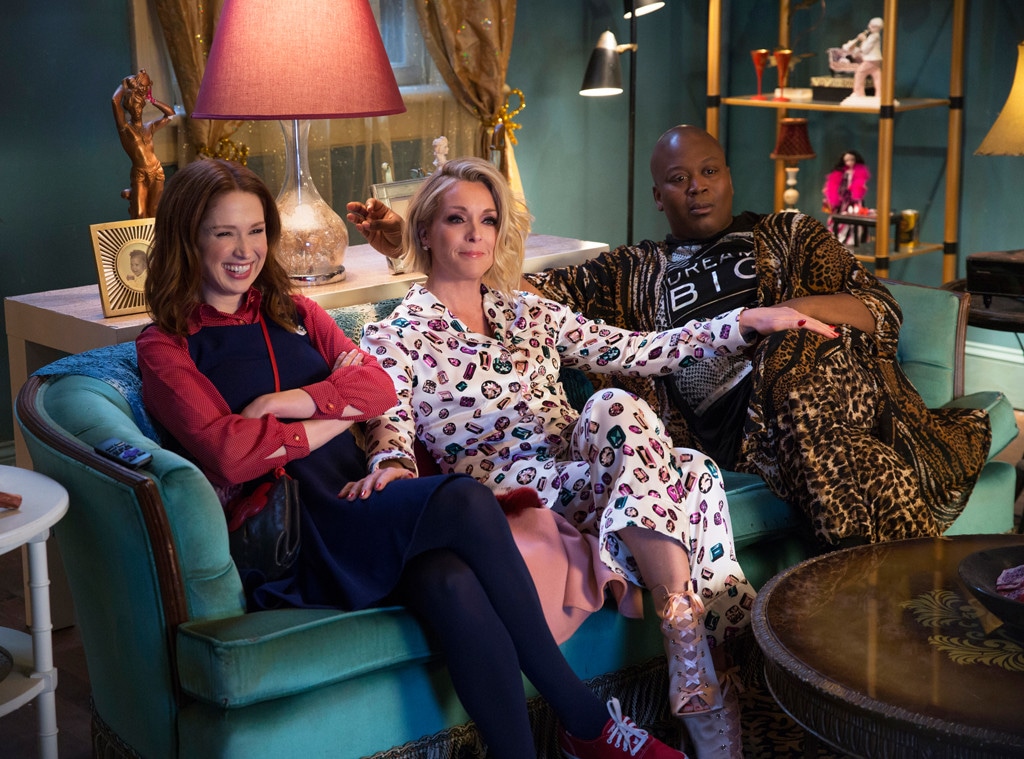 Netflix
Ever wonder what day-to-day life is like on your favorite TV show? If your favorite TV show is Unbreakable Kimmy Schmidt, then you're in luck!
E! News was on set while a season four episode was in production and got all the behind-the-scenes scoop from Ellie Kemper, Jane Krakowski and Tituss Burgess. Oh, by the way: These behind-the-scenes facts and stories may or may not be true. Brace yourselves and get out your lie detectors!
WHO BREAKS THE MOST?
"Honestly I think it's a toss-up between me and Ellie, and it's usually watching the other—deer in the headlights—you'll be in the middle of one of your lines and all of a sudden you can just see them stare into darkness," Tituss told us.
"You can see the words, but they're out of order and they're just floating around and you're just waiting, like, 'What's about to come out?' It's either her laughing at me or me laughing at her because we both suffer from the same epidemic," he continued.
Ellie, in a separate interview, corroborated Tituss' story. "Oh, when we're together, I think we I break. There's something where I look in his eyes and I'm like, 'Oh, forget it!'…That's exactly what happens! And I've never seen eyes as expressive as his. First of all, they're enormous, so I'll look in and I'm like, 'Here we go!' Then it's the worst because he'll just look slightly off so you're not looking directly at him, so neither of us are making eye contact, which makes me laugh even more," she said.
ELLIE IS TRYING TO GET A SPONSORSHIP?
Her favorite on-set snack is a very specific.
"I will answer absolutely truthfully and it's easy, it's animal crackers. Trader Joe's animal crackers! 'Cause there's no high fructose corn syrup and I call it animal crack, if you want to know. Why am I really trying to maneuver to get free Trader Joe's animal crackers? But that is my go-to snack. There's nothing nourishing about that," she said.
WHO'S THE BIGGEST DIVA?
"I'm trying to make sure in print this will not be misinterpreted. How about I say the biggest diva is Tituss? I won't elaborate," Ellie said with a laugh.
TITUSS HAS A NEW BEST FRIEND
You may recall Tituss thought Ellie's baby, James, wasn't real since they never crossed paths. That finally changed.
"I finally met Ellie's baby. James and I are best friends. I'm serious, we are. [Laughs.] We have a Central Park date set up and I'm going to teach him all about musicals, although I think he's going to teach me a couple of things. But, we love each other…Certainly for the longest time I didn't think that little boy existed. Ellie wouldn't look me in the eye when she talked about her child, but I met him. Either there's a really cool casting agency around that will just bring kids to sets or this really is her child." Tituss said.
HOW DO THEY STOP A GIGGLE FIT?
"That is such a strange thing because you're experiencing the most glorious thing on earth, which is laughing uncontrollably, but you can't…Sometimes I try to think of something very sad, which I won't mention what they are because they're too sad to talk about, but that doesn't always work," Ellie said.
"I was just going to say I think about my real life. Cause it's just too dark," Jane joked.
JUST HOW MUCH SINGING IS THERE?
"I feel like lately they've been singing a lot together," Ellie said about Tituss and Jane. "I think they did some shows between seasons, they did some concerts together, but they're always singing. I'm not tone-deaf. I can carry a tune, but I'm not a professional singer like these other three. And I, from the start, always felt a little bit left out. And that's OK, that's not my gift. It's OK. [Laughs.]"
However, Jane said there's not that much singing.
"I don't know if this is surprising, but I feel like Tituss doesn't sing as much as you'd expect him to on set. My great joy is that my dressing room is right across from his so I hear him singing in his dressing room a lot," Jane said. "He's actually writing a musical so I've gotten to hear a lot of the musical that he's writing through the door of our dressing room. So that's been really fun. But I think much to our own disappointment he doesn't sing that much on set. I keep singing just to remind them that maybe Jacqueline can do that at some point because I love the music in the show so much."
ELLIE HAS PEED ON TITUSS?!
Ellie's favorite day on set happened during the shooting of the pilot, March 2014, she said. Ellie was sitting on Tituss' lap. Then it happened.
"We were filming a scene in his apartment and it never made it to air—or to stream—but he's only wearing a towel. And he and I said, 'Let's take a selfie.' So we took a picture, but the picture is cut off, so it looks like he's naked and I'm sitting on his lap. When I saw the picture I started laughing so hard, but I was still sitting on his lap, and I wet my pants. And he literally did not bat an eye. He was like, 'Ew.' I went, 'Tituss, I just wet my pants.' And he said, 'Ew,' and that was it. I was like, 'I think I have a life friend in him.' It was so nice! Because we were just starting. I thought, 'Oh good, if this goes on I will love working with this man who doesn't mind if I pee on him,'" Ellie said with a laugh.
ONE THING YOU DON'T KNOW ABOUT TITUSS IS…
"I think people don't know how much he likes to be alone because he loves being alone. He plays this character who's this huge extrovert and must have attention, but Tituss (with two Ses, that's the real man), loves solitude and that's what I love about him," Ellie said. "Well, my favorite thing about Tituss is that we will never follow through on a plan to get together."
ONE THING YOU DON'T KNOW ABOUT JANE IS…
"That—oh, she's going to be so mad–that she's a vampire and she's really 365 years old," Tituss said.
"I can answer it for me. I demand to take three hours off to watch The Crown and contemplate how my life went so differently from Meghan Markle's. I'm a supporting actress on a TV show! What happened here? I really am obsessed with that show right now. I know they're recasting every two years, which is freaking me out a little because I've become so involved. I am professionally and personally obsessed with Matt Smith. I just love them so much together," Jane laughed.
The first six episodes of Unbreakable Kimmy Schmidt season four are now streaming on Netflix.