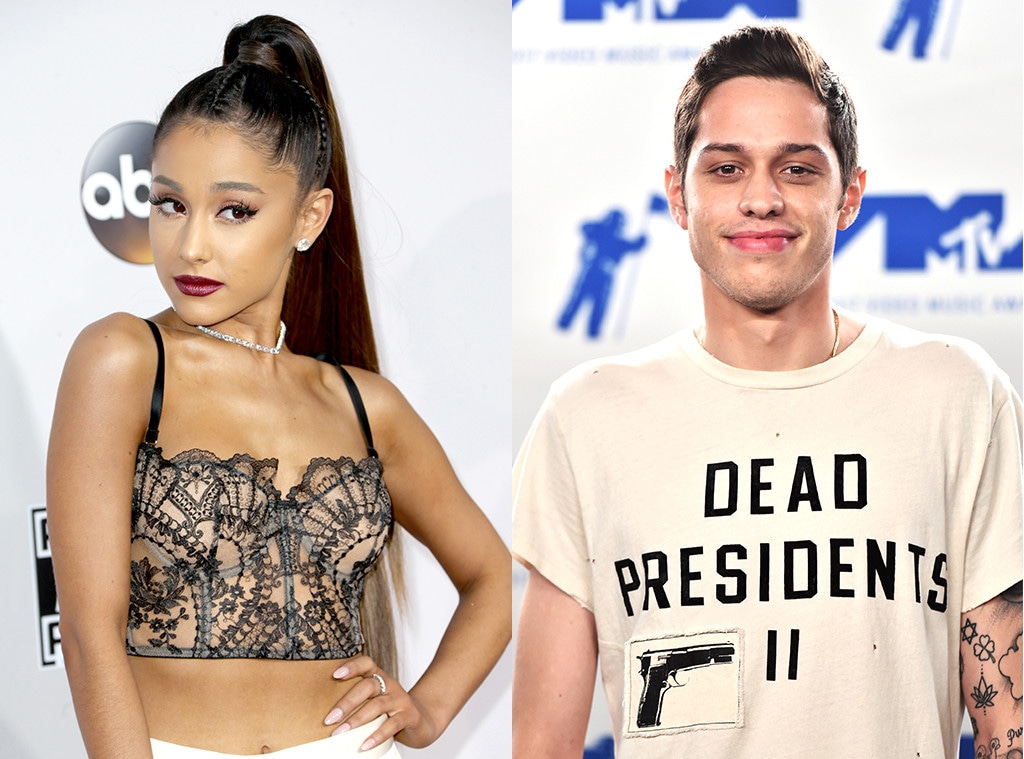 Frederick M. Brown/Getty Images; Alberto E. Rodriguez/Getty Images
Spoiler alert: No, Ariana Grande and Pete Davidson don't have matching tattoos. Sorry to put the smack down on all the did-they-just-get-matching-tattoos fervor.
One day after E! News broke the news that the unlikely duo was doing their "casual" thang together, online lookyloos (and a few publications) honed in on that the fact that the pair appeared to have the same bit of ink on each of their fingers. But looks can be deceiving. 
On Tuesday, fans were quick to spot Davidson's most recent Instagram post from May 18, showing the SNL star's left arm and hand, which is filled with some major flesh art.Well a bunch of peeps peeped the fact that Pete's got an oh-so-small tattoo of a cloud on his left hand, which many fans thought just so happened to look like a tiny new tatt that Ariana showed off on her Instagram on May 13. But in reality, Ariana has a Venus symbol etched on her middle finger.
Hate to rain on your cloud parade and all.
However, the cloud tattoo may actually have some significance to Ariana's social media since it's the same emoji that the pint-sized songstress used on her May 14 Instagram, while out and about in New York City, which just so happens to be where the Staten Island-native resides.
Yesterday we reported that the "No Tears Left to Cry" singer had recently started seeing Saturday Night Live comedian. "It just started and is casual," a source said. 
Coincidentally, their budding relationship happened rather soon after both Ariana and Pete ended their previous relationships. On May 10, the "Bang Bang songstress confirmed her split from rapper Mac Miller. Likewise, news broke last week that Davidson and Larry David's daughter Cazzie David had broken up after two years together. 
The source explained that despite Ariana and Mac officially breaking up after attending Coachella in April, "the relationship had been over long before." 
Looks like both Ariana and Pete have found new partners in crime and ink. But good thing they didn't get those identical ink jobs just yet—because love isn't always forever—however, matching tatts are.