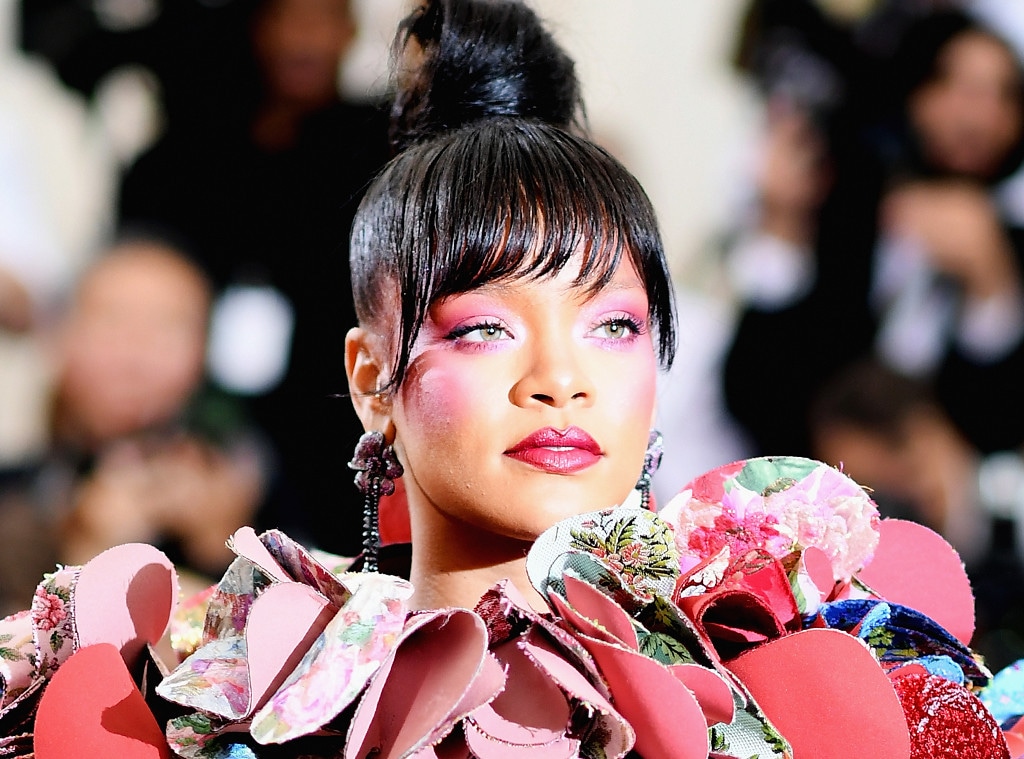 Dimitrios Kambouris/Getty Images
In the name of Rihanna, go big or go home!
With the launch of Fenty Beauty's new Killawatt Foils, the beauty mogul is sharing her own personal highlight technique for others to bask in Rihanna-like radiance. And like all things badgalriri, it's pretty unconventional. The "Lemon" singer sent her two trusted makeup artists, Priscilla Ono and Hector Espinal, to teach a master class to a group of L.A. editors and beauty influencers Friday.
"This is Rihanna's technique when it comes to highlight," noted Priscilla, reiterating a few more times that the vision comes straight from the Grammy winner. The singer has been testing the method for awhile—in fact, she tried the statement beauty look at the 2017 Met Gala, using the same Mimosa Sunrise (a magenta) and Sangria Sunset (a tangerine) pigments that just finally hit shelves Monday.
With the conventional approach to highlight application, pigment is typically focused on the high points of the face—but that's not how Rihanna rolls, using a blush-eye-shadow-highlight-hybrid method.
To recreate her Met Gala look, using a cheek-hugging brush, "we're going to apply Sangria Sunset right on the cheeks, take it up to the temples, take it over onto the eyes, back on the cheeks," instructed the makeup artist. "[Rihanna] loves having it on the cheekbones and applying it on the temples. You really just blur the lines, so you really never know where your eye shadow ends or where your blush starts. It kind of almost gives it this really beautiful halo effect."
Using the same brush, apply a shimmery tangerine to the cheek and a little on the eyelids.
Steven Ferdman/Patrick McMullan via Getty Images
"Usually, as makeup artists, we use small buffing brushes to do our eye shadow or we are really precise with whatever we do, but with Rihanna, there's no limit," noted Priscilla. "She likes her eye shadow to be put on with our cheek-hugging brush sometimes. She wants it to look like a wash of color."
"We say reinvent the way you highlight, because usually with highlighter, we just use a bronze tone or a champagne tone or something that's more glowy," she added. "We never really take risks and use brighter colors, but with Rihanna, you know, we like to bend the rules."
If pigmented pinks and yellows are too much for you, you can use the same method with more subtle colors. For example, at the brand's U.S. launch event, Rihanna used the same all-over technique with the Killawatt Freestyle Highlighter in Trophy Wife, a more muted golden hue.
There are no rules. Glow at whatever level you want—that's what Riri would do.