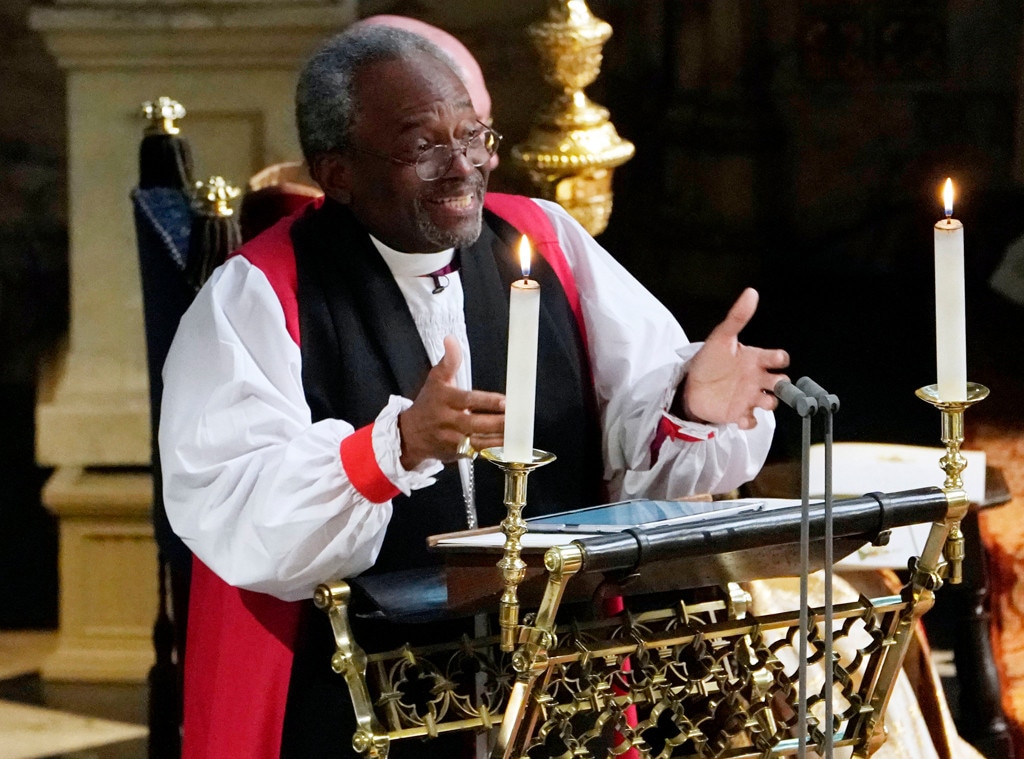 Owen Humphreys - WPA Pool/Getty Images
After giving an impassioned sermon at Prince Harry and Meghan Markle's wedding on Saturday, The Most Rev. Bishop Michael Bruce Curry appeared on Tuesday's episode of Good Morning America and said he "only deviated slightly" from his planned manuscript.
During the ceremony, Curry spoke about the power of love for 14-minutes. He quoted Dr. Martin Luther King Jr. and referenced slavery. He also discussed how hunger, poverty and war could all come to an end "when love is the way."
His sermon generated about 40,000 tweets per minute and produced a few noticeable reactions from the royals and attendees.
Curry told GMA's Robin Roberts that he sent church officials a "basic outline" of his manuscript ahead of time and that everyone was "very gracious." Although, he admitted he went a bit off script on the big day.
"I did provide a copy of the manuscript about a week before I think it was, and I only deviated slightly," he said. "I mean, you can't get a preacher—you're going to deviate a little bit. But they were basically aware of the basic outline and what was in it. They were very gracious."
Similarly, Curry told Today the whole service had "all of the permissions" and that "nothing would have happened in there without some sense of blessings and permissions." He also joked that while attendees didn't vocalize their reactions, many conveyed their sentiments through their eyes.
"Episcopalians aren't known for being loud and ruckus in church," he told Today on Tuesday, "but I've learned to be able to hear an Amen by looking in their eyes. I was looking in the eyes of people who were there and they were doing quiet British Amens."
While he admitted he had a few nerves when he stepped up to the pulpit, he decided to focus on the bride and groom's love.
"At first, I must admit to being a little bit nervous at the very beginning—no question about that," he told Today. "But then, after that, it turned into a church and I was speaking to a young couple who were in love. I mean, they are so passionately in love with each other—you could see it. And I was really aware that their love for each other—that you could actually see when they looked at each other—that their love was actually, even in that moment, reorienting the world around that love. I mean, all of the divisions and all the differences were being crossed, and worlds were coming together and a new world was being created. That's the power."
After the ceremony, Curry briefly spoke to the newlyweds at the reception, whom he described as "very gracious."
In addition to speaking about the big day, Curry recalled first learning that he was asked to give the sermon. When his staff members told him the office of The Archbishop of Canterbury had called, he didn't believe them.
"I just didn't believe it," he told Today. "And then when I realized [it was true], I said 'Well, I guess I better call The Archbishop back.'"
He also told GMA that Meghan and Harry were the ones who ultimately decided to include him in the wedding after consulting their church officials and that he couldn't share the news with his wife for a month. 
The day was certainly a historic one. Not only did Meghan join the royal family, but Curry became the first American to preach at a British royal wedding.
Watch the videos to see his interviews.