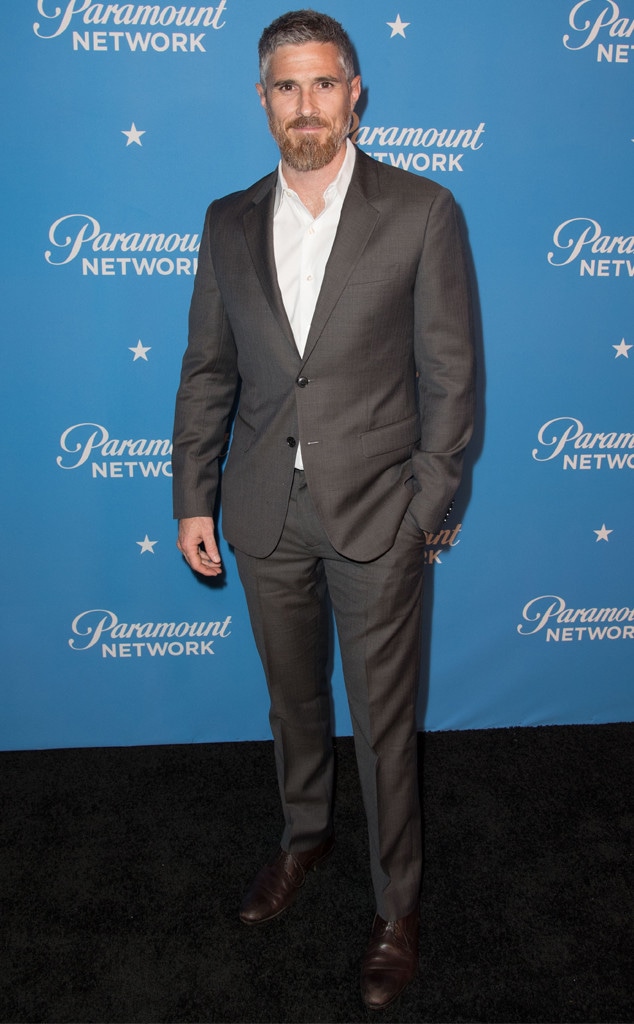 Earl Gibson III/Getty Images
There's no business like show business.
Dave Annable was thrilled after being cast in the CBS pilot The Code, co-starring Raffi Barsoumian, Ato Essandoh, Phillipa Soo, Mira Sorvino and Anna Wood. Unfortunately, Annable learned the midseason military drama had been picked up to series—without him.
Annable was set to play Capt. John "Sid" Sidney, an ambitious prosecutor and active-duty Marine. Sorvino was set to play Col. Eisa Turnbull, a high-ranking officer with children serving overseas. Like Annable, she was let go when the show was picked up; both roles will be recast. Annable shared the upsetting news on Instagram May 12, posting a screenshot from Deadline.
"You may be wondering why the hell is this guy posting this when he was just fired from the show? Great question. There are multiple reasons. The first is that I f--king LOVED the people I worked with and for and wish them NOTHING but success and love on the this great show," the actor told his followers. "To only see this as my loss is limiting and self centered. It's so much bigger than me. How about all of the other writers, producers, crew and fellow actors that worked so hard and gave everything they had to make this show work? This isn't just my story."
"All of my friends and family who have reached out have said 'F them! You'll show them!' I understand this way of thinking but let me pose a question. How does it serve me to be angry? It would not and does not CHANGE the situation. Me being angry at someone or something would not ultimately make me feel any better. It actually would make me feel much worse. If I chose to be angry that emotion spills over into my relationship with myself, my family and my friends. If I choose anger then I'm taking on the perspective of a victim. I'm not a victim," he said. "This is a circumstance. It is my choice and my choice only on how I choose to deal with it."
Annable was at Disneyland with his family when he got the call that The Code was being picked up and he was being replaced. Rather than feel sorry for himself, he wrote, "I went to the perspective of the student. What is the lesson here? What can I learn from this experience moving forward? I've yet to be given a reason but when I do you bet your ass that I will try and learn from it. Another reason I am posting this is fear. Fear of embarrassment. Fear of failure."
The actor, who's television credits include 666 Park Avenue, Brothers & Sisters, Heartbeat and Red Band Society, added, "I've never been fired before and certainly not publicly. Right now I want to run. I want to hide. I want to quit. The TOUGHER thing to do is face it. To embrace it. Learning to deal with failure is one of the most important lessons you'll deal with in your life."
"Guess what? Failure is mandatory. It's growth. It'll never stop. It's where all the good s--t happens that makes you a better person when you are open to seeing the right perspective. I have a wife and daughter that I have an opportunity to lead by example on how to deal with obstacles and adversity when lie throws you a jab that lands right on your face. I took one on the chin yesterday but this morning I'm gonna stand tall and hold my head up high because that is what I'm CHOOSING to do. I'm not gonna tell my family what to do; I'm gonna show them. On to the next," he said in conclusion. "Watch my friends crus hit on The Code on CBS. Thank you."
Two of Annable's friends, Mandy Moore and Ashlee Simpson Ross, liked his post on Instagram. In the comments, many other actors commiserated over their similar experiences in Hollywood.
The widespread support made him emotional. "To say I'm moved by your words is a gross understatement," he wrote. "I want to Thank you guys from the bottom of my heart because you have helped turn this negative into a positive for me. That's some vulnerable s--t. Cheers."