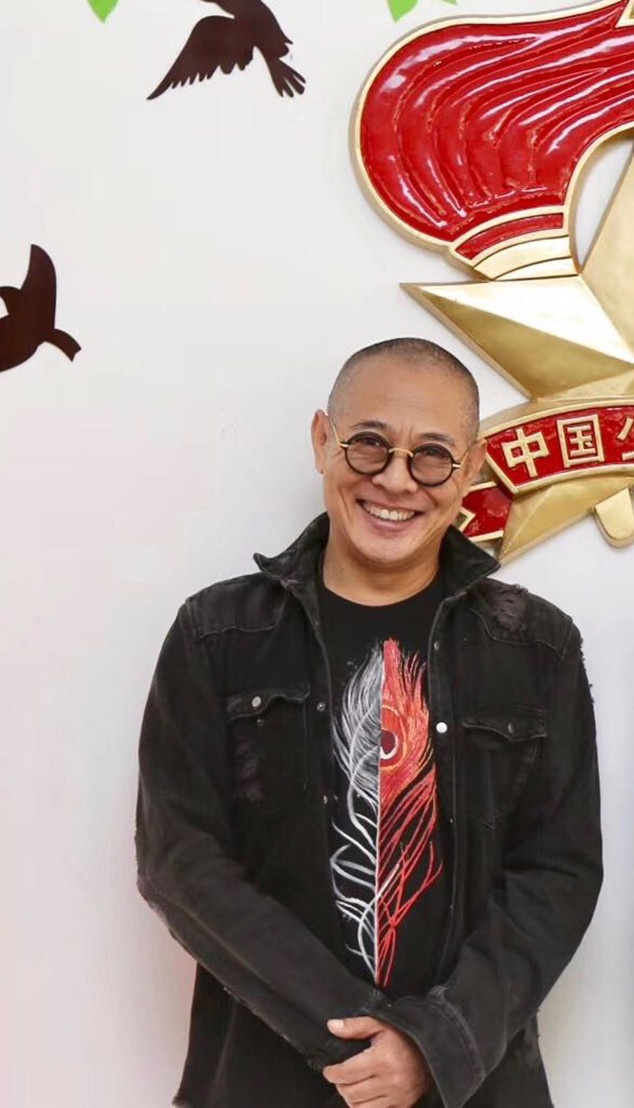 Courtesy of Steven Chasman
The internet is crying out after a new photo has emerged of martial arts master Jet Li looking frail. In the photo, many commenters were quick to notice that the wushu legend looked drastically different from his past onscreen roles. The image has been widely circulated and caused an outcry of public concern over the beloved star's health.
The growing alarm was sparked after a fan tweeted a photo with the 55-year-old actor while visiting a temple on May 19 and wrote, "So, apparently, Jet Li is suffering from 'hyperthyroidism and spinal problems' and this is him now."
Many fans were quick to express their dismay, fear and distress over his appearance. 
In the past, the actor and producer has been open about his struggle with hyperthyroidism, a disorder that causes the production of too much thyroxine hormone and can greatly affect weight.
Previously, the Romeo Must Die star revealed he'd been diagnosed with an overactive thyroid in 2010 and despite taking taking medication to keep his illness at bay, the condition kept returning. Additionally, he's said that injuries to his legs and spine sustained over years of filming have limited his movements.
Li was photographed at event in January and he looks markedly thinner than he did just five months earlier. Li's manager, Steven Chasman, supplied a photo of the actor to E! News Tuesday, which was taken in the last month.
"He has hyperthyroidism that he's been dealing with for almost 10 years," Chasman told The Washington Post Monday. "It's nothing life-threatening and he's dealing with it." He also called the coverage of the photo "sensationalism."
In a separate interview with USA Today, he called the concern "much ado about nothing," adding, "We appreciate everyone's concern. But Jet is completely fine. There's nothing wrong with him. There's no life-threatening illness. He's in great shape." The photo was taken out of context, Chasman said. "It's one picture and people are making these interpretations from it. If you took a picture me at the wrong angle and wrong time of the day, I could look frail as well."
Evan Agostini/Getty Images
In 2013, the Chinese action star first publicly addressed his diagnosis during the taping of a talent show that he was judging, reported The Hollywood Reporter.
The outlet reported that at the time Li appeared to have a fuller face and was looking heavier so while on the program he admitted that his weight had fluctuated due to his illness.
At the time he even joked about the weight gain saying, saying, "I'm fat. I don't have the time to lose it. It's a fact!"
In 2013, he explained that exercise was not advised with the medication he was taking.
Hyperthyroidism can cause changes in a person's metabolism and heart rate, among other symptoms, but is often treatable with medications.
Due to his health conditions, Li has spent the past few years dedicated his time to his charity, The One Foundation, which focuses on disaster relief and children's welfare in China.
Li says his strong belief in Buddhism as well as meditation and scripture reading help stabilize his condition, according to South China Morning Post.
The outlet also reported that Li was told by doctors in 2013 that if he continued to make action movies he would "would end up in a wheelchair."
The Beijing-born star is also known for his roles in Lethal Weapon 4, Kiss of the Dragon and Expendables 2.
Despite his physical issues, Li is slated to appear as the Emperor in the upcoming live-action Mulan, set for 2020.