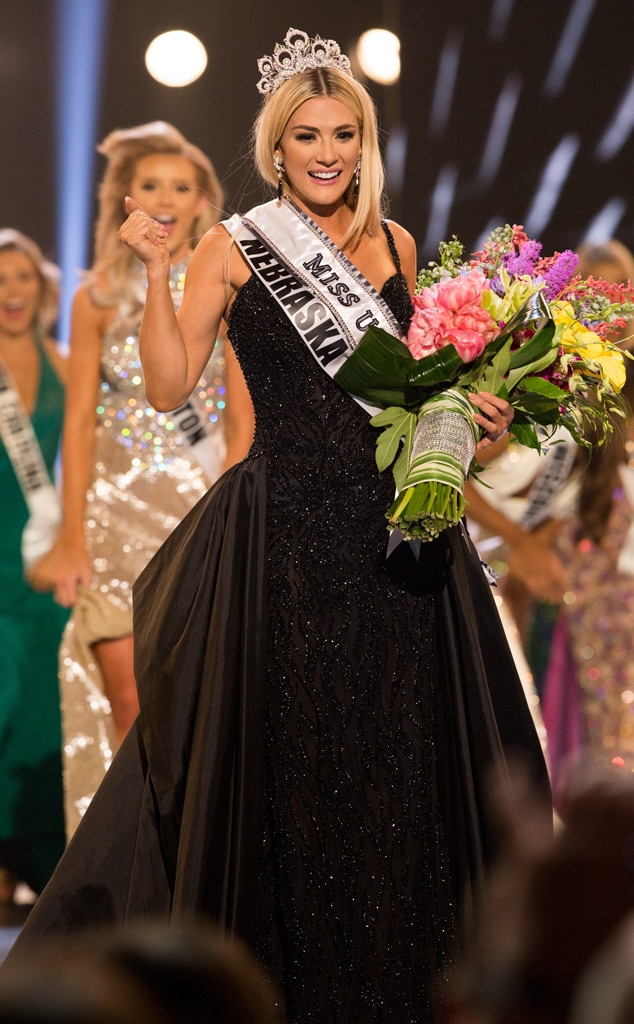 HO/The Miss Universe Organization
There's a new Miss USA in town!
In case you missed the big news, Miss Nebraska Sarah Rose Summers earned the prestigious title during this evening's beauty pageant held at the Hirsch Memorial Coliseum in Shreveport-Bossier, Louisiana
Hosted by Nick Lachey and Vanessa Lachey, the live televised event featured plenty of cat walks, tough Q&As and surprises.
Ultimately, the selection committee believes Miss Nebraska was a step above the rest.
So, are you curious to learn more about our new Miss USA? We had a feeling you did. Take a look at five fun facts about Sarah Rose as she takes on a brand-new role.
Worker Bee: After graduating from Texas Christian University, Sarah Rose went on to become a certified child life specialist. During tonight's show, she explained the motivation behind her job choice. "I was in the children's hospital in Omaha when I was 5 years old. I don't remember a whole lot of it, but I remember my parents being really scared and I had never seen my dad scared before. My nurse was amazing, and she really is who I strive to be like," the 23-year-old explained. "I'm now a certified child life specialist, which is the liaison between the children and families and the medical team. It's just so empowering helping the patients understand their diagnosis, understand different procedures and support them through those as well."
Family First: Although her grandpa wasn't able to attend tonight's competition, that doesn't mean he wasn't watching from home. While Sarah Rose appeared in the swimsuit competition, fashion guru and commentator Carson Kressley revealed one family member's location during the show. "I love that she made the top 15 because her grandfather's assisted living committee is hosting a Miss USA viewing party tonight in their bingo room," he shared. Oh, how we wish we were there when she won.
Fitness Fanatic: One quick look at Sarah Rose's Instagram and you can get a sense that she loves staying healthy and working out. During her time in college, the student worked part-time as a Pilates instructor and at Lululemon Athletica. Most recently, she has been training with John Benton who expressed enthusiasm on Instagram towards his client of almost two years.
Relationship Status: For all the gentlemen watching tonight, we have some news: Miss USA is taken. Based on photos from Instagram, it appears Sarah Rose is dating East Texas Baptist University alum Conner Combs. Whether enjoying date night at Corky Boards or attending church together, these two make one cute duo.
Her Wish for America: During tonight's competition, the final three contestants had to imagine themselves on their way to a march where someone hands them a blank sign and marker. What would they write? Sarah Rose's answer may surprise you. "I say speak your voice," she shared with the audience. "Go speak to people. When they have questions, communicate with them. Listen to their views also. That is one thing in the United States that we really need to focus on is listening to each other!"
Miss USA 2018 airs Monday night at 8 p.m. only on Fox.