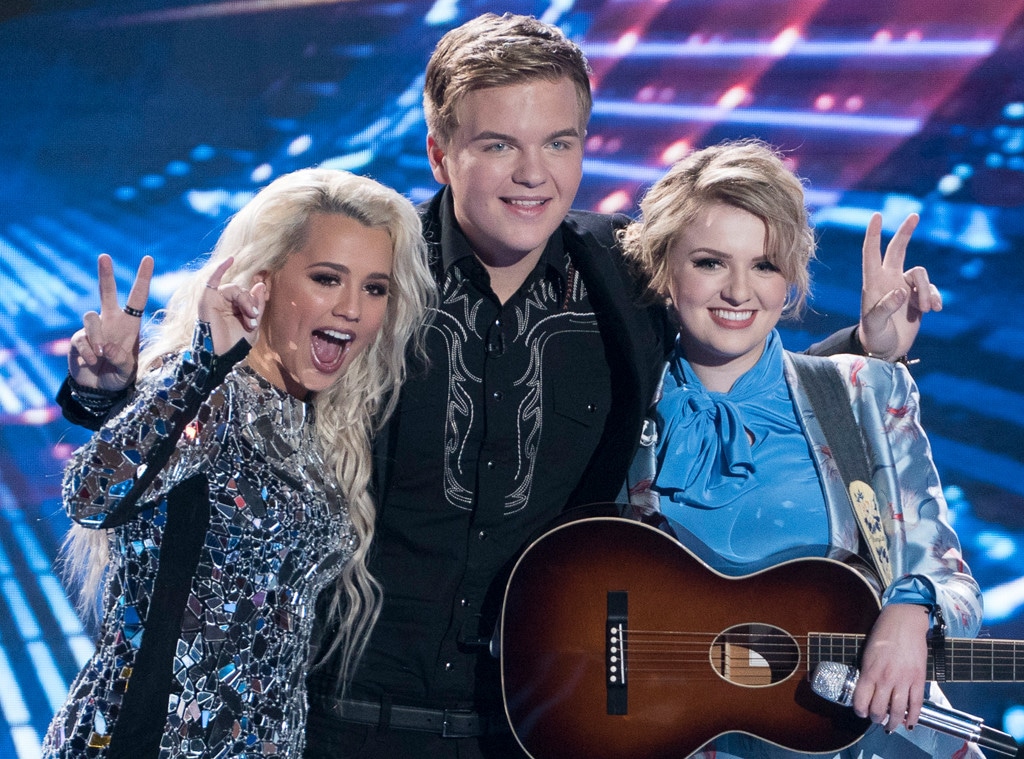 ABC
And your next American Idol winner is...
Maddie Poppe, Caleb Lee Hutchinson and Gabby Barrett were all left waiting (and waiting) for Ryan Seacrest to announce who was the winner of ABC's first season of American Idol on Monday night, after performing three songs each on Sunday night. 
By the end of the ABC hit's finale, Maddie was crowned the winner, with Caleb coming in second place after Gabby was eliminated earlier in the night. 
But the biggest  reveal of the night wasn't the season 16 winner. No, no, no. It was Caleb and Maddie announcing they are a couple in real-life just before performing "Somewhere Over the Rainbow" together and the show gifting them a trip to Hawaii. So really, they are BOTH winners. 
Maddie impressed with her three performances during part one of the finale, especially her show-closing rendition of "Landslide." And early on in the competition, it was clear judge Katy Perry was a huge fan. 
Like the 15 seasons that aired on Fox, the two-hour finale featured a bunch of performances, with Nick Jonas, BeBe Rexha, Darius Rucker, Patti LaBelle and even Kermit the Frog taking the Idol stage. 
Plus, all the judges got in on the action: Luke Bryan debuted his new single "Sunrise, Sunburn, Sunset," before also performing a duet with Gabby, and Lionel Richie opened the show. Katy Perry, when she wasn't busy proposing to the new Bachelorette Becca Kufrin or freaking out over Caleb and Maddie's romance, took the stage to perform with Catie Turner, delivering an acoustic version of "Part of Me" that we already want to download. 
American Idol will return for a second season on ABC.