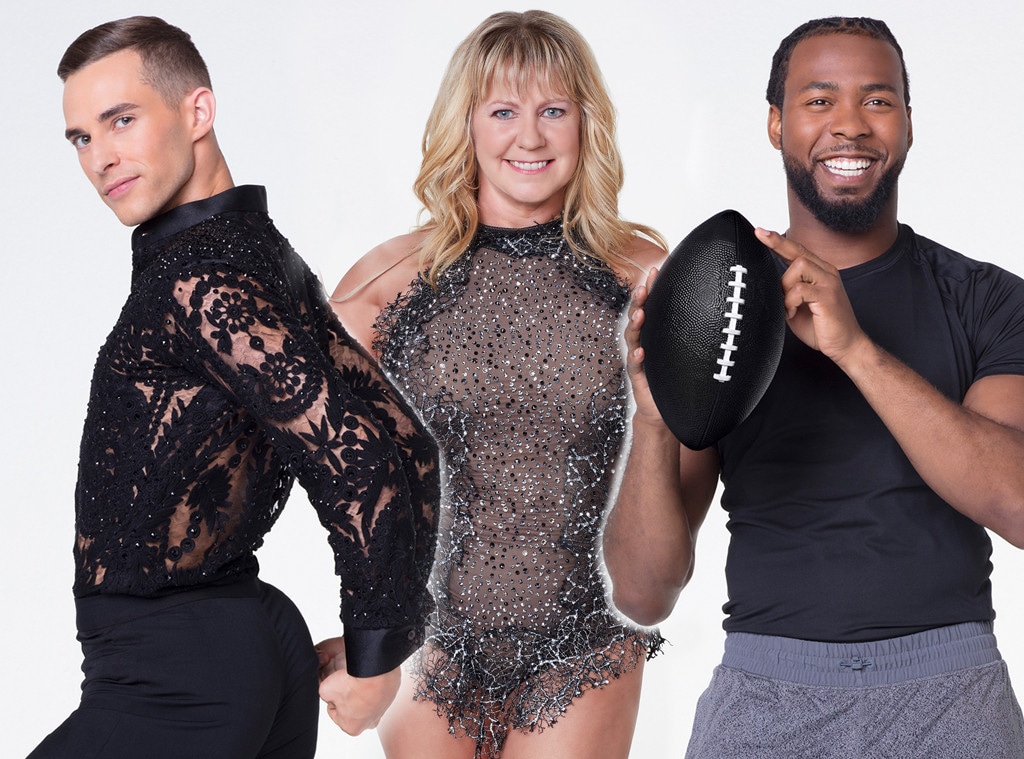 ABC
Let's be honest, we all saw this coming.
Dancing With the Stars: Athletes' shortened four-week run came to an end on Monday night, with three celebrity athletes left in the running: Adam Rippon, Tonya Harding and Josh Norman. 
And by the end of the ABC reality hit's finale, we finally saw the athlete we all predicted would win the whole thing as soon as the cast was announced hoist the mirrorball trophy in the air: Adam Rippon! 
The beloved Olympic figure skater and his professional partner Jenna Johnson beat Tonya and Sasha Farber, and Josh and Sharna Burgess, to take home the big win.
This was Jenna's first season as a pro after being promoted from the troupe, and what a DWTS debut it was for her!
Here's a quick rundown of the night's dances:
Tonya and Sasha's first performance was a Viennese waltz to "The Time of My Life," with an emotional Tonya saying after their performance, "This has truly been the best time of my life." Awww! 26 out of 30. 
Next up was a foxtrot from Josh and Sharna, which scored a 27 out of 30 from the judges after the football star saved Sharna from slipping on her dress. "The beast has been tamed by the beauty," judge Bruno Tonioli said. "You even saved the day when she slipped. I like that, like a real prince. Dashing, debonair, self-assured. You've come so far. It's a shame this season is so short." Agreed!
Closing out the first round of performances were "Wonder Twins" Adam and Jenna, landing a perfect 30 out of 30 and a standing ovation for the jazz routine that Carrie Ann Inaba said could easily be on Broadway. "It's been above and beyond everything I thought it would be," DWTS super-fan Adam said after their performance. "And I owe that a lot to Jenna, and everything that she's kind of brought into my life during this crazy time." It's clear these who have become BFFs and it's adorable. 
For their second performances, the celebrities and their partners got to have some freestyle fun. 
Tonya came down from a platform for "I Will Survive," the perfect song to end Tonya's experience on the show. And the performance was so good that Carrie Ann ran over to hug her, saying it was one of the "most fun" freestyles she's ever seen. 
"The amazing change in people's hearts is what is keeping me going," Tonya said of the public's support. "I never thought I would ever feel this alive again. And America pulling for me has definitely changed my heart one more time." Their freestyle landed a perfect score, her first and only one during her experience. 
For their final performance ever, Sharna asked Josh to "unleash the beast" for their freestyle. Of course, that meant he began the routine with a football (shirtless, of course!) and delivered a super-energetic dance set to Thirty Seconds to Mars' "Walk on Water," that ended with him being rained on.
"You're wet and some people are very, very hot," Bruno said. They also landed their first and only perfect score of the season.
For his final performance on the show, Adam and Jenna delivered a freestyle unlike anything we've ever seen on DWTS, including the frontrunner rocking a bowl-cut wig. 
"This freestyle is different. It's quirky, it's fun, and I think it totally embodies me as a person," he said. "And I want to share that with America. I am ready for that mirror ball trophy."
However, Carrie Ann was a little disappointed by the performance, saying she felt it was "missing something." The performance earned 28 out of 30 points from the judges.
Still, Adam, 28, and Jenna were able to take home the win in this shortened season. 
DWTS will return this fall on Mondays, with Dancing With the Stars: Juniors set to air on Sundays on ABC.