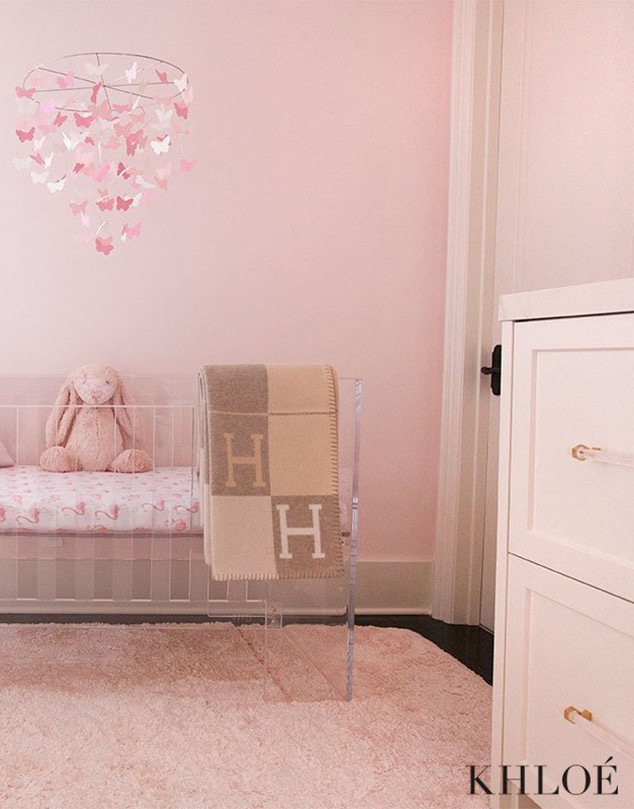 Keila Lopez
There's no place like home!
Khloe Kardashian and Tristan Thompson's baby girl may be less than two months old, but fans have yet to catch a glimpse into True Thompson's baby nursery—until now! 
For the first time, the Keeping Up With the Kardashians star is sharing a sneak peek inside her daughter's room.
Spoiler alert: Get ready to think pink!
"I'm obsessed with True's Nursery Works lucite Vetro crib! It's feminine but still cool, which is the vibe of the nursery," Khloe shared on her website this morning. "Kim uses the same one, and I trust the products she loves."
The new mom added, "She was my angel during pregnancy and has been so helpful and encouraging. We're similar moms and have been two peas in a pod lately!"
In the first photo, fans are also able to see some of the kid-friendly furniture that fills the Cleveland room. And yes, our eyes can't look away from the chandelier composed of pink hearts either.
As baby True continues to spend her first months in Cleveland, mama Khloe has tried her best to share some details about raising her daughter. Shortly before True turned one months old, Khloe revealed some of the personality traits she has already spotted in her first child.
"So far, she's so incredibly sweet and patient—really not fussy at all. I can tell she's going to be super athletic and incredibly strong!" Khloe wrote on her website. "She's very calm, peaceful and loves to cuddle with her parents."
And if the social media posts and photos weren't enough to prove Khloe is loving motherhood, perhaps Kris Jenner will convince you.
"Khloe is amazing," the self-proclaimed momager recently told Ellen DeGeneres. "I'm so proud of that kid. I get choked up because she's such a good mom. Honestly, it gets so emotional…She's just concentrating on that—just being a mom, her baby."