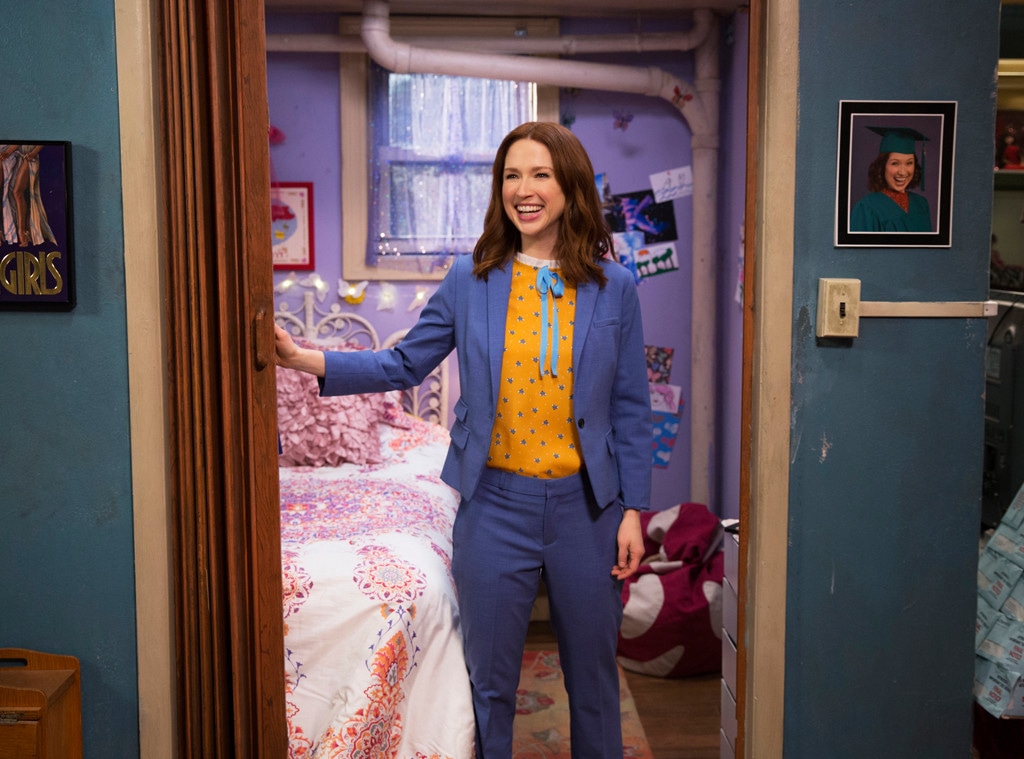 Netflix
"What the fudge are you doing here?!" Ellie Kemper, dressed in a milkmaid costume entirely too small for her, shouted over and over again as middle school-aged children, including black-ish star Marsai Martin, surrounded the actress during a production of Beauty & da Beast.
In case it wasn't clear from the description, this was all for a scene in Netflix's Unbreakable Kimmy Schmidt season four.
 
"I was like, 'Let's make sure this doesn't look like sexy milkmaid.' [Laughs.] 'Let's just make sure it's just too small for her,'" Kemper said about her costume during a break from shooting.
 
Unbreakable Kimmy Schmidt and all of its colorful and zany characters are back for a fourth season and there are major changes afoot…while everything you've come to know and love about the series' sensibility stays the same.
When we last saw our heroes, Kimmy had a job offer at Giztoob, Jacqueline (Jane Krakowski) was embarking on a new career as a talent agent with her star—and only—client Titus Andromedon (Tituss Burgess).
"She is working at Giztoob, which is the funniest name, and she is sort of like the human component, because I think a lot of people who work there are maybe introverts, so Kimmy has been hired to be almost the face of the company. She interacts with the people and actually is, like, a functioning human being when a lot of the employees there are not…Kimmy is in this next phase—I think this is her first professional job, almost, and I think she's continuing her never-ending search to make the world a better place and right people's wrongs, and as always coming to terms with the fact that she can't save everyone," Kemper told E! News.
Look for the characters to all be in the same orbit this year—Jacqueline is squatting in an office at Giztoob where she's set up Jacqueline White's White Talent.
 
"It's perfect, it lives on many levels, I think. I think the many levels are intended because everything Jacqueline does is a little bit wrong, which is my favorite part about her," Krakowski said about her character's new talent agency. "And Titus Andromedon and Titus with a mustache are my first two clients."
Working with Burgess again has been great, Krakowski said. At the end of season three the two emerged from the East River and, "we thought maybe this will mean that we'll get to do much more stuff together," she said. "Which has been the great joy so far for me. I am so involved with him and more with Kimmy because I really missed working with Ellie last year."
Last year, Titus found success with the song "Boobs in California," cementing himself as a thousandaire. When E! News was on set, the character was directing a middle school play. He'll also create and star in a fake TV show. So…will there be more success?
"Um, that is hard to say. And I suppose we should just define what success is," Burgess said with a laugh. "I know that Titus gets a job in a version of the entertainment industry, but I don't think it's going to be anything that will help him sustain his thousandaire-ness."
While it seems Jacqueline, Kimmy and Titus are on the up and up, that's not to say there aren't hiccups. Kimmy becomes embroiled in a sexual harassment scandal—she's the unwitting harasser in this case, "It's just so funny to see this little rube in the same category as sex offenders," Kemper said. And the Reverend (Jon Hamm) rears his head once again with a Making a Murderer-esque parody.
"There's a documentary that appears and it basically chronicles the Reverend, and Kimmy's upset because this has now exposed her to the world in a way that she doesn't want to be exposed, and doesn't want to be known as a victim and all this stuff—or as the reverend's wife," Kemper explained.
Again, Kimmy's identity is being taken away from her.
"I think in a way…anyone can relate in today's 'modern age,' but just in the age of digital information. All information is out there for anyone to get and so when you try to remake yourself it's that much harder because everything has a record and you sort of have a trail wherever you go," Kemper continued. "And in Kimmy's case, I feel sorry for her because none of that was her own doing. She was a victim of this terrible circumstance."
There's been no shortage of hilarious and inexplicable situations this motley crew got into over the last four years—and Burgess said he's never surprised where the story zigs and zags.
"I am not surprised, as this is now my eighth year of working with Tina Fey and Robert [Carlock], so I have come to expect nothing less than this. I think what is, perhaps, mind-blowing is how convoluted and strange they can make these situations, but also make them so impossibly funny," Burgess said. "How they can turn dark stuff inside out. That to me is a skill-set that blows my mind, but I'm not surprised at the product, at the script, no."
Unbreakable Kimmy Schmidt season four's first six episodes debut on May 30.