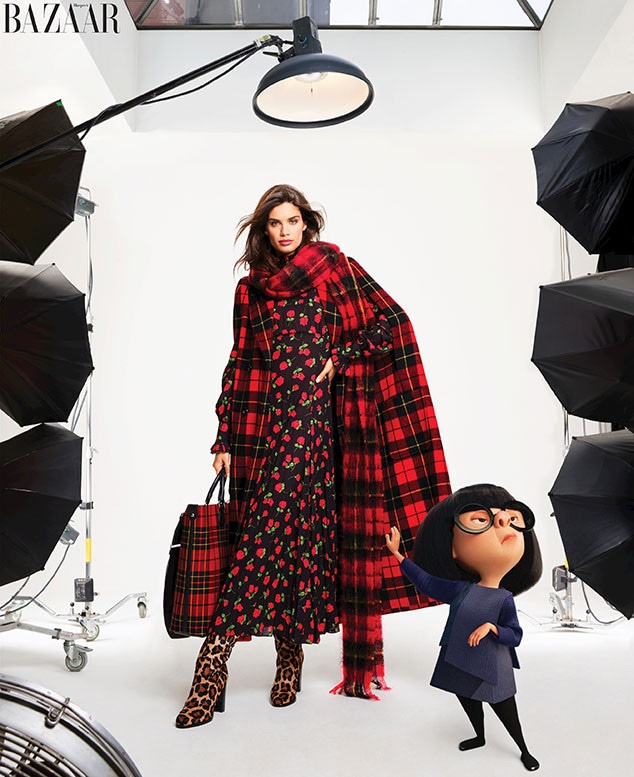 Victor Demarchelier
Edna Mode has returned. 
Everyone's favorite sassy superhero fashion designer popped up in the pages of Harper's Bazaar's June/July issue with a few things to say about shoulder pads, celebrity designers and her fashion icons. 
The animated (both literally and figuratively) Incredibles character also struck a few poses of her own next to model Sara Sampaio in New York City, inside the fashion closet and on the shoot's set. But, don't dare refer to the fashion spread as her Bazaar shoot. 
"My shoot was no more bizarre than others," she retorted to the magazine. "What was bizarre about it? I reject that classification."
She also isn't a fan of the phrase "the new black."
When asked for her thoughts on the '80s proportions for fall and whether shoulder pads could be consider "the new black," here's what she had to say. 
"First of all, let us agree to ban referring to anything as 'the new black' until the end of time. Black is timeless, so it's like saying so-and-so is 'the new timeless,'" Mode retorted as the raised her voice. "Timelessness by its very nature cannot be old or new—it is timeless! What was the question?"
"[Shoulder pads] are neither here nor there, dahling," Mode continued. "Depending on the designer, they can go in or out of fashion. But they are not as timeless as black is."
As for the concept of celebrity designers, the outspoken star isn't giving her stamp of approval. "I don't know what that is. Sounds vaguely oxymoronic to me," she responded. "Celebrity itself is beneath thought."
She does, however, know who her favorite fashion icon is. 
"I am my favorite icon," she answered. "The why is self-evident."
The June/July issue hits newsstands May 22.