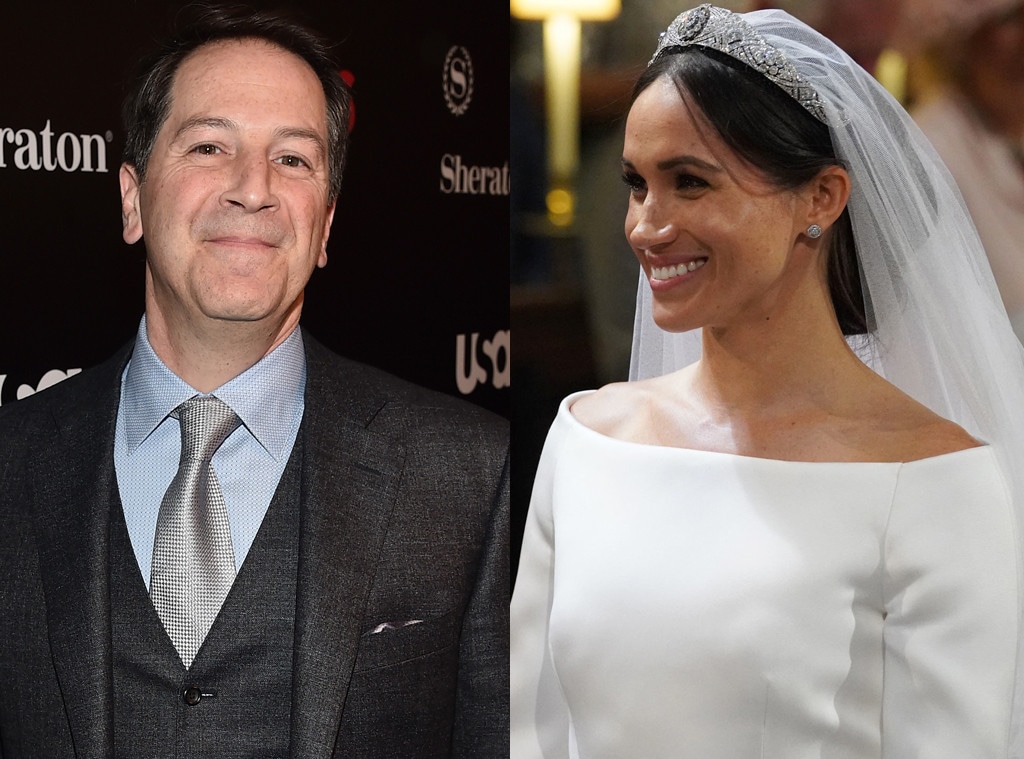 Alberto E. Rodriguez/Getty Images; PA
While millions of people watched the magic of the royal wedding from their televisions, Suits creator Aaron Korsh experienced the real-life fairytale in person. 
Korsh wrote about his royal wedding experience for New York Daily News. After the media outlet published an excerpt from his account, the TV producer decided to share his entire post via Twitter on Monday.
In a heartfelt open letter, Korsh called the wedding between Prince Harry and Meghan Markle "the most extraordinary thing I've ever seen."
From the drive through Windsor to the walk to the reception, the whole day left Korsh in awe. Of course, the ceremony at St. George's Chapel seemed to be a particularly memorable moment.
"Seeing each member of the wedding [party] walk down the aisle, Harry evoked earnest and somehow vulnerable, Meghan looking strong and proud and regal and beautiful…it started things off amazingly," he wrote, recalling the May 19 nuptials. "From there, just being in the chapel to experience such a seemingly world-changing event was incredible. To have the mix of cultures on so many levels and to have two such capable ambassadors showing the world how it should be was moving beyond words."
After Meghan and Harry said "I do," Korsh headed to the reception, where he strolled alongside many of the wedding's star-studded guests, including Sir Elton John and George Clooney. He referred to the experience as "a dream."
"I could tell they really wanted to run up and greet me but it was clear they were too shy. Either that or they had no idea who I was or even that I was there. But I'm pretty sure it was the former," he quipped, later adding that he also saw former Prime Minister John Major and Idris Elba. "From there it was again one once in a lifetime encounter after another."
While the big day was certainly one Meghan and Harry will never forget, it also seemed to be one Korsh will forever hold near and dear to his heart.
"I can only sum it up by saying it felt like the world was becoming a better place today," he wrote. "But one thing is for sure, my world will forever be richer for having those memories stored away in my consciousness."
Korsh attended the wedding with his wife and Meghan's former co-stars from the show, including Gabriel Macht, Patrick J. Adams, Sarah Rafferty, Gina Torres and Rick Hoffman.
A few of the stars expressed their excitement over the big day on social media.
"I'm still speechless. Still processing," part of Raffery's Instagram post read. "[My husband] Santtu [Seppälä] and I were honored to witness such a sublime and emotional event. We wish the happy couple every blessing with all our hearts."
Macht also wrote, "Congrats to Meghan and Prince Harry on your nuptials. Enjoyed meeting many of your family and friends and an incredible honor to be a part of the whole celebration. May your journey together be full of love and children. Cheers! #royalwedding #princeharry #meghanmarkle."
USA Network announced Meghan's exit from the show shortly after the Rachel Zane star revealed she was engaged to Harry. Meghan also acknowledged her departure from the show during the couple's official engagement interview.
"I don't see it as giving anything up. I just see it as a change," she said. "It's a new chapter, right? And also, keep in mind, I've been working on [Suits] for seven years. We were very, very fortunate to have that sort of longevity on a series…I've ticked this box, and I feel very proud of the work I've done there, and now it's time to work with [Harry] as a team."