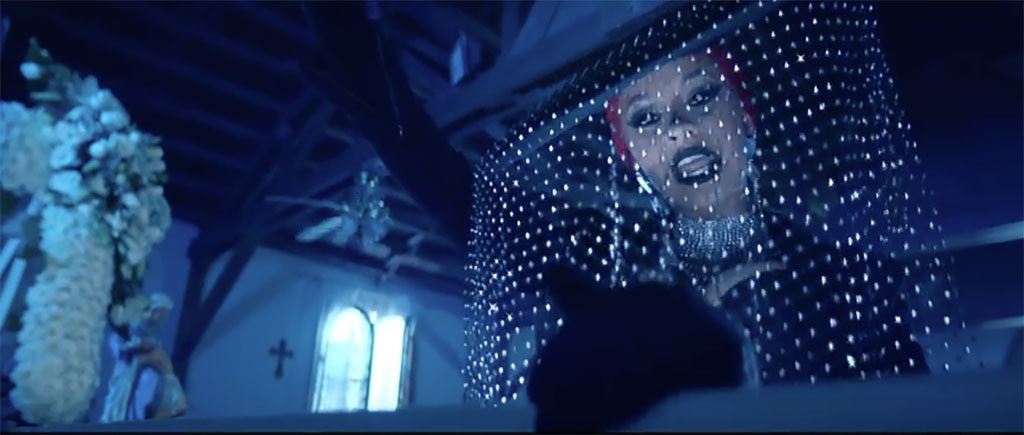 YouTube
There's an end to this tumultuous love story—and it involves a coffin. 
In honor of her track "Be Careful," Cardi B has released her latest music video and it's a dark and twisted tale. In the infidelity-themed visual, the rapper first appears all in white as a bride and takes her place at the altar with her man. 
However, as she rhymes about cheating and karma, the video shifts to a dark funeral as she reemerges in an all-black ensemble and approaches a coffin holding her husband. 
It's clear things did not end well for these two considering she leans over the coffin, tells her dead partner "You make me sick" and then slams it closed. 
In the finale scene, Cardi drives into the desert and puts a cross into the ground, seemingly at the site of her husband's grave. 
Directed by Jora Frantzis, the video was shot earlier this month and is an obvious depiction of the track's themes disloyalty and adultery. While fans suspected the song was about Cardi's fiancé Offset when it first came out in March, the star denied those suggestions. 
"No, I wasn't talkin' about Offset, I just was talkin' about things that I relate to and that have happened to me…you just think about different types of things that you went with different type of men," she said in an interview with Ebro Darden for Beats 1. 
"First of all, I heard the record before I even like was in love with Offset…Our relationship is like, at first we liked each other, but it was very protective of each other because people would put things in your ears and it's like I gotta protect my heart."
No matter what the inspiration is, the video has already caught the eye of fans everywhere with nearly 500,000 views in its first hour.