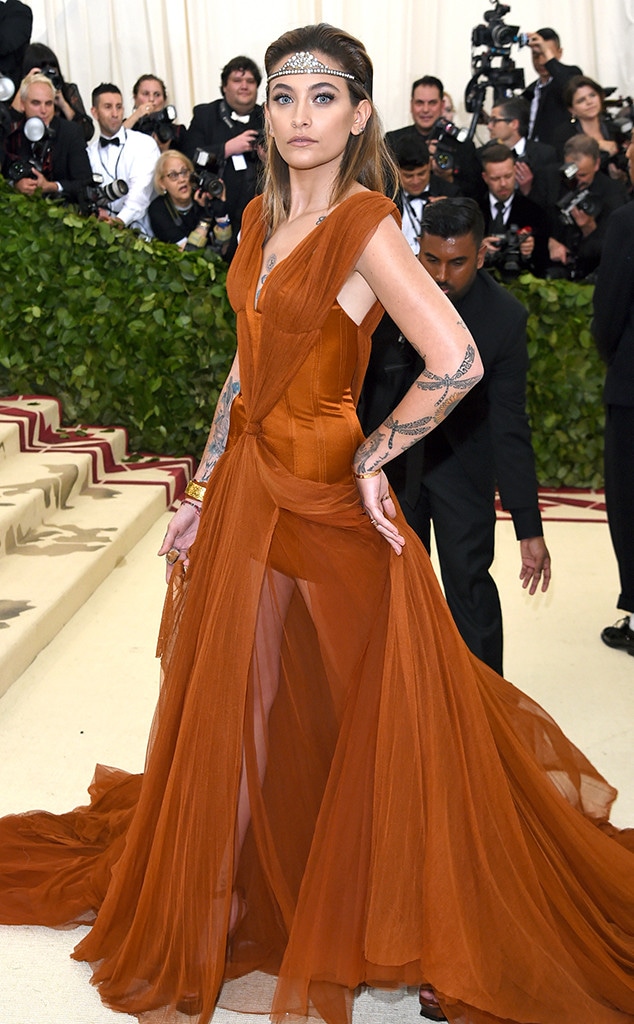 Evan Agostini/Invision/AP
Janet Jackson gave an iconic performance at the 2018 Billboard Music Awards in Las Vegas Sunday, whipping through a medley of hits and sharing an inspirational message during her acceptance speech for the Billboard Icon Award. Janet's mother Katherine Jackson, nephew Prince Jackson and sister Rebbie Jackson cheered her on from inside the MGM Grand Arena.
Later that night, Rebbie's son, Austin Brown, shared a photo from Janet's performance on Instagram. "Couldn't be more proud of my aunt for not only delivering a stellar performance but also showing people greatness is ageless," the singer wrote. "Congrats on your Icon award."
Paris Jackson shared a screenshot on Instagram Stories Monday, writing, "Ditto."
The 20-year-old Gringo actress was criticized on social media for not showing up to support Janet, prompting her to address some larger issues within the Jackson family once and for all.
"Dear social media followers, friends, stalkers, lovers and haters, and fellow moonwalkers: Please do not tell me/demands/try to control how I handle my relationship with the people in my life, specifically my family. As amazing and as s--tty as things can be, it is no one's business but ours. I understand that some of you feel some sort of connection or need to be a part of our lives considering you watched us grow up. However, I am handling my situation exactly how my father did. And I am happy keeping it that way. I will always have love and respect for my family. ALWAYS," Paris wrote. "There is nothing more or less than that, that you need to know."
Paris, the daughter of the late Michael Jackson, added, "Thank you for understanding."
"Every family has their moments of trauma, heartbreak, separation, love, oneness, tribe, pain, everything. EVERY FAMILY. My family, specifically, and a good number of others...well, our drama is broadcasted worldwide through media. But that doesn't mean our family issues are any different from yours. Ours are just made public," said Paris, who's father tried to keep her out of the public eye. "Every level has another devil. Every life has their own s--t to deal with. We ain't inferior or superior to y'all. We're all f--king human. So let's act like it. I appreciate any and every person reading this and I'm grateful for everything in my life, positive and negative."
Paris and her aunt agree on this point: gratitude is the only attitude.
In her acceptance speech, a soft-spoken Janet told the audience, "Everything we lack, God has in abundance: compassion, sensitivity, patience and a boundless love. So, again, I want to thank all of you for this honor and I thank God for giving me the precious energy that lets me live my life as an artist who, every single day, seeks to expand my capacity to love. Thank you so much."
A little bit later, Paris updated her Instagram Stories again, writing, "Also not to mention, no one from my mgmt reached out to me about attending billboards or about the award, and no one from my family did either. I had absolutely no idea until y'all spammed me with hatred."