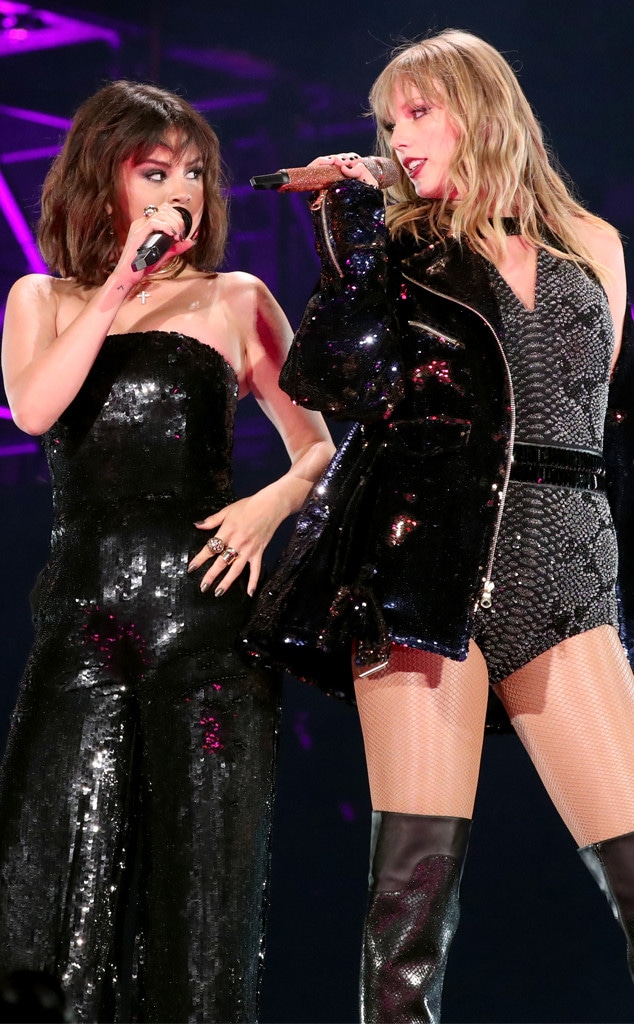 Christopher Polk/TAS18/Getty Images
Taylor Swift and Selena Gomez's friendship remain stronger than ever.
As the reputation stadium tour headed to Los Angeles this weekend, fans were hoping the "Delicate" singer would have a few surprises up her sleeves. As it turns out, she had some famous friends ready to take the stage.
During Saturday night's sold-out show at the Rose Bowl in Pasadena, Taylor brought out her longtime bestie for a performance of "Hands to Myself."
"I want to say thank you to my best friend of about 12 years, almost 13. And the reason why she has been one of my best friends is because this person has never, ever judged a single decision I've made," Selena shared with the audience while wearing a jumpsuit from Osman. "She's always met me where I've been. She's encouraged me when I've had nothing to be encouraged about. And I don't know if I would be as strong as I am if I didn't have you and your family because you changed my life."
She added, "But honestly thank you from the bottom of my heart for supporting someone that I know that is the most beautiful, strong, independent woman I've ever met. So thank you for supporting my best friend."
After the show, Taylor expressed her gratitude at a friendship that has withstood the test of time.
"To the person I could call at any time of day, who has been there no matter what…you absolutely KILLED IT tonight and everyone was so excited to see you," she wrote on Instagram. "I love you and 60,000 people at the Rose Bowl loved you too."
Earlier in the night, Taylor also brought out special guest Troye Sivan to perform his new single "My My My." While wearing reputation merchandise, the singer announced his new album Bloom will be released on August 31.
It was a star-studded weekend for the reputation tour as dozens of celebrities were spotted in the audience rocking out to her biggest hits.
During Saturday night's show, Amber Rose, Wiz Khalifa, Kobe Bryant, Lena Dunham, Spencer Pratt, Heidi Montag, Sarah Michelle Gellar, Julia Roberts and Rebel Wilson were just some of the stars in attendance.
As for Friday night's performance, audience members including Ryan Seacrest and Viola Davis were able to witness Taylor's latest tour—and a special performance from Shawn Mendes.
Find out when the reputation tour comes to your neighborhood by visiting Taylor's official website.