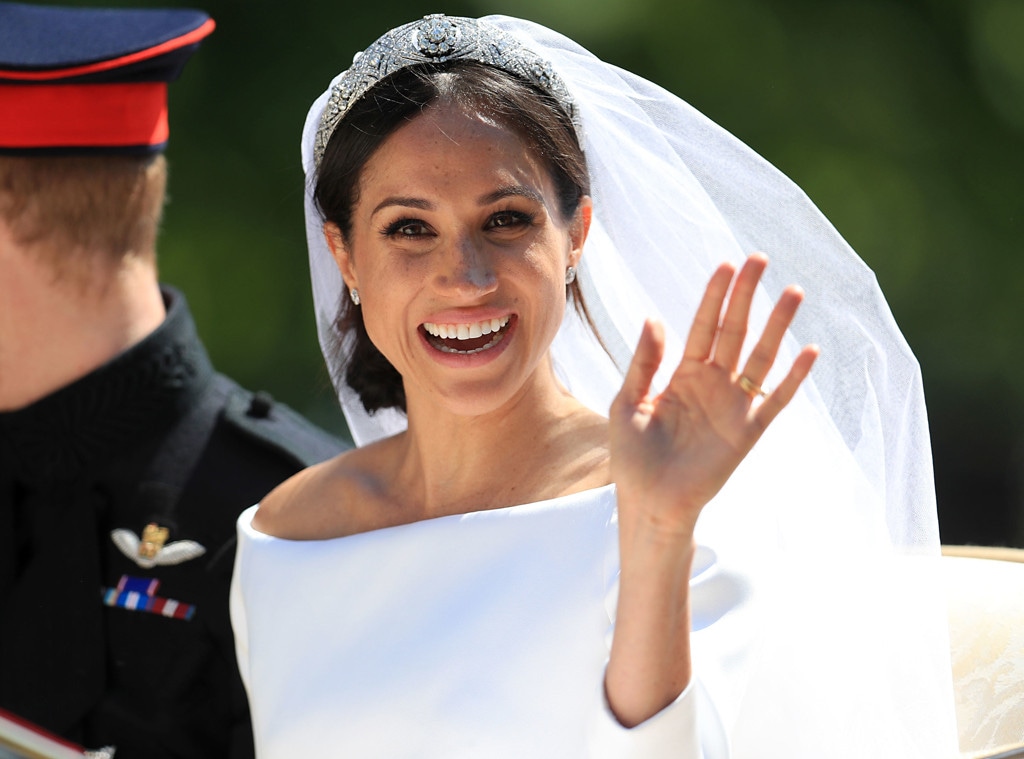 Mike Egerton/PA Wire
Meghan Markle knew how to make sure her best friends sparkle on her big day. 
For her six BFFs, as well as new sister-in-law Kate Middleton, Meghan commissioned a special gift to be worn at her wedding to Prince Harry "to take as a memento from this time and this occasion": a custom gold disc bracelet called "The Kensington" by Zofia Day, which is currently available online for $450.
"It's been pretty surreal," Lisette Polny, Founder and Owner of Zofia Day, exclusively told E! News of the new Duchess of Sussex choosing her design. "I know that [the bracelets] were gifted to them, I am hoping they were wearing them!"
Polny, whose designs have been worn by Meghan at previous events, revealed the custom bracelet design came about thanks to the bride's best friend Benita Litt, who was by her side on the big day. 
"Benita wanted me to style her in jewelry for the wedding and all the events. At that time, I said, 'Meghan's been such a great supporter of me, would she be interested in gifting her bridal party for this occasion?'" she explained. "And every communication I've had has been through Benita, I actually haven't had direct communication to Meghan, but I was sending some ideas for designs for the gifting and she loved the idea of the simple gold, solid disc bracelet, which is very of essence of her style."
Benita's two daughters, Rylan and Remi, also wore necklaces (the Windsor Heart Pendant and the Charlotte Bow) designed by Polny, who confirmed that Meghan's best friend Jessica Mulroney also received a Kensington bracelet, along with Benita and Kate.
The designer called Meghan's custom Givenchy gown "the perfect look," saying the American star "looked like obviously a classic beauty. I think she looked elegant but modern at the same time. I think it was a wonderful fusion of maintaining the royal tradition but also bringing american fashion to the table as well. It was amazing!"
Markle has previously worn Polny's jewelry, even donning a pair of Dash Ear Studs on the cover of Vanity Fair.
"She's got a really simple subtle style and that's what my jewelry is," Polny said, "it's supposed to make a statement but overall be simplistic and timeless, which I think is really relatable to her."
People first reported on Meghan gifting her bridal party with the bespoke wedding bracelets.