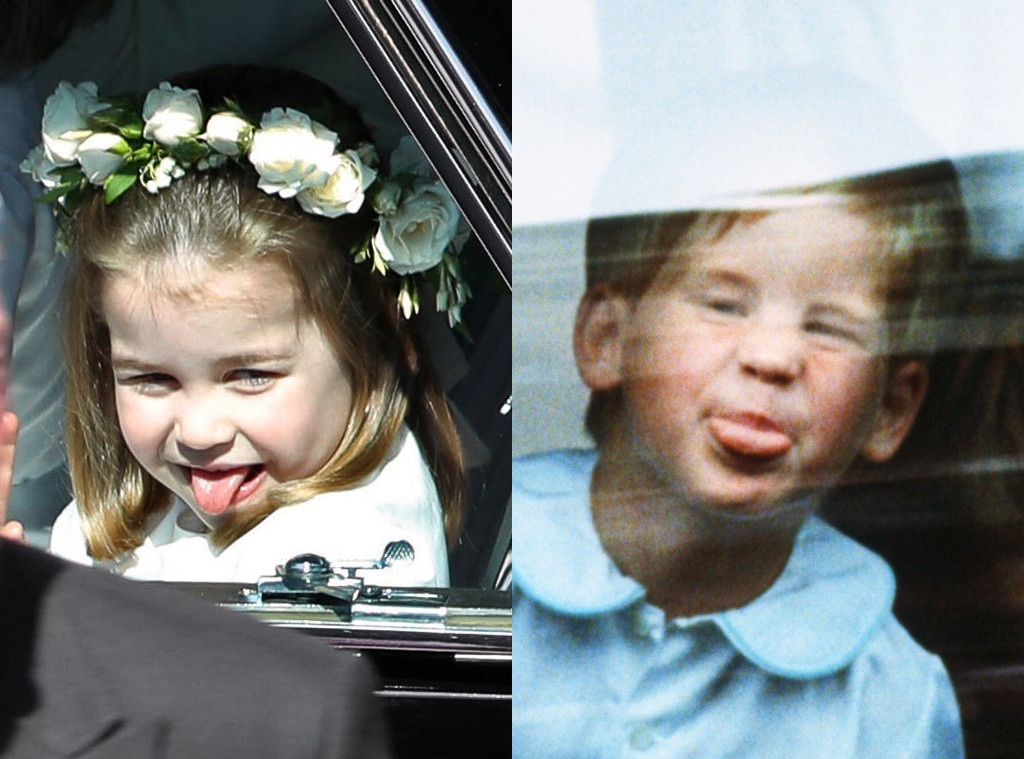 REX/Shutterstock; Daily Mirror/Mirrorpix/Getty Images
Kids say the darndest things? More like do the darndest things.
It was a big day for Princess Charlotte and her siblings as they played an important role in Prince Harry and Meghan Markle's royal wedding.
But at just three years old, it would be more than understandable if Kate Middleton and Prince William's daughter had some LOL-worthy moments at some point in the day.
Look no further than when Princess Charlotte arrived at St. George's Chapel to perform her duties as a bridesmaid.
In a photo going viral, Prince George and Prince Louis' sister stuck out her tongue long enough for photographers to snap a photo. But as it turns out, Prince Harry totally did the same thing years ago.
The newlywed was captured doing something very similar to photographers in 1988. While it wasn't for a wedding ceremony, the occasion was still a big one as his cousin Princess Beatrice of York was born.
He also showcased his tongue when he arrived for a school play with Princess Diana. Too much to wonder what Miley Cyrus thinks of all this?  
Ultimately, Princess Charlotte was quite the hit at St. George's Chapel as she walked in wearing a white dress from Givenchy Haute Couture Atelier, made with Ivory silk Radzimir. The dress featured short puff sleeves and a double silk ribbon in the back.
To finish the look, Kate's only daughter wore Aquazurra shoes, which were monogrammed and dated—a gift from Meghan—and a flower crown.
As for that wave on the steps of St. George's Chapel? Yes, we're still smiling too.