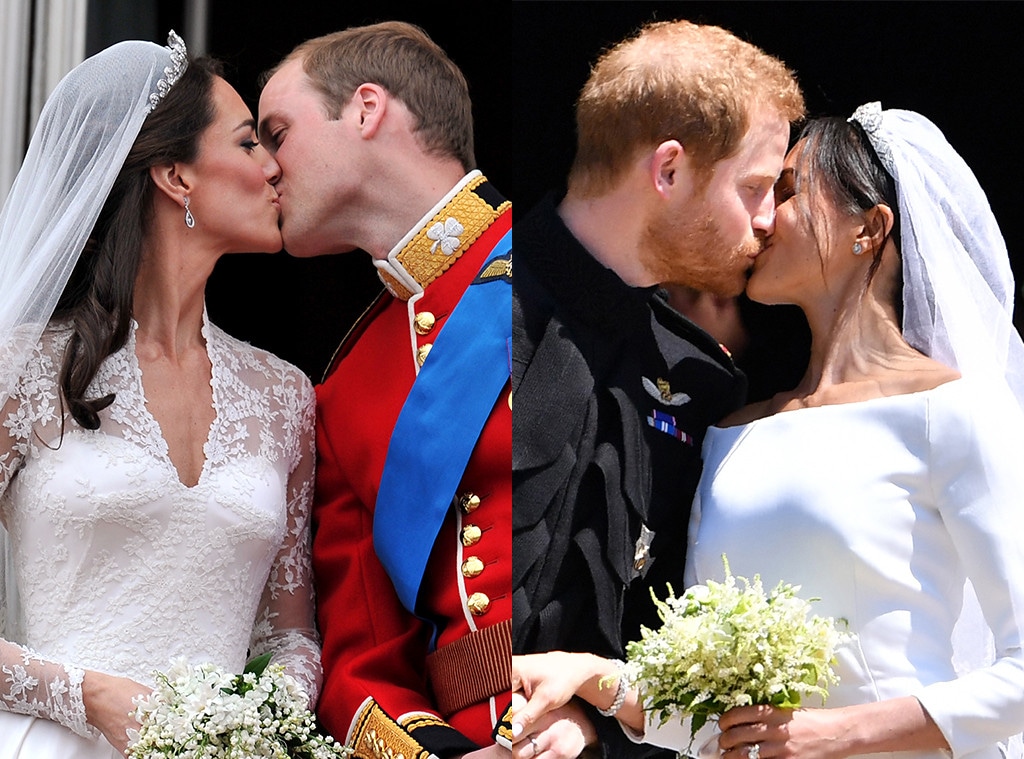 John Stillwell/PA Images via Getty Images, Ben STANSALL - WPA Pool/Getty Images
What would a wedding be without the kiss? 
To seal their fairytale wedding day, Prince Harry and Meghan Markle walked down the aisle together inside St. George's Chapel for the first time as husband and wife. The couple then emerged in the entryway to the chapel with a picturesque floral arch framing them. With the surrounding crowd applauding and cheering for them, the two paused at the top of the steps and looked at each other. Then, Prince Harry went in for the customary kiss and the two parted with smiles on their faces. 
Naturally, the crowds roared at the sight of the smooch. The newlyweds then descended down the steps hand in hand and proceeded to get into a horse-drawn carriage for their planned procession through Windsor. 
In similar fashion, Meghan's new brother and sister-in-law, Prince William and Duchess of Cambridge Kate Middleton shared a kiss on their wedding day seven years ago. However, their peck took place on the balcony at Buckingham Palace following their procession from Westminster Abbey. 
Danny Lawson - WPA Pool/Getty Images
Much like his brother, William said something to Kate before he leaned in and the two locked lips, smiling from ear to ear as they separated again. The sight was reminiscent of William's parents, Prince Charles and the late Princess Diana's kiss on the Buckingham Palace balcony. 
The newly married pair were joined on the balcony by the royal family, the page boys, bridesmaids and Middleton's parents and the entire group waved to the thousands of cheering fans at the time.
Since there is no balcony at St. George's Chapel, it seems Meghan and Harry elected to smooch right after emerging in public for the first time as there would be no opportunity to do it after their carriage procession. Meanwhile, the royal family stood at the top of the steps to see the couple off into their carriage. The new husband and wife are expected to join their 600 guests back at Windsor Castle after the procession finishes for the first wedding reception hosted by Queen Elizabeth II at St. George's Hall.
Later this evening, Prince Charles will host a more intimate reception for 200 invited guests at Frogmore House.
In the meantime, we'll be busy playing back their perfectly romantic kiss. Congratulations you two!