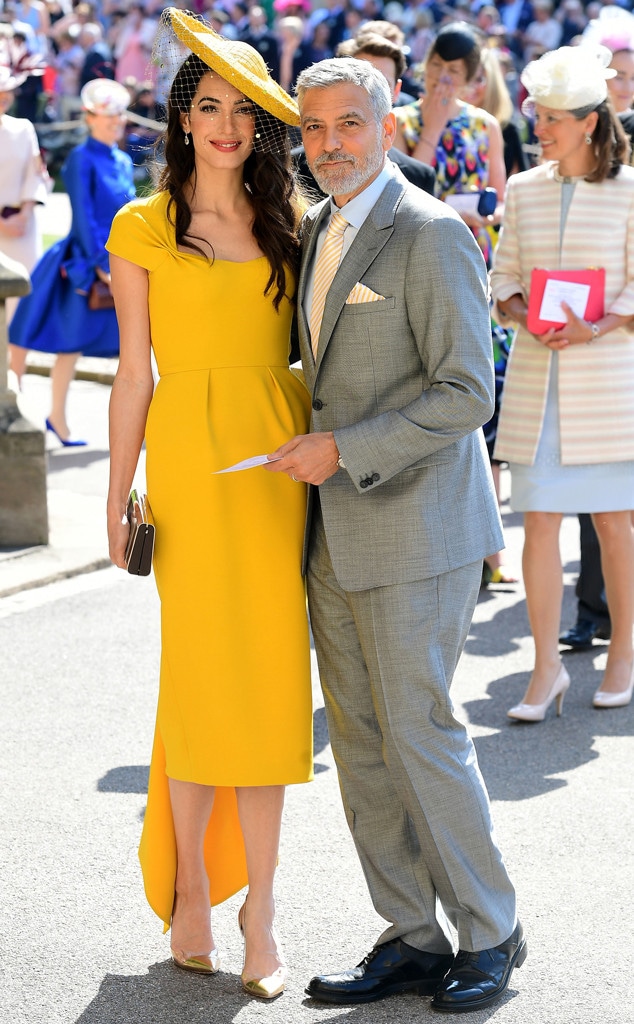 Gareth Fuller/PA Wire
The Clooneys have arrived!
As Prince Harry and Meghan Markle's royal wedding ramps up, George Clooney and Amal Clooney have officially arrived to St. George's Chapel, confirming last minute reports that they would be in attendance at the most anticipated wedding of the year. 
While they were there in celebration of a soon-to-be royal couple,  the A-list pair looked every bit like Hollywood royalty. The Oscar winner sported a slate suit with a yellow tie and pocket square while his real-life leading lady stunned in a standout canary ensemble designed by Stella McCartney. The dress features a short train and the British barrister paired the dress with a matching hat worn slanted with her brunette tresses cascading down her shoulders. 
While the couple was initially unexpected at the ceremony, it was later reported that Amal has become friends with Markle since she moved to London. 
"Meghan and Amal have known each other for a while," a source told People. According to the source, the two women met through a mutual friend and have formed a friendship since they share "many interests."
What a special—and unforgettable—way to celebrate a new friend! 
Looking good, you two!
Check out more photos of Prince Harry and Meghan Markle's guests in E!'s gallery above!