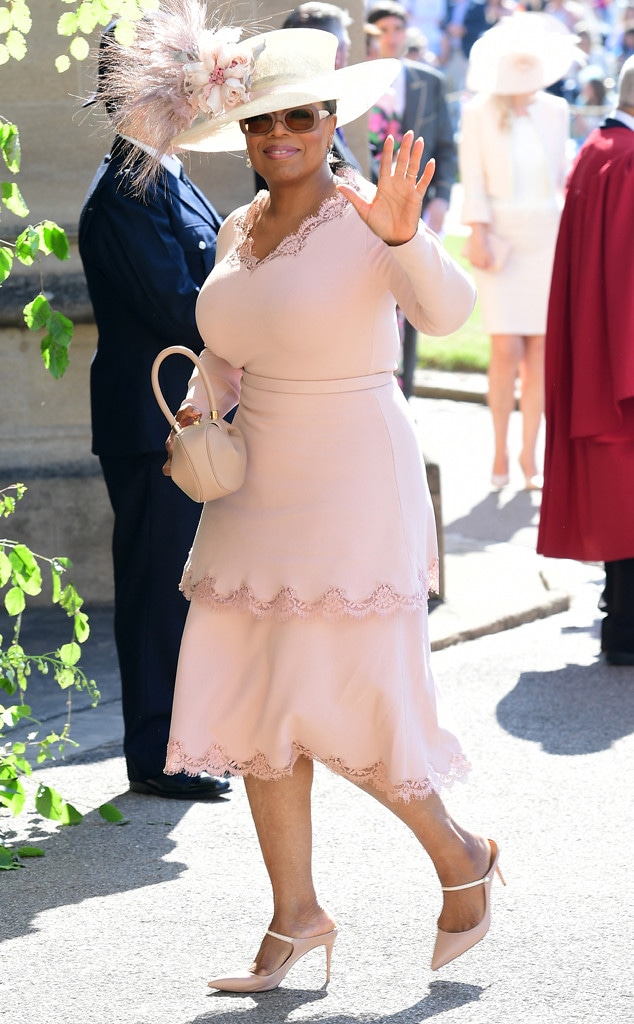 Press Association via AP Images
The talk-show queen has arrived!
Oprah Winfrey arrived at St. George's Chapel in Windsor on Saturday, where the royal wedding of Prince Harry and Meghan Markle took place. 
Winfrey wore a long-sleeved, blush Stella McCartney dress and matching Philip Treacy hat. The dress was double-tiered and featured lace trim made of sustainable viscose. She accessorized her look with a purse and heels. She also arrived wearing sunglasses.
According to her best friend and CBS This Morning host Gayle King, Winfrey had a bit of a fashion emergency and had to switch her dress at the last minute because it was too white—a color traditionally reserved for the bride. However, fashion stylist Sadaf Razi, who's worked with Meghan in the past, told E! News she thought the switch was the "right decision."
"For Oprah, it was perfect," she stated. "I think she made the right decision changing her dress at the last minute if her original pick was too close to white. White is really only for family members and even then it's cutting it close. The pink is a perfect subdued style statement. It's soft in color but the cut is strong."
Winfrey also thanked the designer for helping her out in a pinch.
"I would like to thank the Stella McCartney team for working all night long to get this dress finished because we had dress gate: Wrong color, now we got the right color," she said in an Instagram video. "I think we're going to do OK. But no, thank you so much for the detail, working all night to the whole Stella McCartney team. Amen. Amen. Amen. Stella McCartney team, thank you very much."
The Wrinkle in Time star was one of the first celebrity guests to arrive at the Windsor Castle chapel. Winfrey was told she had to leave three hours early to make it on time and travelled by bus.
"I said, 'Oprah has to ride the bus? Oprah is not a bus person. Has she been informed?!'" King said.
Fans started to speculate if Winfrey would attend the royal wedding after she was spotted in London attending the Tina Turner musical Tina: The Musical on Friday. Daily Mail also reported that the mother of the bride, Doria Ragland, visited Winfrey's mansion in California in late April.
Winfrey isn't the only celebrity guest in attendance. Idris Elba, Serena Williams, David Beckham, Victoria Beckham, Priyanka Chopra, James Corden, George Clooney and Amal Clooney were all spotted at the chapel.
Harry and Meghan, who've already received their new titles of Duke and Duchess of Sussex, wed at 12:00 p.m. local time. After they became husband and wife, they embarked on a carriage procession through the town of Windsor. Then, they celebrated their newlywed status with a reception for all of their 600 guests, followed by a private reception for 200.