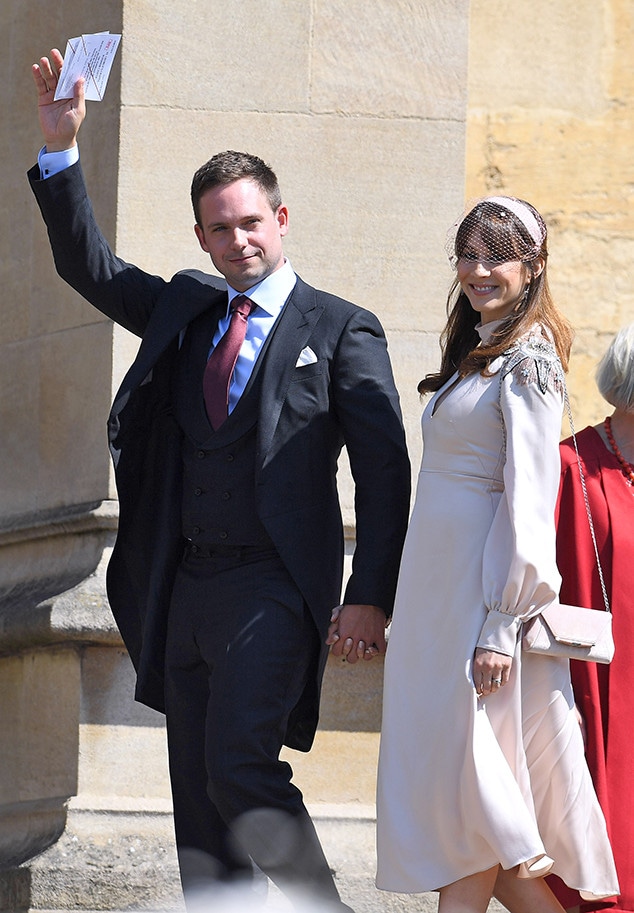 James Gourley/REX/Shutterstock
When your TV spouse gets married to royalty…
Former Suits star Patrick J. Adams and his real-life wife Troian Bellisario arrived at the royal wedding of Prince Harry and Adams' TV wife Meghan Markle.
Adams' and Markle's characters, Michael Ross and Rachel Zane, tied the knot in the Suits season seven finale. The duo then exited the series—their characters moved to Seattle.
Suits creator Aaron Korsh said he and the writers made the decision to write out Markle's character ahead of her engagement announcement.
"I sort of had a decision to make because I didn't want to intrude and ask her, 'Hey, what's going on? What are you going to do?' So…collectively the writers, we decided to take a gamble that these two people are in love and it's going to work out," Korsh said on Radio 4's Today.
"What we decided to do was as the season progresses say, 'Look, I would rather have good things happen to Meghan in her life'—which would likely mean her leaving the show," Korsh said. "So let's plan on that and it's much easier to undo that, if it came to it, than to just plan on her staying forever and then finding out she's going to go. And the only way to write a character out like that would be if they got hit by a bus or something."
After their exits were announced, Korsh released a statement about their time on the series as well as the future of the legal drama.
"I would like to thank Patrick and Meghan for their extraordinary contributions over the last seven years. Not only have they been outstanding in their roles as Mike and Rachel, they are also superb human beings who will always be beloved members of the Suits family, and we wish them well in their days to come," Korsh said in a statement when the season eight renewal was announced. "Speaking of days to come, I am incredibly excited to welcome back our phenomenal crew and cast—Gabriel, Sarah, Rick and Dulé—who will continue the roller coaster ride with all of our amazing fans. Season 8 will have everything from shifting alliances and internal power plays, to secrets, betrayals and fiery relationships. Keep an eye out for an adversarial new character that will give Harvey a run for his money."
Suits returns to USA Network in July.
(E! and USA are both part of the NBCUniversal family.)