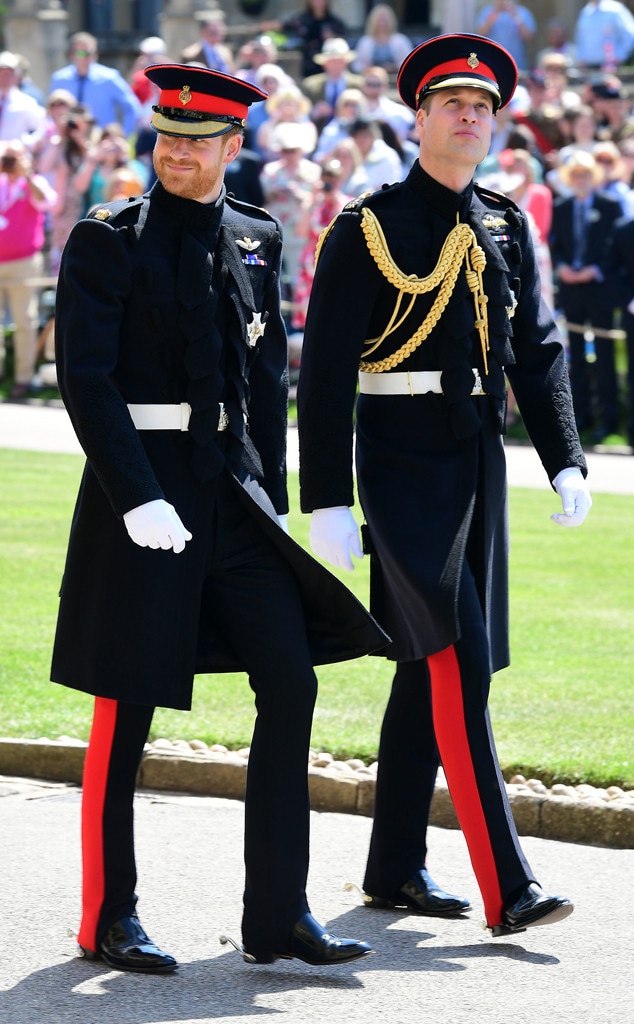 Ian West/PA Wire
Prince Harry set the royal standard for dapper groom wear!
As expected, the man of the hour wore a military uniform to exchange vows with Meghan Markle at St. George's Chapel in Windsor Castle. The Duke of Sussex, who served over 10 years in the Armed Forces, donned a dark blue captain's uniform, tailored by Dege & Skinner on Savile Row.
The single-breasted frockcoat featured blue doeskin and regimental braiding. Accoutrements on the uniform featured gold embroidered crowns, ranked by Major status. Four medal ribbons also adorned the uniform to represent K.C.V.O., Afghanistan with rosette, The Queen's Golden Jubilee and The Queen's Diamond Jubilee. 
But our favorite part? Harry's well-groomed beard!
Before the groom's big day, there was question whether the prince would wear a military uniform, like Prince William did for his nuptials, or a modern suit or tuxedo, like he did for the official engagement portrait.
For Prince William's wedding, Harry, the best man, followed the groom's footsteps and wore a black military uniform reserved for captains in the Household Cavalry's Blues and Royals.
For the engagement portrait, the prince donned a suit from British brand Gieves & Hawkes, which has a long-standing relationship outfitting royals, including Prince Charles.
It looks like Harry went the traditional route!