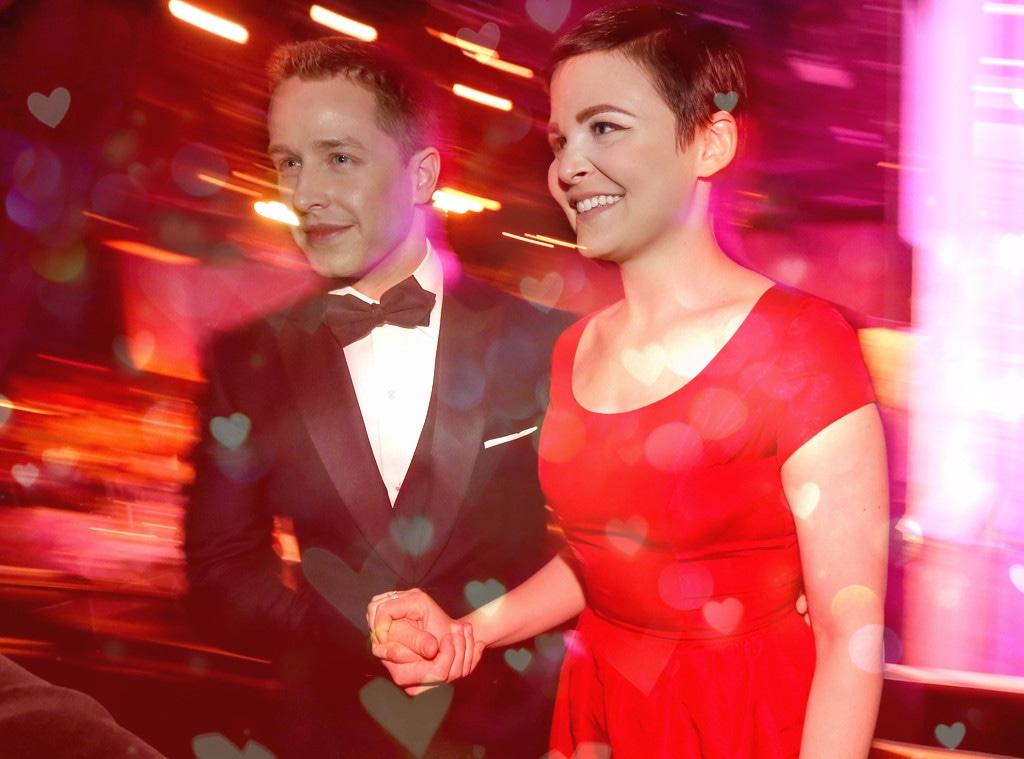 E! Illustration/Christopher Polk/Getty Images for CDG
For Ginnifer Goodwin and Josh Dallas, an on-screen fairy tale paved the way for one of their own. 
The actress of Big Love, He's Just Not That Into You and Zootopia fame first met her life partner on the set of Once Upon a Time in 2011, though timing was not initially on their side. They had an "immediate connection," a source later told E! News back in early 2012. However, at the time, Dallas was married to Lara Pulver while Goodwin was engaged to Joey Kern. The co-stars, who famously played Snow White and Prince Charming for six seasons of the ABC series, formed a friendship. 
"They were shooting in Canada together and because they were both away from home, they inevitably started to socialize together off the set as well as on—and they got closer as friends," the source explained. 
However, being on set in another country put a strain on Dallas' marriage and the pair of actors separated in the fall of 2011, the source added. Meanwhile, Goodwin and her actor beau had broken off their engagement a few months earlier in the spring. 
Both single, "it was then that his connection to Ginnifer deepened and they fell in love," the source described.  "He's a really kind man...quite a gentleman at heart, and I think she really appreciated that he was more considerate than some of the other men in Hollywood."
Just like that, life was imitating art. "The relationship has been full-on since the moment it turned romantic," the source added, "and they spend every moment together. There was no reason to wait and take it slow—they fell in love, and it feels right."
"I knew that in fact I was going to marry my husband Josh at Disneyland because I took him for his first time ever and we had just started dating...We were on Big Thunder Mountain and he threw his arms in the air and he goes, 'This is the best day of my life' and I was like, 'We're totally getting married,'" she recalled in an interview with Kelly Ripa and Michael Strahan. 
She was right. The two headed down the aisle two years later—with a little one on the way. "It was pretty perfect," Goodwin recalled to Ripa and Strahan. "It was a last-minute kind of thing because we thought of ourselves as exceptionally modern and we were like, 'We don't need to get married. We'll get married later' and then I was nine months pregnant and we were like 'We totally need to get married,' so at nine months, we invited like maybe 25 people."
Survivor/PacificCoastNews
After proposing to his real-life leading lady in October 2013, the couple exchanged vows in front of  close friends and family in an intimate Los Angeles ceremony in April 2014. "Ginnifer and Josh seemed very relaxed and happy," a source described at the time. "They were surrounded by their nearest and dearest friends and kept it very intimate and simple."
As their fairy tale romance evolved, Goodwin made another lifetime dream come true: motherhood. "I want three or five children, but I need a bigger house or a smaller closet. I'm 32, so I'm already thinking about that. If it happened right now, I would absolutely have a baby," the star told InStyle UK in 2010. That moment arrived when she gave birth to the couple's first child, son Oliver Finlay Dallas, in May 2014. Younger brother Hugo Wilson Dallas followed two years later in June 2016. 
"I think I was born to be a boy mama," she told Ripa and Strahan. 
Alberto E. Rodriguez/Getty Images for Disney
Just like that, they had begun their newest—and perhaps most important—roles as parents. Despite their joint Hollywood careers, the two stars have managed to keep their family life low-key, rather typical and mostly out of the spotlight over the years. They're often spotted making school runs, stepping out on walks as a family and making trips to one of the mom and dad's favorite places, Disneyland. Of course, there is the occasional red carpet date night sprinkled in. 
"It's mommy and daddy night out. It's crazy," Goodwin told E! News at the 2015 People's Choice Awards, seven months after welcoming their first son. As the couple told us at the time, they usually "never" get to go on date nights together.
"It's so much better [than I thought]," she told E! News of her initial experiences with motherhood. "It makes me feel like acting is not at all creative, but being a parent, anybody who's a parent I want to like give an Oscar to."
With their family coming together, the couple was still playing one on television, too. "We're besties and I think there's a mutual respect. Certainly I respect her talent as an actress and to be able to work with that every day is a dream come true and then to be able to go home with my best friend is also the best," Dallas told Access Hollywood at the 2017 Academy Awards. 
Unfortunately, their time as Snow White and Prince Charming came to a close as they bid farewell to their longtime roles with the sixth season last year. When the series' end arrived at the seventh season marker, the couple returned for the last episode to properly say goodbye.
"I mean, it's a privilege. It's a privilege to come back. We were wondering why it took them so long to invite us back," Dallas told E! News ahead of the Friday finale. "But we're glad that they did. You know, it's a show that is so important to us. For me, it will always be the thrill of my life to have been a part of it. And to come back was a no-brainer. Of course we couldn't wait to come back."
While their fairy tale life on-screen has officially ended, their real-world love story is still very much underway. With Goodwin celebrating a birthday today and their sons' special days coming at the end of this month and next, they are all kicking off a new chapter to their own storybooks—together. 
As her real-life leading man wrote online, "Intelligence is Ginny. Elegance is Ginny. Beauty is Ginny. Grace is Ginny. Funny is Ginny. My love is Ginny. Happy Birthday to the greatest I know."