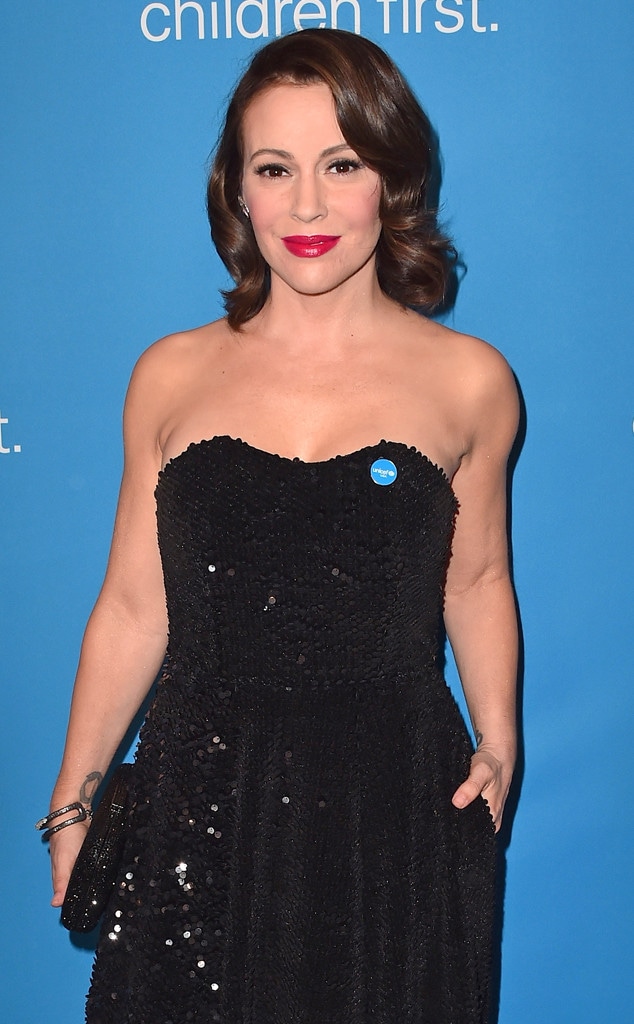 Alberto E. Rodriguez/Getty Images
Alyssa Milano is opening up about her struggle with postpartum anxiety in a new essay for TIME.
The actress and activist has penned a piece for the publication, published Thursday, in honor of Mental Health Awareness Month. "My Generalized Anxiety Disorder was most likely triggered by my postpartum depression, and my journey with mental illnesses began with my journey into motherhood," she begins. "In 2011, two years after suffering a miscarriage, I learned that I was pregnant with my first son, Milo — and it was a dream. My miscarriage was heartbreaking, but this pregnancy was beautiful: I did not experience morning sickness; I went to prenatal yoga five times a week; I walked two miles a day; and I took naps in the afternoon."
10 Days before her due date, Milano began to have complications, and as a result, she had to give up the birth plan she had prepared to follow. And, after 18 hours of labor, her son was born via C-section.
"That first night, after we returned from the hospital, I suffered my first anxiety attack," Milano writes. "I felt like I had already disappointed my child. I felt like I failed as a mother, since I was not able to give birth vaginally or nourish him with the breast milk that had not come in yet. My heart raced. My stomach seized up. I felt like I was dying."
Milano goes on to share that her anxiety "worsened" over time when she returned to filming.
"Finally, I hit a wall. One early morning, I went to the emergency room at 2:00 AM, asked for a psychiatrist and got help. I felt as though I had no choice: I asked to be committed; I stayed in a public psychiatric ward for three days," Milano shares.
She later adds, "Throughout this process, I also found angels — including my psychiatrist and my therapist. They convinced me that I had the bravery to face my illness, the value to seek help and the strength to recover. And I am continuing to do all three. And most likely I will for the rest of my life."
Milano also appeared on The View on Friday, where she opened up about her essay.
"I have a mental illness and I am going to say it just like that because I feel like there's such stigma around mental illness and I want people to know that if you have anxiety, depression, whatever your mental illness is may be, you are not alone," Milano said on the show.