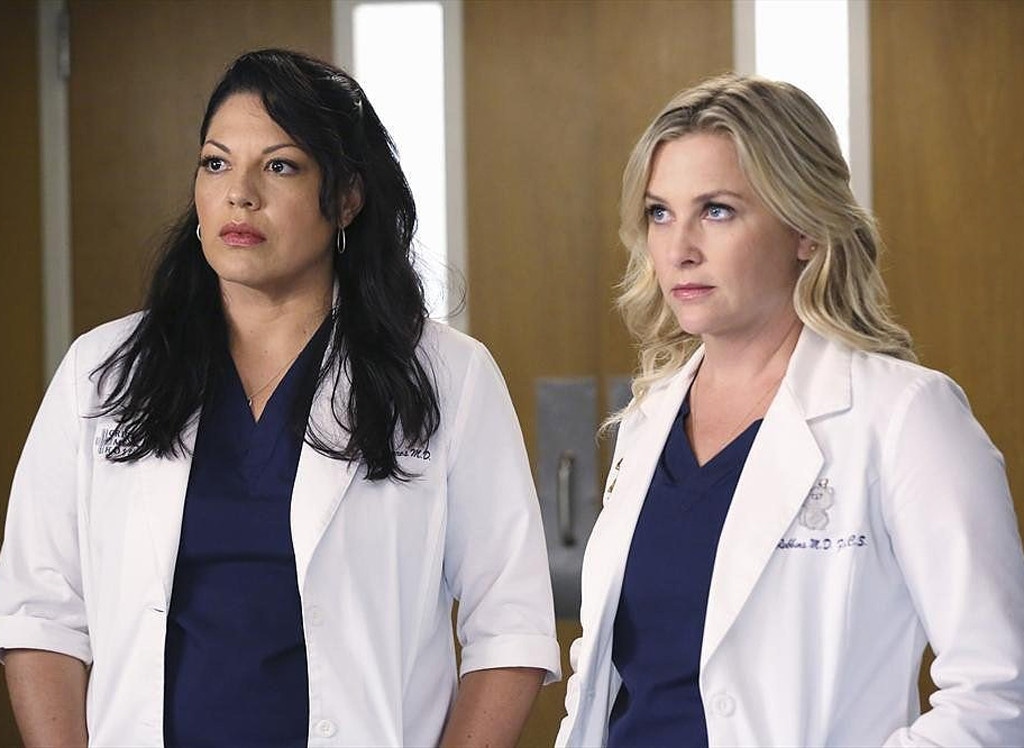 ABC
Calzona forever!
In the season 14 finale of Grey's Anatomy, which also acted as the swan song for longtime stars Jessica Capshaw and Sarah Drew, fans were delighted to learn that both of their characters, Drs. Arizona Robbins and April Kepner, respectively, were being written out with the rarest of Shondaland occurrences: Honest-to-goodness happy endings.
For Arizona, specifically, she was following through with her decision to leave Seattle and Grey Sloan Memorial behind and head out east to NYC so that the daughter she shares with ex-wife Callie wouldn't have to be shuttled across the country any longer. Not only would she be embarking on a new career path courtesy of Geena Davis' Dr. Herman, but we learned that her relationship with Callie was on the upswing, as she admitted to April that each new text from her newly single ex brought a bigger smile to her face. As April encouraged her to open herself up to the possibility of a second chance, like she was getting with the man she once left at the altar, it was abundantly clear: Calzona lives!
While Sara Ramirez, who played Callie for 10 years before leaving the series at the end of season 12 and now co-stars on CBS' Madam Secretary, didn't make an appearance in the episode, her presence was certainly felt in the finale. And not just via text bubble on Arizona's phone. 
As the episode's final scene—AKA the dual weddings of Alex (Justin Chambers) and Jo (Camilla Luddington) and April and Matthew (Justin Bruening)—played out, a familiar song acted as soundtrack to the momentous occasions. And it was none other than the cover of Brandi Carlile's hit "The Story" as performed by Ramirez during "Song Beneath the Song," Grey's' musical episode from season seven!
Now grab some tissues, cue up the finale one more time, and prepare to cry from Callie's stealthy return!
Grey's Anatomy returns for season 15 this fall on ABC.