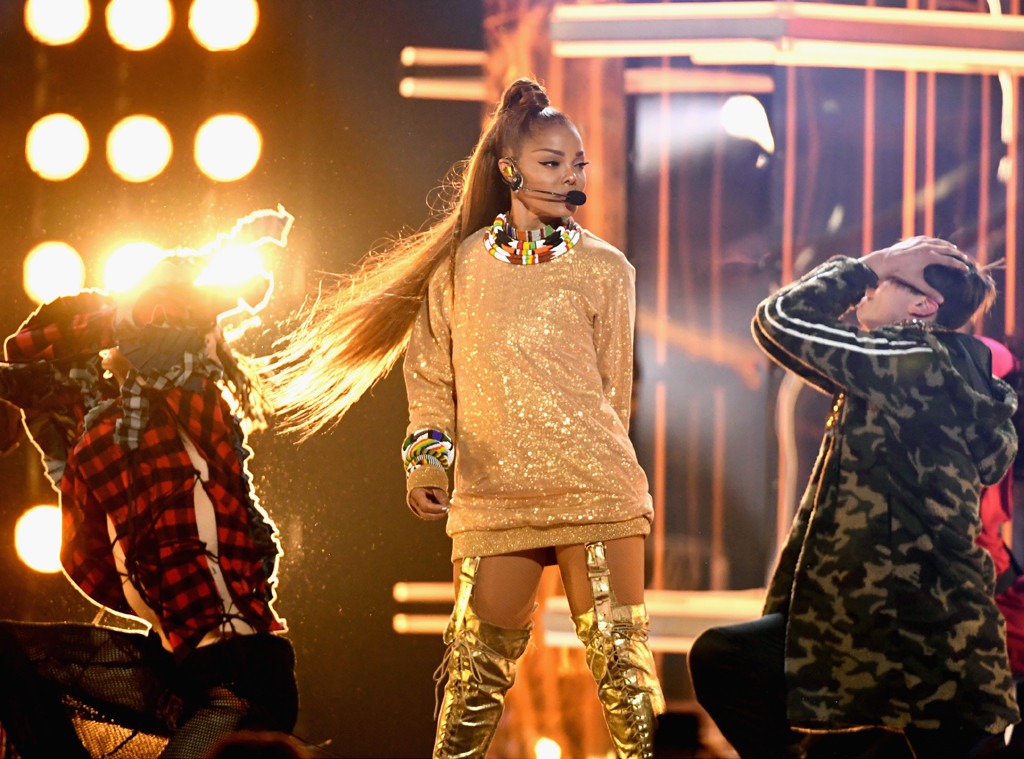 Ethan Miller/Getty Images
Silence please! The Queen of Pop has taken the stage. 
After nine years without a televised performance, Janet Jackson returned in front of the TV cameras for a set to celebrate her extraordinary career. As the evening's Icon Award honoree at the 2018 Billboard Music Awards, the show highlighted the star's childhood rise to fame through to her international pop domination with a video recounting her decades of accomplishments. Presenter Bruno Mars continued the introduction (as if Jackson needed one!) as he listed off her music's impressive stats. 
Then, it was time for the star herself to take the stage. She kicked off her electric set with her iconic hit "Nasty," which immediately brought the crowd to its feet. Joined by a stage full of backup dancers, the star had only just begun as she switched into 1993 track, "Throb" and also included music and choreography from "If."
With her mother Katherine Jackson proudly watching from the audience, Jackson then accepted her statue with powerful words in support of women everywhere. 
"I am deeply humbled and grateful for this award. I believe that for all the challenges—for all our challenges—we live at a glorious moment in history. It's a moment when, at long last, women have made it clear that we will no longer be controlled, manipulated or abused. I stand with those women and with those men equally outraged by discrimination who support us in heart and mind," she said into the mic.  
Kevin Winter/Getty Images
"This is also a moment when our public discourse is loud and harsh," she said as she turned her speech to God. 
"Everything we lack, God has in abundance—compassion, sensitivity, patience and a boundless love, so again I want to thank all of you for this honor and I thank God for giving me the precious energy that lets me live my life as an artist who every single day seeks to expand my capacity to love."
The new mom, who returned to the spotlight this year after taking time away to give birth, move on after her split from ex-husband Wissam Al Mana and raise her son, is about to begin the second leg of her eighth concert tour—and it's clear she's loving every minute of it. 
"The drive is in my DNA. I couldn't lose it if I wanted to, and I don't. Motivation is something I treasure. Besides, for all its difficulties, this is the life I love. I'm surrounded with a team of dancers, singers and musicians I love. I'm supported by fans that have stuck by me through thick and thin. They mean the world to me," the singer previously told Billboard. "Now more than ever, performing, whether in the studio or onstage, brings me a satisfaction I find nowhere else."