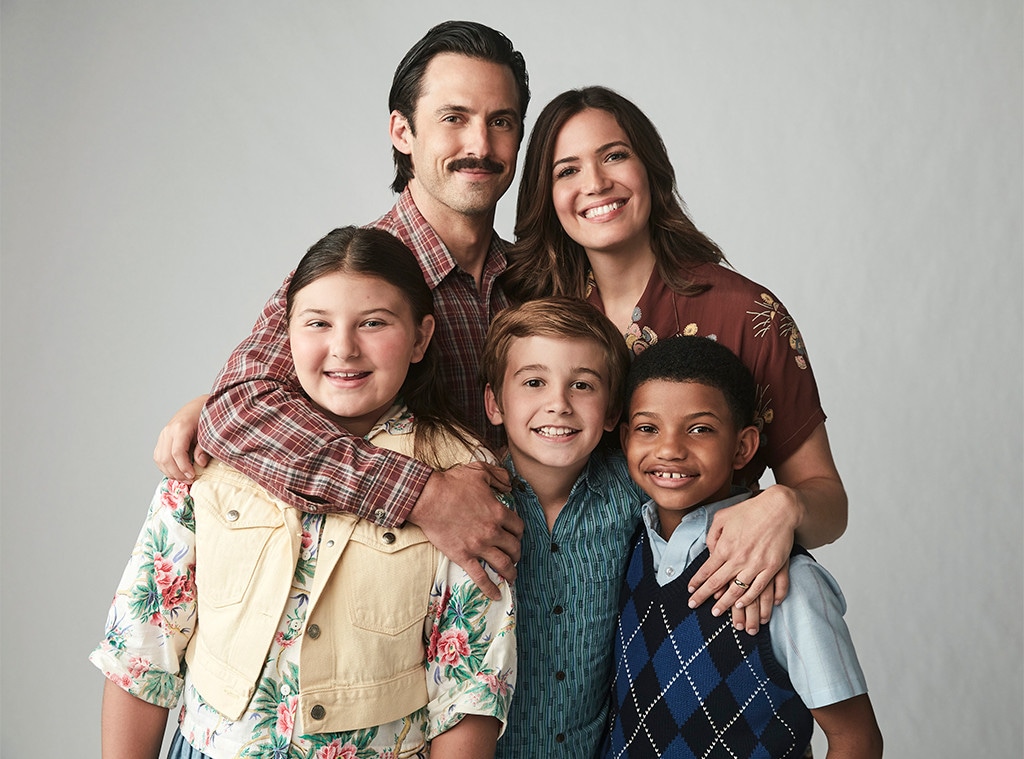 Maarten de Boer/NBC
 It's not even officially summer yet, but we're already counting down the days until fall.
Why? Because we just watched the trailers for all the new TV shows debuting in a few months and we want more, more, more. Plus, we're already missing our old favorites, like This Is Us, Grey's Anatomy (even though it just ended its season last night) and Riverdale.
Lucky for us, the five broadcast networks just revealed their line-ups for the 2018 fall TV season, helping tide us over during the helliatus. 
Fans can expect some changes to their TV viewing schedule this fall, as shows like Law & Order: SVU, Arrow and Fresh Off the Boat are on the move...and The CW is now airing shows on Sundays. What a time to be a TV viewer.
Here's the complete 2018 fall TV schedule for your planning purposes (Note: new shows are bolded): 
MONDAY
8 p.m.
Dancing With the Stars (ABC)
The Neighborhood (CBS)
The Resident (Fox)
The Voice (NBC)
DC's Legends of Tomorrow (The CW)
8:30 p.m.
Happy Together (CBS)
9 p.m.
Magnum P.I. (CBS)
9-1-1 (Fox)
Arrow (The CW)
10 p.m.
The Good Doctor (ABC)
Bull (CBS)
Manifest (NBC)
TUESDAY
8 p.m.
Roseanne (ABC)
NCIS (CBS)
The Gifted (Fox)
The Voice (NBC)
The Flash (The CW)
8:30 p.m.
The Kids Are Alright (CBS)
9 p.m.
black-ish (ABC)
FBI (CBS)
Lethal Weapon (Fox)
This Is Us (NBC)
Black Lightning (The CW)
9:30 p.m.
Splitting Up Together (ABC)
10 p.m.
The Rookie (ABC)
NCIS: New Orleans (CBS)
New Amsterdam (NBC)
WEDNESDAY
8 p.m.
The Goldbergs (ABC)
Survivor (CBS)
Empire (Fox)
Chicago Med (NBC)
Riverdale (The CW)
8:30 p.m.
American Housewife (ABC)
9 p.m.
Modern Family (ABC)
SEAL Team (CBS)
Star (Fox)
Chicago Fire (NBC)
All American (The CW)
9:30 p.m.
Single Parents (ABC)
10 p.m.
A Million Little Things (ABC)
Criminal Minds (CBS)
Chicago PD (NBC)
THURSDAY
8 p.m.
Grey's Anatomy (ABC)
The Big Bang Theory (CBS)
Thursday Night Football (Fox)
Superstore (NBC)
Supernatural (The CW)
8:30 p.m.
Young Sheldon (CBS)
The Good Place (NBC)
9 p.m.
Station 19 (ABC)
Mom (CBS)
Will & Grace (NBC)
Legacies (The CW)
9:30 p.m.
Murphy Brown (CBS)
I Feel Bad (NBC)
10 p.m.
How to Get Away With Murder (ABC)
S.W.A.T. (CBS)
Law & Order: SVU (NBC)
FRIDAY
8 p.m.
Fresh Off the Boat (ABC)
MacGver (CBS)
Last Man Standing (Fox)
Blindspot (NBC)
Dynasty (The CW)
8:30 p.m.
Speechless (ABC)
The Cool Kids (Fox)
9 p.m.
Child Support (ABC)
Hawaii Five-0 (CBS)
Hell's Kitchen (Fox)
Midnight, Texas (NBC)
Crazy Ex-Girlfriend (The CW)
10 p.m.
20/20 (ABC)
Blue Bloods (CBS)
Dateline NBC (NBC)
SUNDAY
8 p.m.
Dancing With the Stars: Juniors (ABC)
God Friended Me (CBS)
The Simpsons (Fox)
Sunday Night Football (NBC)
Supergirl (The CW)
8:30 p.m.
Bob's Burgers (Fox)
9 p.m.
Shark Tank (ABC)
NCIS: Los Angeles (CBS)
Family Guy (Fox)
Charmed (The CW)
9:30 p.m.
Rel (Fox)
10 p.m.
The Alec Baldwin Show (ABC)
Madam Secretary (CBS)