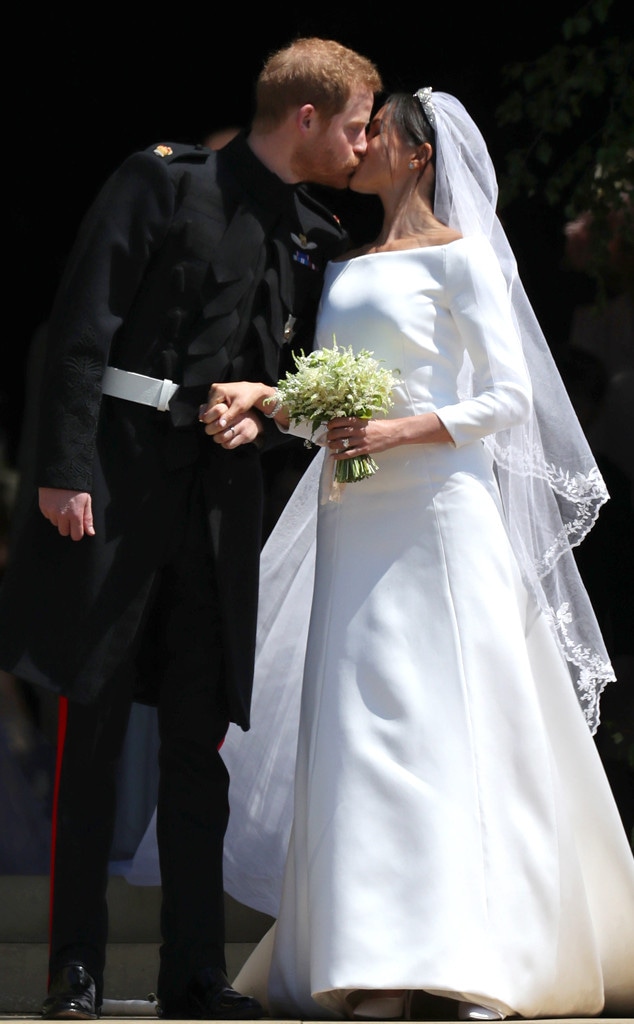 Jane Barlow/PA Wire
Meghan Markle and Prince Harry are married!
During the ceremony, the bride carried a very special bridal bouquet. According to the Palace, her now-husband handpicked several flowers from the couple's garden at Kensington Palace. The arrangement also included Forget-Me-Nots, which were Princess Diana's favorite flower. Per the Palace, the couple specifically chose these flowers as a way to honor Harry's late mother on the big day.
The rest of the "petite" bouquet featured "delicate blooms," including scented sweet peas, lily of the valley, astilbe, jasmine and astrantia, and sprigs of myrtle. The flowers were tied together with a "naturally dyed, raw silk ribbon."
The sprig of myrtle is a tradition that dates all the way back to Queen Victoria's reign. Queen Victoria's daughter, Princess Victoria, carried the plant when she wed Prince Frederick of Prussia back in 1858. Queen Elizabeth, Diana and Kate Middleton have since included myrtle in their bouquets, too.
Like most royal brides' bouquets, Meghan's arrangement was primarily white. Royal admirers will recall that Kate carried sweet William, myrtle, lily of the valley and hyacinth in her bouquet when she wed Prince William in 2011. Diana carried white and gold stephanotis, gardenias, orchids, lily of the valley and yellow Earl Mountbatten roses when she married Prince Charles in 1981. Queen Elizabeth II, who was Princess Elizabeth at the time, walked down the aisle with a bouquet of white orchids when she married Prince Philip in 1947.
Philippa Craddock served as Harry and Meghan's floral designer. She led a team of florists from St. George's Chapel and Buckingham Palace to create both the bridal bouquet and the displays for the ceremony and reception.
The floral displays in the chapel contained locally sourced foliage, including flowers taken from the gardens and parkland of The Crown Estate and Windsor Great Park. Philippa also included many seasonal flowers, such as branches of beech, birch and hornbeam, white garden roses, peonies and foxgloves. The Royal Parks contributed plants from their wildflower meadows, as well.
All of their floral displays will be donated to charitable organizations.
The bridesmaids also carried replicas of the bridal bouquet and wore flower crowns selected by Harry and Meghan. These were designed by Philippa, as well.
While many brides toss their bouquets at the end of their wedding, Meghan will likely do something a bit different. Traditionally, royal brides send their bouquets to Westminster Abbey to be placed on the Grave of the Unknown Warrior. Queen Elizabeth II, Diana and Kate all did this on their wedding day.