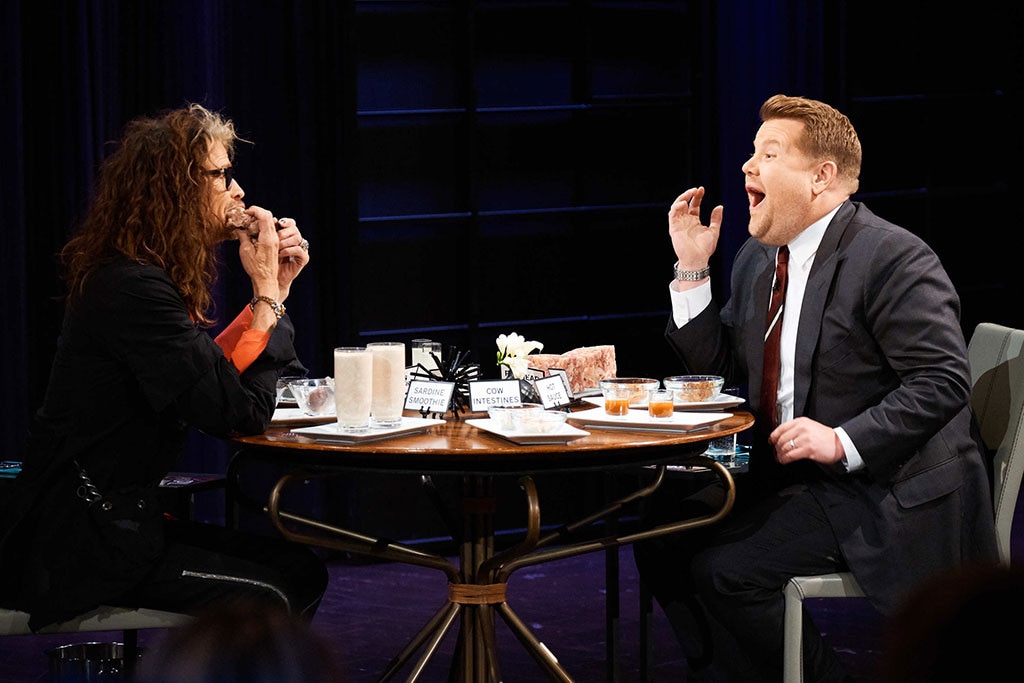 Terence Patrick
Please forgive James Corden, Bryan Adams, because he's just spilled his guts about you. 
During a particularly honest round of "Spill Your Guts or Fill Your Guts" with guest Steven Tyler, the Late Late Show host was faced with eating pig head jelly or dishing on any celebrities who have left his set. Corden is typically tightlipped when it comes to answering the questions, usually opting to taste the array of repulsive products on the table. However, after looking at the pig head jelly, he decided to fess up—it was Adams. 
As the host explained, they had enlisted Adams to participate in a Best of the '80s Carpool Karaoke in honor of the Back to the Future anniversary from inside a DeLorean. But, as Corden suspected, they didn't think Adams was told other stars would also be involved. 
"Bryans walked in, seen the list of other people that have done, it turned around, walked. got in his car and left," Corden recalled. "I've never seen him, never heard from him."
 As he added, "He just bolted. He was gone." However, the ever-gracious host noted that he does not hold a grudge against Adams and he loves the musician. 
Meanwhile, Tyler was pretty much an open book as he divulged intimate details about his rockstar life. How much has he spent on drugs? "About $2 million—easy," he answered. "I've snorted half of Peru."
The musician was also honest when it came to a question that will probably embarrass his daughter, Liv Tyler: "Have you ever hit on one of her movie star friends?"
"Why yes I have," he said as he dropped his dried caterpillar snack. As the story goes, he and his daughter were attending Stella McCartney's party when he found himself seated next to Cameron Diaz in the car. 
"I look at this beautiful woman. I said, 'Cameron, should you ever need someone to take you to the movies or you know like if I was to you know ask you to show me around London..." Tyler described.  
"And of course, Liv went, 'Daddy, you're hitting on my best girlfriend!"
Check out the hilarious segment above!