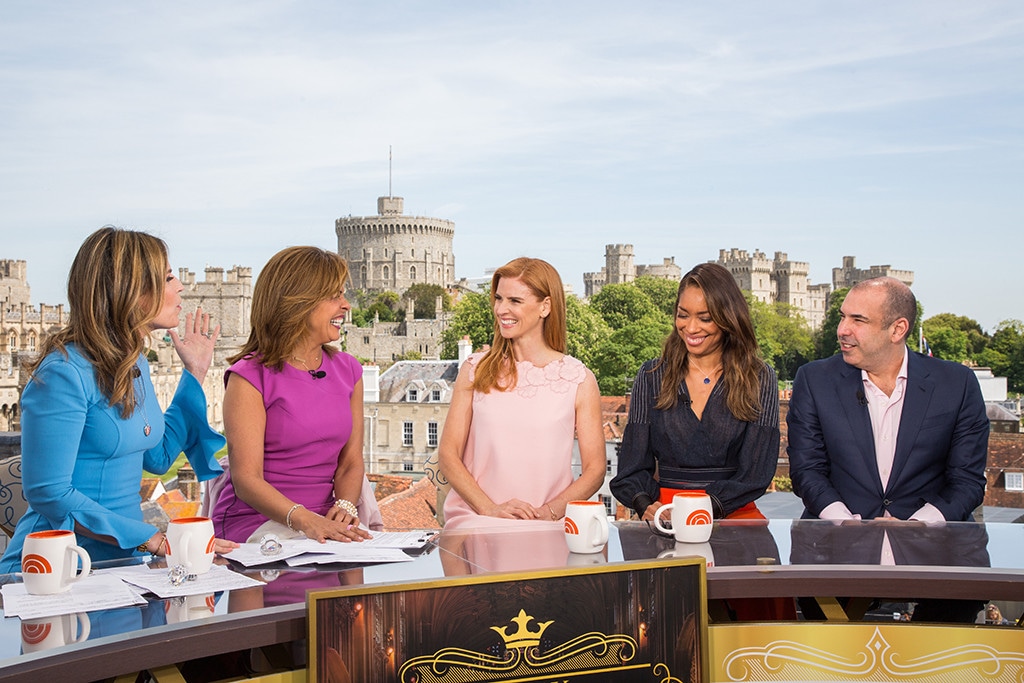 Courtesy of NBC News
While some members of Meghan Markle's biological family will miss the royal wedding Saturday, members of her Suits family will be there to celebrate her big day with Prince Harry.
Three of her former USA Network co-stars—Rick Hoffman, Sarah Rafferty and Gina Torres—appeared on Today Friday, live from Windsor, and laughed about how they were each invited. Rafferty joked "doves flew out" when she opened her letter, and Savannah Guthrie and Hoda Kotb laughed when Torres claimed a royal guard had delivered hers. "When I got the invitation, MI6 were at my door," Hoffman joked. "They were like, 'Rick Hoffman, get out of your shower!"
Kidding aside, the trio said they were honored—and a little "surprised"—to receive invites. "This is an incredible step in her life," Torres said, "so to bear witness to that is extraordinary." Torres said she was aware Markle was dating royalty before most people did, but she knew "very little" else. "We knew she was excited and there was reason to keep it close to the vest."
Added Rafferty, "He's lovely. They're a great match."
Similarly, Hoffman said he "got the news" about Markle's royal romance "quite early."
"I was like, 'You've got to be kidding me!' It was both of us in the trailer, like, 'Oh, my God! You're dating a prince!'" he said. "I was like, 'Take it slow. Be careful. Don't let him hurt you.'"
Rafferty joked that on the set of Suits, she considered herself "sister wives" with Markle and Torres. "We worked together for so many years on the show. It's such an amazing experience. We were with each other for longer than we went to college or high school with our friends," she shared. "We became family, in a way; we're still family. So, this is a wonderful family affair." (Other Suits actors, like Patrick J. Adams, will be attending the wedding at St. George's Chapel.)
Asked to tell some personal stories about their interactions with Meghan, Hoffman shared a sweet story with Guthrie and Kotb. "I was in a relationship that didn't work out. I had to go to a wedding in Paris—actually five years ago to this weekend. I was dateless and Meghan was like, 'Do you want me to come with you?' I was like, 'Yeah! That would be awesome!'" he said. "We had the producer schedule our [time] off, and Meghan and I had the best, most fun weekend."
(E!, NBC and USA Network are all members of the NBCUniversal family.)