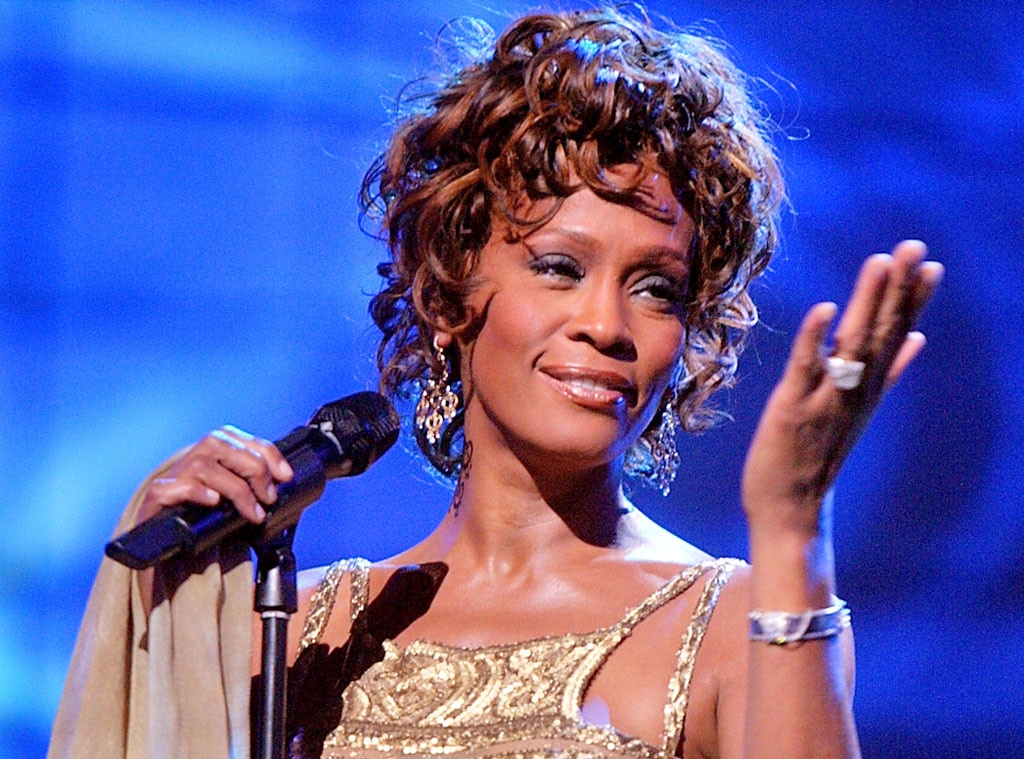 Kevin Winter/WireImage
Whitney Houston's rise to music superstardom and tragic demise is depicted in a new documentary, simply titled Whitney. 
Made with the full authorization of her family, Whitney's Cannes Film Festival premiere was met with shock over the many allegations made about the singer's childhood and personal life. Six years ago, Houston accidentally drowned in a hotel bathtub, her death attributed to the effects of atherosclerotic heart disease and cocaine use. Her daughter, Bobbi Kristina Brown, died in a similar manner three years later in 2015. 
Directed by Kevin Macdonald, Whitney promises an "unprecedented" and "honest" look at Houston's life through the lens the family members and friends closest to her. Here are the biggest revelations from Whitney, as revealed by film critics and journalists who say they screened the intimate documentary. 
startraksphoto.com;StarPix/REX/Shutterstock
Dee Dee Warwick Allegedly Sexually Abused Whitney as a Child: Several of the singer's relatives claim Warwick, Houston's cousin and the daughter of Dionne Warwick, molested her at a young age. Houston's brother, Gary Garland-Houston, said he too was abused by Warwick, who died in 2008. The 7-time Grammy winner's aunt, Mary Houston, also disclosed her belief that the alleged abuse led to Houston questioning her own sexuality and subsequent drug addiction. 
Whitney Did in-Fact Have a Romantic Relationship With Robyn Crawford: The documentary explores Houston and Crawford's rumored bond, which for years was the subject of tabloid speculation. Bobby Brown has previously confirmed their relationship and described his wife as bisexual. Others in the film considered Houston's sexuality "fluid." In the trailer, one person refers to Crawford as Houston's "safety net" and says Brown was "jealous" of the career she'd built. Crawford worked as Houston's creative director for some time, until a "power struggle" with Brown ensued and she cut ties with the couple forever.
Bobbi Kristina Allegedly Attempted Suicide: One Los Angeles Times reporter says that in the documentary, it's revealed that Bobbi Kristina attempted to take her own life years before her mother's death by "cutting her arms." At the age of 22, the aspiring singer was discovered unconscious and submerged in a bathtub. She succumbed to her injuries seven months later, and boyfriend Nick Gordon was ordered to pay the Brown family $36 million in a wrongful death case.
Bobby Brown Feels "Guilty" for Houston's Fall From Grace: In an interview with Deadline, Director Kevin Macdonald says Brown isn't "ready to be honest" because of the "guilt" and "self-protectiveness" he harbours about the situation. From his perspective, "he felt, to me, just unwilling—or unable–to really be honest about himself, let alone to be honest about Whitney.
A Feud Between Paula Abdul and Houston: A lighter moment from the film's trailer exposes Whitney's less-than endearing thoughts about Paula. Houston is venting to her mother when she mentions the fellow pop star, saying, "One thing—Paula Abdul ain't shit. That girl is singing off-key on the record." Similarly, the website for the film notes it will feature "exclusive audio and never-before-seen video archive from her time as a recording artist and performer."
Patricia Houston, the executor of Houston's estate, said in a previous statement to Rolling Stone, "To tell Whitney's story, you have to know her story. We could not be more excited that Whitney's fans will have this authoritative and definitive documentary chronicling the full arc or her career and the scope of Whitney's entire life. This is an amazing retrospective that celebrates Whitney with never-before-seen footage and Kevin approaches her life with no blinders on. He captures all of Whitney's magic, and he does not ignore the hard times. This is a film that will truly thrill all who knew and loved her as a musician, actress, model and so much more."
Whitney hits theaters July 6.