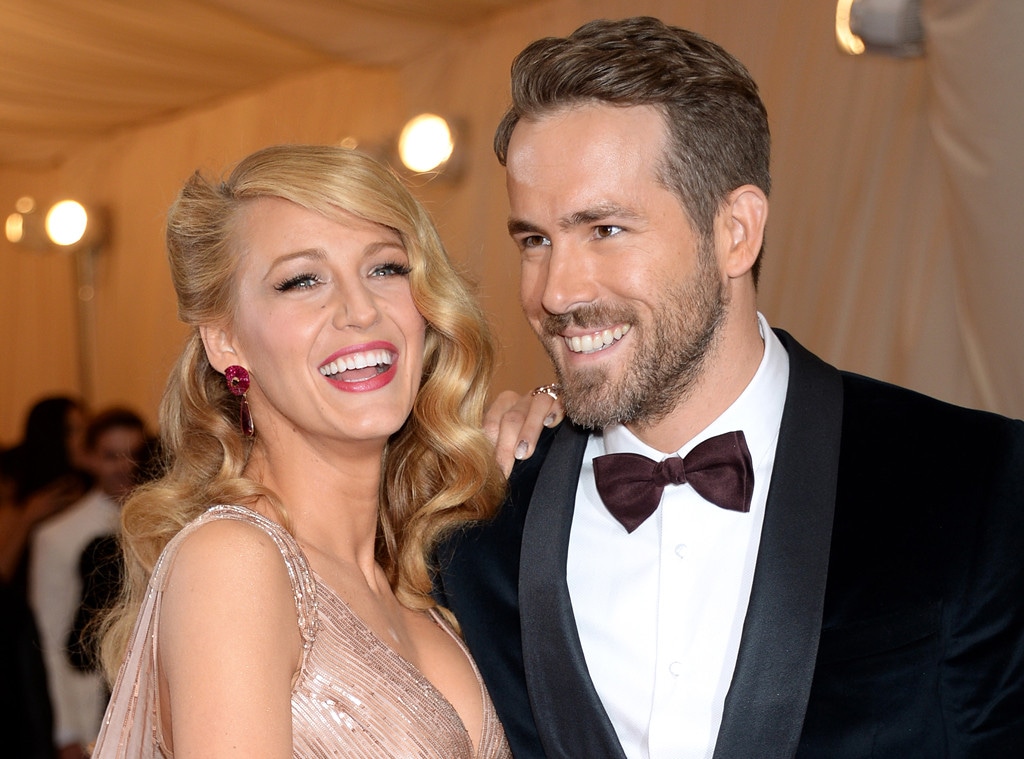 Evan Agostini/Invision/AP
If there's one thing fans know about Ryan Reynolds, he's generally in on the joke. 
To promote Deadpool 2—the much-anticipated sequel to the highest-grossing R-rated film of all time—he was game for pretty much anything. Enlist a mariachi band to help him apologize to David Beckham? Done. Appear on a Korean singing competition disguised as a unicorn? Easy. Crash Stephen Colbert's opening monologue in costume? Sure. And he'll take a few swipes at himself while he's at it. "I'll tell you who should not be on your show: Ryan Reynolds," he told The Late Show host. "Huge asshole. He's like the poor man's version of Ryan Reynolds and like the rich man's version of my most recent turd." 
Roasting people, whether it's himself, wife Blake Lively or their daughters James, 3, and Ines, 20 months, comes natural to the actor whose Twitter feed is littered with jokes at his family's expense. And his partner is just as adept at such savagery. Posting a photo of them at an April film premiere, she wrote, "If there's one thing I'm infinitely proud of in this picture, it's the incredible hair styling that I did on myself."
While she has stated the obvious—anecdotes such as, "No matter which kids book I read to my screaming baby on an airplane, the moral of the story is always something about a vasectomy," are "completely made-up,"—she enjoys them just as much as his other 11 million followers.
"He'll run them by me sometimes just to make me laugh," she told Glamour last year. "But oh, I'm so in love with him when he writes that stuff. I mean, I'm in love with him most of the time, but especially with that."
Janet Mayer / Splash News
When your bond is unshakeable, there's no harm in poking at it just a little. Nor is it necessary to worry about others' perception. When the Golden Globe nominated actor, 41, and the 30-year-old People's Choice Awards winner took their turn on the split rumor merry-go-round, the natural response is a joke. "I wish," Reynolds tweeted in March, referencing a report that they'd been struggling to spend time together. "I could use a little 'me time.'"
Because at this point the idea that duo, wed since 2012, might break up is truly laughable. In nearly seven years together, they haven't managed to spend even eight days apart at a time. "We've never gone a week without seeing each other," Lively noted to Marie Claire in 2014. (Credit their decision to rotate jobs so they can always travel to movie sets as a family.) And for all their picturesque getaways and black tie affairs, they're still happiest in their upstate New York home. "The best part is when we turn off our phones and just talk and hang out," she said. "He's my best, best friend." 
Which is how it all began. When the Gossip Girl star was cast in Reynold's first superhero stab, Green Lantern, in 2010, (Reynolds has called the flop "the hair shirt I'll wear") they were both otherwise entangled. He was two years into a three-year marriage with Scarlett Johansson while Lively was dating costar Penn Badgley, a romance with Leonardo DiCaprio a year in the offing.  
So the pair became "buddies," as Reynolds put it to Entertainment Weekly, exploring New Orleans and indulging in Lively's homemade cupcakes. "It was amazing." 
Warner Bros/Dc/Kobal/Shutterstock
But right around the time Reynolds started gushing about her baking skills at the June 2011 premiere ("This girl's in a kitchen all day, baking our crew on our movie—everything you can imagine. I mean she had soufflés coming!" he told E! News) and Lively confessed her ideal guy is "somebody who makes me laugh," and is tall enough to measure up to her in heels (for the record, Reynolds is 6-foot-2) the pair caught on to the fact that their chemistry was more than platonic. 
Unfortunately for Reynolds, it happened at the precise moment they were on a double date—with other suitors. "That was the most awkward date for the respective parties," he recalled to Entertainment Weekly, "because we were just like fireworks coming across [the table]." 
Though if you ask Lively, she didn't quite see the spark. "We were such good friends for so long and we both got to know each other as friends so when we were both single, we were still trying to find each other's [perfect date]—'Oh, who would be good for you?'" she explained. "We'd sit around being like, 'Oh jeez, do you know anyone?' And it didn't click for, I mean, a good year and a half. Like, 'Oh hey, wait, hold on. We could date!'"
What really sealed the romance was a clandestine encounter in "this little restaurant" in NYC's Tribeca neighborhood. "This song came on and I was just like, 'Want to dance?'" Reynolds recalled to GQ. "No one was in there, so it was just totally empty. And it was just one of those moments where halfway through the dance, it was like, 'Oh, I think I just crossed a line.' And then I walked her home. And, uh, you know, I don't really need to go into what happened after." 
But it's not all that difficult to fill in the rest. 
Eric Charbonneau/WireImage
By October 2011 Lively was sneaking up to Reynold's R.I.P.D. set in Boston, bringing along her maltipoo Penny and a handful of balloons as a birthday surprise. Soon, she was a regular in his Vancouver hometown, spending the holidays at home with his family. 
So while the pair, who have each touted the benefits of maintaining a low-profile, did what they could to keep their South Carolina vows under wraps, few fans were surprised to hear they'd tied the knot in a Sept. 9, 2012 Boone Hall Plantation affair planned in part by the lifestyle guru herself.
"Our wedding was becoming a disaster, and we didn't know what to do, so we called Martha!" she would later tell Vogue. (As in Martha Stewart.) The DIY empress dispatched a team to Charleston and, later, carefully selected photos appeared in Martha Stewart Weddings. (A blurb on the site noted the pair "remain protective of images of them on their most heartfelt occasion," but "they graciously let us share pictures of the elements we created together.")
Bruja/Juan Sharma, PacificCoastNews.com
Moving from more than friends to married in less than a year is the type of behavior that typically earns relationships the whirlwind romance designation. But for the longtime pals it simply didn't make sense to wait any longer. 
"I knew he would always be my best friend for my whole life," Lively would explain to Marie Claire. "That was the biggest thing to me. I'd never known anything like the friendship that I had with him. I could like him as much as I loved him." 
While not necessarily intentional, Reynolds agrees their friends first strategy has served them well: "I think the best way to have a relationship is to start as friends." 
Larry Busacca/Getty Images
It also doesn't hurt to be extraordinarily well-matched. Both have spoken about their desire to mimic their outsized families. (Reynolds was the last of four boys; Lively the youngest of five.) Reynolds, who's been open about his own fraught relationship with police officer-turned-food wholesaler dad Jim, has said he'd happily have nine daughters with Lively. And predicting her husband would be "a great father and leader and patriarch," the A Simple Favor star joked about spitting out "a litter." 
As they began putting together their baseball team-sized brood, first with James in December 2014, then Ines in September 2016, they doubled down on their desire for privacy. At their sprawling farmhouse estate in a town outside Bedford, N.Y., they can enjoy the confections Lively whips up in the kitchen her husband has dubbed "the Blakery", scour antique shops and give their daughters the bucolic childhood of their dreams. "Ryan had a nice, normal upbringing, and we want our kids to have the same normal life that we had," Lively has said of living some 90 minutes north of NYC. "We don't ever want to rob them of what we had, because we'd feel really selfish."
In an age of social media, the pair have managed to keep their babies all to themselves, choosing Reynolds' December 2016 Hollywood Walk of Fame ceremony as their first—and, to date, only—entrée into the spotlight. That meant the girls were on hand to hear Dad gush about Lively, with nary a joke in sight. 
"I want to thank my wife, Blake, who is sitting right there who is everything to me. You are the best thing that has ever happened to me," he said from the podium. "You make everything better—absolutely everything in my life better. You've given us two of the most incredible children that I could ever hope to have. You've made me the father of my dreams when I thought I only had fun uncle potential."
Rob Latour/Variety/REX/Shutterstock
In fact both would agree they each possess that trait so many other pairs gush about: the ability to make each other better. 
For Lively, it's Reynolds' eternal optimism. "I get really frustrated when something goes wrong," she confessed to Vogue. "For example, my wedding dress. Florence Welch was singing at the reception, and they brought out these sparklers, and I'm watching her sing. I look down and my wedding dress has a big burn mark from one of the sparklers. Right on the front! And it was just so heartbreaking to me."
The blemish remained a sore spot until Reynolds gestured to it one day: "Ryan said, 'Isn't that beautiful?' I said, 'What?' And he pointed to the burn. My heart just stopped, because it was such a sensitive little subject. And he said, 'You'll always remember that moment with Florence singing and the sparklers. You have that forever, right there, preserved.' Now that's my favorite part of the dress."
David Fisher/REX/Shutterstock
Reynolds, in turn, credits his better half with helping him improve his relationship with his dad before he passed in 2015. "She always responds with empathy. She meets anger with empathy. She meets hate with empathy," he detailed in a 2017 Humans of New York post. "She'll take the time to imagine what happened to a person when they were five or six years old. And she's made me a more empathetic person."
As the best versions of themselves, the twosome make the type of gestures generally reserved for rom-coms. Lively revealed to Vogue that she once gifted Reynolds a collection of short stories penned by loved ones, while the actor put together a video of messages for his bride from "all the people that made an impact in my life."
And then there's that other endearing quality they share. While Reynolds' witty missives get the lion's share of attention, his wife is no slouch. 
In fact, her humor is so dry, she's said, it can be tough for those on the receiving end to know her words were in jest. "When I say something funny, I don't laugh," she has explained, "so my friends are always like, 'Hahahahaaaa!' so people know. When I'm not with them, I always think, This person doesn't know I'm funny; they just think I'm a jerk."
When it comes to Reynolds, though, she never needs to hold back. Take the message she shared on his first Father's Day in 2015, captioning a photo of Reynolds with the words, "Since the day our baby was born, I've felt so strongly in my heart that you were most likely the father." 
Like always, Reynolds was in on the bit.  As he recently explained to The New York Times, "She gets me a lot."