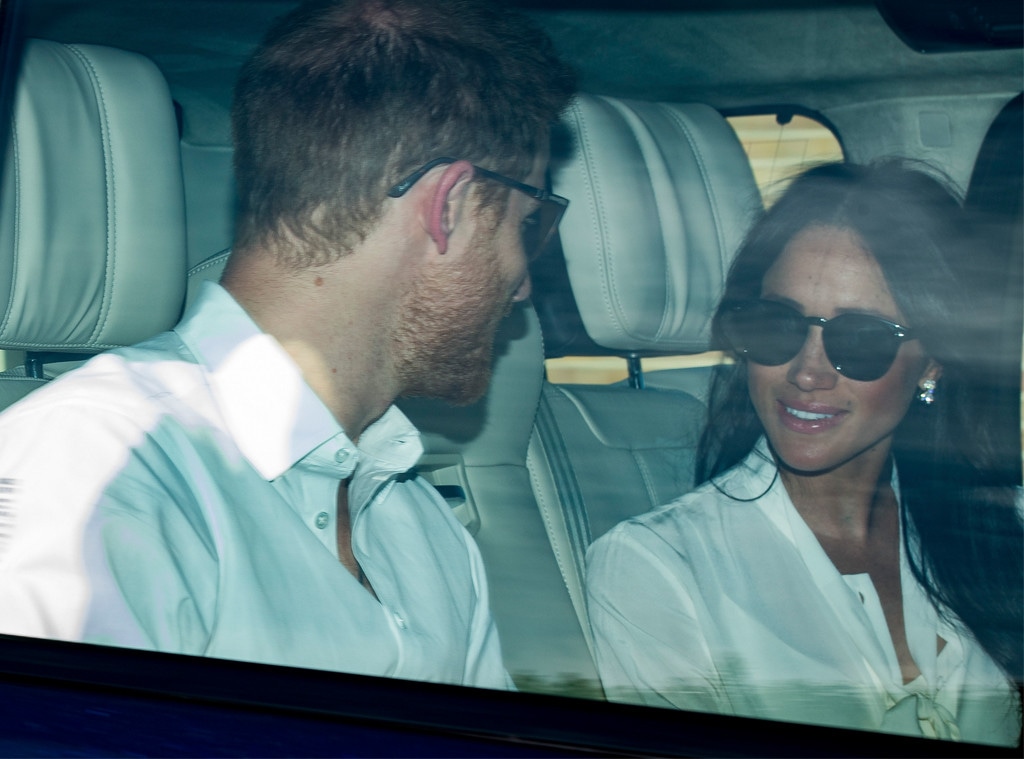 Paul Edwards The Sun / MEGA
UPDATE: Meghan Markle and Prince Harry have wrapped up their time at Windsor Castle for the day and were spotted on their way out on Thursday. The bride-to-be was sporting sunglasses during their exit as she sat beside her British fiancé in the car. 
Nearby, Prince William was also photographed behind the wheel of his own car with page boy Prince George visible in the backseat.
____________________________________
Spotted: a soon-to-be royal bride and groom! 
Meghan Markle and Prince Harry arrived to Windsor Castle for their wedding rehearsal on Thursday, marking the first time the future husband and wife have been seen since their last public engagement in April. 
The American star was photographed flashing a smile through the window to the throngs of fans lining the streets and was fittingly sporting a cream silk blouse by Tuxe ($280), sartorially keeping with the wedding theme. The beaming bride also flashed her engagement sparkler and diamond and white gold earrings by Birks ($12,000) glittered around her face. 
Her future husband was seated beside her in a gray suit and Prince William and Duchess of Cambridge Kate Middleton were in a nearby car with the new father of three behind the wheel. Markle's imminent brother and sister-in-law tried to keep a low-key profile with coordinated sunglasses. 
The bride and groom reportedly arrived to Windsor Castle for a scheduled meeting with Queen Elizabeth II over tea.
Mirrorpix / MEGA TheMegaAgency.com
Mirrorpix / MEGA TheMegaAgency.com
This is also the first time fans around the world are getting a glimpse of the Suits alum after her father Thomas Markle dominated the headlines in recent weeks. Amid a paparazzi scandal, he revealed he suffered a heart attack and underwent surgery on Wednesday after experiencing chest pains earlier this week. 
Earlier Thursday, his daughter ultimately confirmed that he will not be in England this weekend. 
"Sadly, my father will not be attending our wedding," Meghan said in a statement. "I have always cared for my father and hope he can be given the space he needs to focus on his health."
As she continued, "I would like to thank everyone who has offered generous messages of support. Please know how much Harry and I look forward to sharing our special day with you on Saturday." 
Meanwhile, the wedding preparation continued as planned on Thursday afternoon with a rehearsal of the procession through Windsor Town, featuring members of the Armed Forces and a carriage representing the one Prince Harry and Markle will sit in for their first ride as husband and wife.
Let the countdown to Saturday continue!
(Originally published May 17, 2018 at 6:16 a.m. PST)