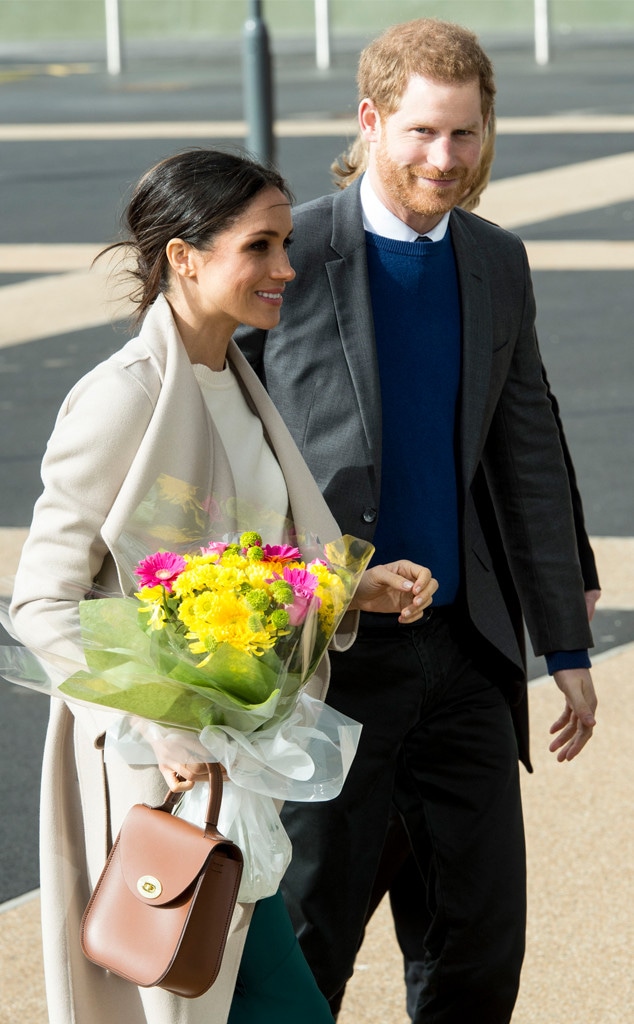 Mark Cuthbert/UK Press via Getty Images
Only three days (and a ton of finishing touches) stand between Prince Harry and Meghan Markle becoming husband and wife!
It's crunch time for Kensington Palace and the various artisans they've recruited to pull off the royal wedding, which takes place Saturday, May 19 at St. George's Chapel on the grounds of Windsor Castle. Details continue to trickle out, and there's no question the couple's massive team is working extremely hard to ensure the event goes off without a hitch.
From the floral arrangements to the cake and an estimated multi-million dollar security plan, not a box has left unchecked and a detail overlooked. Here's everything we know about the preparation process as the countdown continues: 
Preheat the Ovens: London-based baker Claire Ptak was chosen to bake a lemon elderflower cake covered with buttercream and fresh flowers for the nuptials. Her Violet Cakes Bakery teased the lemons' arrival on Instagram, writing, "And so it begins." Ptak previously said, "Knowing that [Prince Harry and Meghan] really share the same values as I do about food provenance, sustainability, seasonality and most importantly flavor makes this the most exciting event to be a part of."
Stop and Smell the Roses: A truck containing several containers of pink and white flowers was photographed in front of Philippa Craddock's London shop on Tuesday, the floral designer Prince Harry and Meghan picked. The bride and groom decided on those very shades for the occasion, specifically locally-grown white garden roses, foxgloves and peonies. Craddock told ITV in an interview that the pair were "closely involved" in the decision-making process, adding, "A lot of the ideas have come directly from them." 
David Parker/Daily Mail/PA Wire
Culinary Dreams Coming True: Windsor Castle's kitchen staff is busy prepping menu items for the royal wedding, which has yet to be revealed. Lead royal chef Mark Flanagan told the press days ago that local seasonal produce will be a focal point of the feast, and ingredients have been sourced from home counties and lands associated with Queen Elizabeth II. 
Find the Perfect Lighting: Say cheese! After capturing the couple's official engagement portraits, Alexi Lubomirski was selected to photograph the royal wedding. "It was one of the easiest, most joyful jobs because they were so deliciously in love," Alexi told E! News about the engagement shoot. He called the experience "very surreal," and something tells us Saturday's gathering will be just as unforgettable. 
Ramping Up Security: The city of Windsor is preparing for the arrival of thousands if fan, and has thus increased police presence throughout the area in the days leading up to the wedding. The Thames Valley Police will utilize Automatic Number Plate Recognition (ANPR) technology, Closed Circuit Television (CCTV) and Hostile Vehicle Mitigation (HVM) barriers. Additionally, visitors are subject to being stopped and checked by authorities.