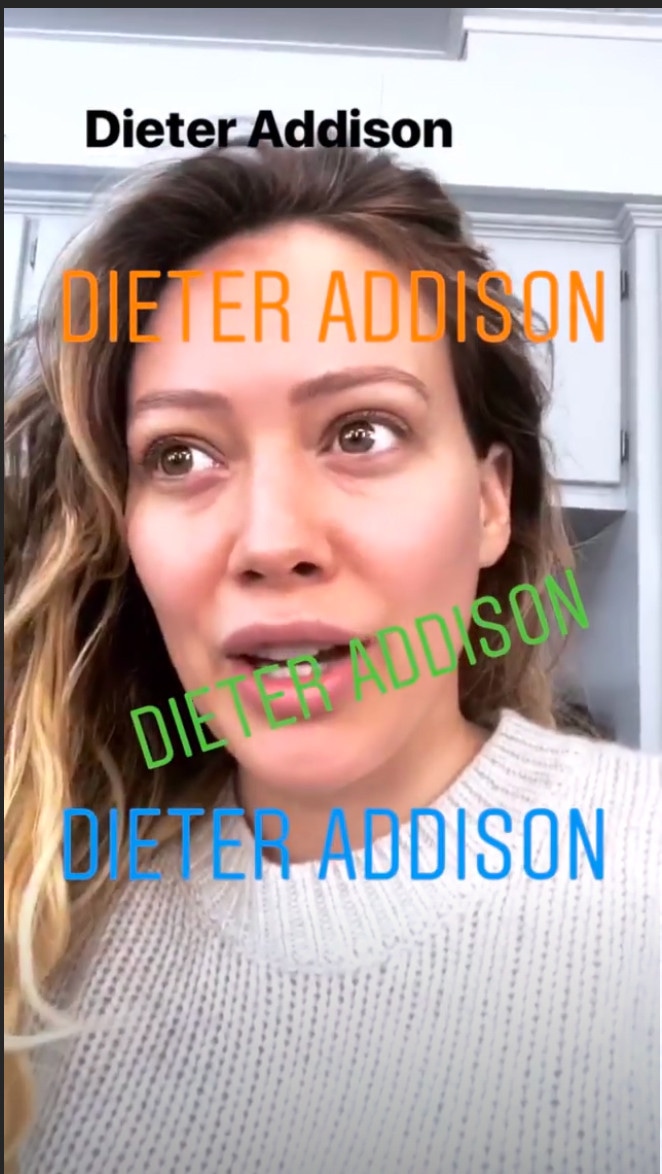 Instagram
UPDATE: After making headlines for publicly calling out her chain-smoking neighbor Dieter Addison last night, Hillary Duff is now clarifying the reason behind the bold move following a report that her boyfriend Matt Koma punched Addison in the face over the matter.
A rep for the actress said in a statement to E! News, "Hilary and her young son have been subjected to excessive secondhand smoke, late night noise, garbage in the hallways, and an overall hazardous living environment from this man for months now.  She tried numerous times in polite ways to handle this situation including countless sessions with the landlords of the building. As every mother knows, protecting your kid has to come first and foremost and that is her primary goal.  She reached a breaking point after a 15 hour work day and yet another sleepless night."
On Wednesday, Duff's neighbor called NYPD to the shared apartment building and claimed the actress' boyfriend punched him in the face that morning over the chain-smoking dispute, according to Page Six.
NYPD confirmed to E! News that at "approximately 11:26 hours police responded to a 911 call inside of a residential location along Wooster Street within the confines of the 1st Precinct. Upon arrival police were informed by a 26-year-old male victim that he had a dispute with another male at the location. Following the dispute, the male suspect struck the victim. There were no visible injuries."
The police said that a report of harassment was recorded. But there were no arrests made.
Meanwhile, Addison spoke to Page Six and said, "I had to call the police this morning because Hilary's boyfriend, Matthew Koma, barged in and tried to punch me in the face."
"I tried to avoid his fist, but he hit me on the head," alleged Addison. "So I pushed him out of the apartment, but I didn't assault him."
As for the claims, Koma's rep also told E! News, "Matthew Koma's representatives have confirmed that these allegations are untrue."
A source close to the former Lizzie McGuire star says that the claim that Matt punched someone is "absolutely untrue."
E! News has learned other tenants have complained about Addison for months and have ­reported him to their landlord. Now, some neighbors are coming out to show support for Duff.
"I stand with @hillaryduff. We share the same selfish neighbor who smoke cigarettes, blasts EDM and told the cops that were called to our address that the noise from his apt was just 'rough' sex— (breaking furniture.) It sounded to me more like a prelude to murder!" journalist and neighbor Shelley Ross tweeted Wednesday, adding, "Neighbor is trying to cover his tracks."
Ross also tweeted Wednesday that Duff's boyfriend was merely trying to ask Addison "to be a cooperative neighbor." In response, she wrote, he "called the police to harass" Duff and Koma.
______
Let this be a lesson to all: Don't mess with Hilary Duff. 
The 30-year-old actress took to Instagram on Wednesday to vent about her neighbor Dieter Addison. 
"Calling all New Yorkers with asshole neighbors—really open to any advice you have," the Younger star said via her Instagram Stories. "My neighbor smokes cigarettes and weed all night long. My apartment reeks. Seriously, what do I do?"
However, the Lizzie McGuire celeb didn't stop there.
"We know your parents pay your rent. We know you've never worked a day in your life—must be nice," she continued. "Have some respect for your neighbors who work hard to live in that building. Don't be a dick dude—and put your trash down the shoot."
Duff went on to explain that she didn't get any sleep last night due to her nemesis.
"Worked 15 hours yesterday and back at work again at 5:30 a.m.," she wrote on Instagram. "This is the real world Dieter the [eggplant emoji]. Your smoking ain't delicious."
Eventually, the Cinderella Story star found Addison's Instagram account, which is private.
"Found youuu," she wrote. "I know [you're] still sleeping. I really hope your [hangover] hurts."
To give her fans a better view of Addison, she shared a close-up of his Instagram profile picture and started to draw cat ears and whiskers over it.
"Meowww Dieter meowww," she said later in an Instagram video.
In addition, Duff urged Addison to "stop breaking all your furniture when you fight with your girlfriend or boyfriend."
"It scares me and my kid," she wrote, referencing her son Luca. "Therapy is cheaper."
Duff then ended her posts by writing, "Dieter get a vape."
mic drop
(Originally published on Wednesday, May 16, 2018, at 7:42 a.m. PDT.)