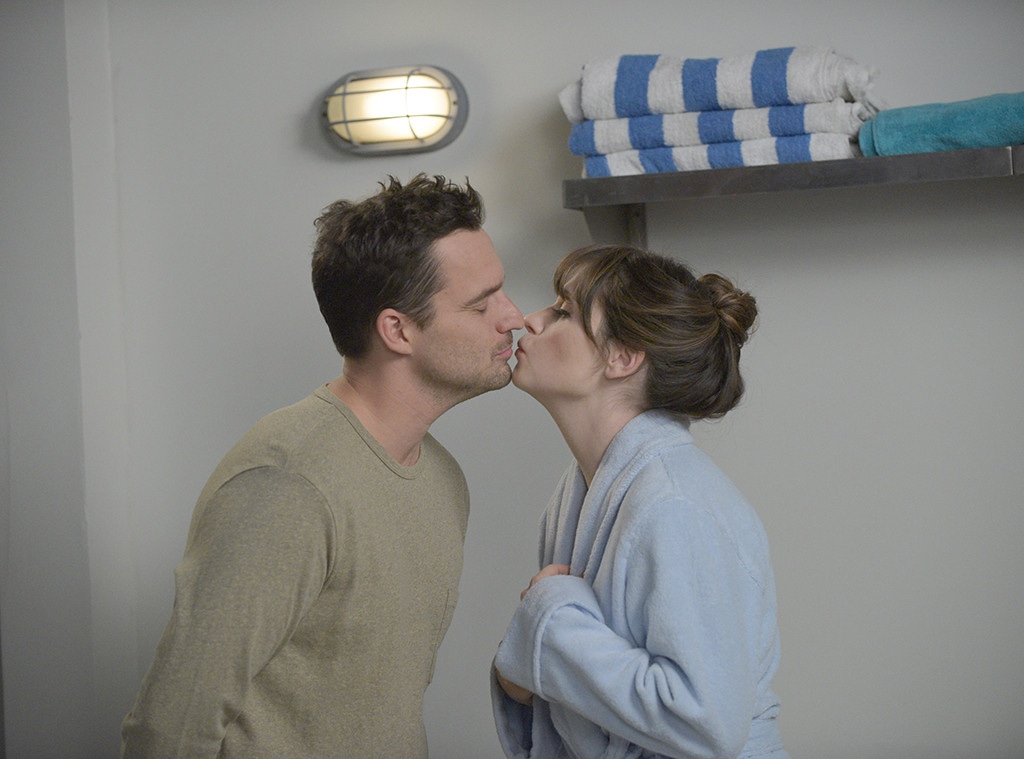 Fox
Prank Sinatra strikes again. 
There is possibly no better and more jarring way that New Girl could have ended after seven seasons than by revealing that the season-long gag of eviction notices was no more than a prank by one Winston Bishop, master of pranks that are always either too small or way too big. Tonight, he went way too big. 
The hour-long two-episode finale first began with a sitcom classic finale: a wedding that goes horribly awry. Winston and Schmidt got downright horribly offensive in their toast/roast, and then after Nick and Jess "cursed" their marriage by sleeping together pre-wedding, Jess slipped in the bathroom and scratched her cornea on a dog toy, giving her an eye patch. Nick ruined his relationship with his publisher. Then, Jess' mother got her very stoned, and she found herself covered in cake and fielding love declarations from her fancy ex, Russell (Dermot Mulroney). 
In the end, Nick, Schmidt, and Winston fought off Russell (Nick broke his hand, IRL and on screen), and Jess and Nick got married in the hallway of the hospital where Aly and Winston were about to have their baby. Winston then named his baby DanBill Bishop, and boy are we just going to have to pretend we're OK with that. 
That could very well have been the end of the show, but it wasn't over yet thanks to what Zooey Deschanel calls the "bonus episode."
A month later, Nick and Jess were still living in the loft but were 24 hours from being evicted, according to the notices they had been getting under their door. They summoned their friends over to hear the eviction news. 
Jess made a big to-do, but no one cared, since it was past time Nick and Jess moved out of the loft, so they all just humored Jess through reminiscing over penis casts and that big stick Nick used to fix the garbage disposal that one time.
To cheer Jess up, everyone decided to stay and play one last game of True American, with the added rule of packing anything anyone landed on. 
Suddenly, the game cut to a distant future in which the whole gang was playing True American with root beer and their many, many children. Or at least Winston and Aly had many, many, many children, while Nick and Jess had one little boy and Schmidt and Cece had just a few. And then that cut back to outside the loft, where Nick pulled the door of the moving truck shut, only to reveal a giant picture of Winston. 
Turns out Prank Sinatra had invented a fake company to fake buy the building and hired various side characters to slide fake eviction notices under the door. But since they had found a new apartment and hired a moving truck and packed all their stuff into it, Nick and Jess decided to just move anyway, so the whole gang drove off in the moving truck, leaving the loft behind and ending the show with all characters having officially grown up, kinda.
The show didn't necessarily need that last episode, but it still felt incredibly right to have, like the most quintessential episode of this show ever made. 
"Liz was like, and the second one's for me!" Max Greenfield tells E! News, referring to the show's creator Liz Meriwether. "I don't want to say it was an inside joke thing, it was just like…I was saying this when we were shooting it. It was like a musician who gets on stage, who's been playing for ages, and is just like, all right you know what, tonight I'm just gonna do the hits, tonight I'm just playing the hits, and then the fans are like, yeah none of the new s--t."
"I love that the loft was a character in the final episode," says Deschanel. "The last two episodes were a perfect juxtaposition between the two kind of types of episodes that we had on New Girl. We always had serial stories that ran through the season, and also these just one-off episodes that were kind of silly hijinks with a lot of slapstick and kind of farcical situations, and I think the finale was that." 
"I think she really likes when we're all together and we're all being kind of silly and ridiculous, and the tone is all over the place and it'll be like really jokey and then really sincere, and then you might be sincere about something and you don't know why, but it feels right when it's cut together even if it doesn't feel right when you're doing it," Johnson says of Meriwether. "So you know, for a final hurrah, for me, I love being around Liz trying to make her laugh, just in real life. She has a huge sense of humor, and her sense of humor is really the New Girl sense of humor. …We all add a lot, but it's hers. We were all acting in her show. For the finale, it was really fun, she was there all the time. So it was fun to sit by her in video village and try to make her laugh. You can't help but try to show off around her, so we were all heightened and showing off and it felt fun." 
As for that first half of the finale, it felt like it was a long time coming.
"I was really happy Nick and Jess got married," Johnson tells us. "There are some people who wanted the cooler ending but I'm like, I don't think the show should have ever been about them as a couple, it's not a show about a couple, but to not have them get together in the end felt like a false step. They were meant to be together from the very start, the show's engine was them, the kind of will they/won't they, so I always thought it was kind of great to keep them apart but wanting to be together, and then in the end you want those people to make it work." 
Deschanel, meanwhile, might have been one of those people. 
"I thought there was another version that could have been bittersweet where they don't end up together, and a lot of times I like that in an ending, but I think this was kind of always what…there was kind of a devotion to the fans in the direction that the writers were always going and I think that that's totally valid too," she says. "I mean I think there was a part of me that was like, oh it could have been cool to not know, or have it end slightly bittersweet but you know, still poignantly. I think there were so many different ways to go, and this was one of them, and I think it was good. I think it was maybe what people wanted." 
Greenfield really loved that little flash-forward, another classic sitcom ending. 
"The little move they made which I thought was really nice was the transition from True American to the extra flash forward, with the kids. That always gets me," he says. "When I started the show, my daughter was one, and she's now eight, and like a young woman. And now we have a son who's almost three and he's running around and you're like, that's exactly what that looks like. That moment was like whoa, chill out, don't cry." 
And as much as Johnson loved the wedding and the flash forward, even if "there sure were a lot of kids," his favorite finale bit was during a flashback, when Nick and Schmidt first moved into the loft and Schmidt was sitting just a little too close to Nick on the half a couch while they had a real weird conversation. 
"[The moment I] laughed really hard was the flashback with Max when we're on the couch, because that's not what was written," Johnson says. "What was written was I say to him, a lot of fun stuff's gonna happen, what do you think? And he says, maybe I'm gonna meet a girl, fall in love, have a kid, how bout you. And my line was maybe I'll be a writer and fall in love, wouldn't that be great? And he improvised a bit he's been doing for years where the girl he describes is me, exactly how I looked. And we all laughed really hard on set, and I really thought it was funny that they put that in." 
"It was so weird," he continues. "But Max would always do that, when he and I are doing scenes where we're like talking about Jess and he's like, you've loved her [since] the moment you saw her and it's this really sweet scene, what gets cut out is him improvising and you've loved me since… and then we do a whole run where the camera operators finally go 'shut up, no one's gonna use this.'" 
We're gonna need a compilation video of those takes and we're gonna need it soon, before the end-of-show grief really sets in, please and thank you.