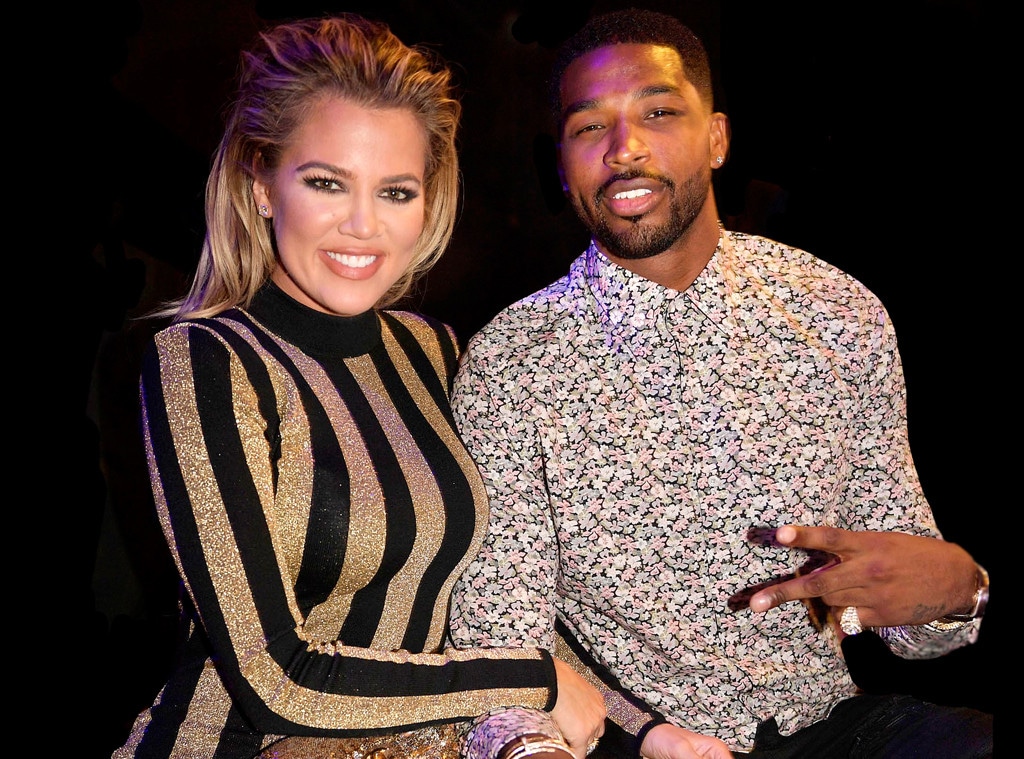 Seth Browarnik/startraksphoto.com
Kim Kardashian has seen this play before. 
When sister Khloe Kardashian was dealing with then-husband Lamar Odom's infidelity and drug use in the waning months of their brief marriage, she purposely kept her tight-knit clan out of the loop. "Every time there was something going on, I would have to lie or conceal or cover up," Khloe explained on the family's flagship reality show Keeping Up With the Kardashians. 
That wasn't an option when boyfriend Tristan Thompson's cheating scandal broke just days before daughter True's arrival. "Because this is not so private, I think she's just like, I need a minute to myself," Kim explained to Ellen DeGeneres of Khloe's decision to hunker down with Thompson in Ohio rather than surround herself with family back in California. "So she's going to get through it. We're such a close family. She has such a good support system and all we can do is be there for her and the baby. 
There in spirit, anyway. Though Kim, sister Kourtney Kardashian and mom Kris Jenner sprang into action after the Thompson photos leaked, hopping a private jet to Cleveland in time for Khloe to give birth, the family has been too busy for a return flight in recent weeks. And Jenner's overtures to get Khloe to spend Mother's Day with True in L.A. fell flat. Even with Thompson in Boston for the Cleveland Cavaliers' first game of the NBA Eastern Conference Finals, the 33-year-old "wanted a low-key day" with her 1-month-old daughter, an insider tells E! News. 
The only Kardashian-Jenner sibling to truly put down roots outside their Southern California enclave (she spent several months in Dallas when Odom was traded to the Mavericks), Khloe insists she truly feels at home in the $1.9 million four-bedroom spread Thompson purchased in 2015. "It's a normal routine life," she says of her stint as a Midwesterner. "I love to cook, so I get to cook every day. It's this home, family thing that I've been craving that I get to have in Cleveland." 
Another benefit of the Ohio city that one source calls Khloe's "happy place": it's more than 2,000 miles from Hollywood's glare. As another source explains, "She's feeling very happy and settled there."
It gives her a little distance from her family's opinions as well. While Khloe has chosen to forgive Thompson ("He made a promise to Khloe and it was enough for her to take him back," one insider tells E! News) her siblings haven't offered amnesty just yet. As the star's fiercest supporters, they're understandably furious at Thompson for his behavior. Kim, who declared the situation "so f--ked up" on The Ellen DeGeneres Show, "is trying to be supportive and listen to Khloe and just be there for her," says the source. 
But her relationship limbo is not a frequent topic of conversation. "They aren't talking about him at all," says the source. "Khloe isn't bringing it up and they just talk about True and motherhood." And the Good American co-founder's evasiveness is making it even harder for her relatives to understand her choice. "They all want Khloe to be happy, but the situation with Tristan is the big elephant in the room," says the source. "They aren't talking about him at all." 
Khloe Kardashian/Instagram
The couple themselves, however, have had their share of deep conversations. Having agreed to the parameters Khloe set before allowing him back into his lakeside spread, the 27-year-old power forward is determined to prove he can be a good teammate. Though he was in Boston on Mother's Day, says the insider, he "wanted to make sure Khloe felt special and took time out for herself."
Mission accomplished. The reality star took to social media May 13 to show off her haul, which included two floral arrangements spelling out the word Mommy and gold balloons proclaiming her nickname, gushing, "I feel so loved." The way the onetime University of Texas standout, 28, sees it, maintaining that emotion is his most crucial job. "He has been trying very hard to show her that he is committed to her and True," says the insider. "Tristan had a wake up call and is trying to show Khloe he is a changed man." 
The 6-foot-8 athlete isn't the only member of Khloe's supportive roster. Thanks to the help of a baby nurse, she's settled into a routine over the past few weeks and even find time to pop out for dates with Thompson. The pair of nearly two years enjoyed lunch at Cleveland's TownHall May 4 and took in a movie four days later.  
Most importantly for the Health cover girl, who's called herself a badass in the gym, she's been able to squeeze in workouts. Cleared by her doctors within a month of True's arrival, she started with a 30-minute VersaClimber class at Cleveland's Rise Nation before diving into sessions with Coach Joe (L.A.-based trainer Joel Bouraima). Though she admitted on Snapchat that it's "a struggle trying to fit in working out between feedings" because she can't predict how long her newborn will sleep, she's committed. "I'm ready to start getting my body back and feeling mentally clear again," she said on her blog. "Bring on summer and the hard work—I got this!" 
It just may take a beat for her hamstrings and glutes to catch up to her mindset. While she told followers May 10 "It feels so good to finally sweat again and feel that I'm evolving and doing something progressive for my body and my mind," it's kind of a hurts so good situation. "Mentally I'm strong," she said, "but physically it's just not the same, my body is not doing what I feel like my mind is telling it to do." 
That didn't stop her from being back at it the next day, wearing a sauna suit on her lower half, insisting her thighs and butt were "so big" she needed to sweat the pounds off. 
Of course her favorite cardio involves her "very calm, peaceful" baby girl. "Khloe has been taking little walks around the neighborhood and pushing True for exercise," a source says. "She walks about 15 minutes and then heads back home." 
With Cleveland temps reaching into the eighties—"Perfect springtime weather," Khloe proclaimed on her blog—she's even taken her Nuna Mixx Stroller System out for longer excursions. "We hit the park," Khloe wrote, "and it was so much fun."  
Byrdman / SURQ / BACKGRID
Though if she's being perfectly honest, there's little about her new bundle she doesn't find enjoyable. While Thompson rather astutely pointed out on UNINTERRUPTED's Road Trippin' podcast that True's actions are limited to "eating, sleeping and, uh, s--ttin', that's all they do," Khloe is cherishing every moment. "I'm really enjoying spending quality time with True," she wrote on her blog, "and loving just hibernating with her." 
Holding court with Thompson is pretty sweet as well. Says one source of Thompson, also dad to 17-month-old Prince, "Khloe has fallen in love with him all over again while watching him be a dad to True." 
So doubters can keep their opinions to themselves. "Khloe doesn't care what anyone thinks about what she's doing," another insider tells E! News. "It's her life and this was her decision and only her decision. That's all that matters." 
When it comes to her family's take, though, she's open to listening. Eventually. In a blog post titled, "Why The Bond of Our Family Will Never Break," she writes about receiving guidance from her clan. "We all learn and support each other fully and have such a love and desire to remain close," she explained. "This is how I know our family bond will never be broken."