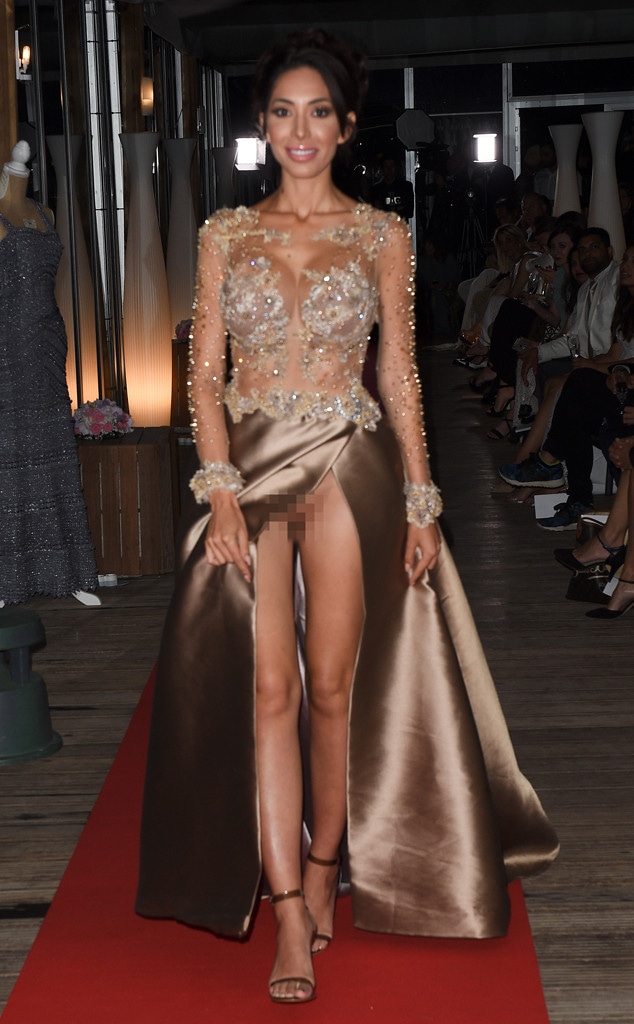 Neil Warner/MEGA
Farrah Abraham accidentally revealed a little too much for photographers at the 2018 Cannes Film Festival.
The Teen Mom alum attended a party in a gorgeous gold gown this week in France, but suffered a wardrobe malfunction when the slit on the dress slid to the side, exposing her to the cameras. Even though Abraham's commando moment was caught by photographers, she isn't letting it get her down. The reality star is even posting about the wardrobe malfunction on social media.
"#cannes has it's Farrah-Share of fashion," she tweeted on Tuesday.
Abraham arrived to Cannes over the weekend with her daughter, Sophia. The mother-daughter duo had been in Fiji before flying to France.
While in Fiji last week, Abraham remembered her daughter's father, Derek Underwood.
"In remembrance of Sophia's father Derek Underwood, May 8, we remember our heartfelt love, memories, and joy on his birthday that only Derek could bring," Abraham wrote on Instagram. "Blessed this year to be in such a magical place of Fiji where peace is here, the stars so bright, the waterfalls, look out points picturesque views all remind me of wonderful memories I share with Sophia about her father & how they have so many similarities and enjoy same adventurous activities, Derek is with Sophia every day watching over her & were so blessed as we always continue to share his loving memory no matter where we are in the world with freedom, love & God."
She continued, "We're so blessed and it's been a life changing experience through Sophia's growing up and her journey of understanding all about her father and her similarities to her father, I see how wonderful it is to support , nurture, and love our past memories and connect and be present with the love of Daddy Derek with us in spirit in our every day now blessed #rip."
After arriving in France over the weekend, the duo spent Mother's Day together by the beach.
"Epic! The Best Mother's Day Ever with the best Daughter," the MTV alum wrote along with a sweet video with Sophia.