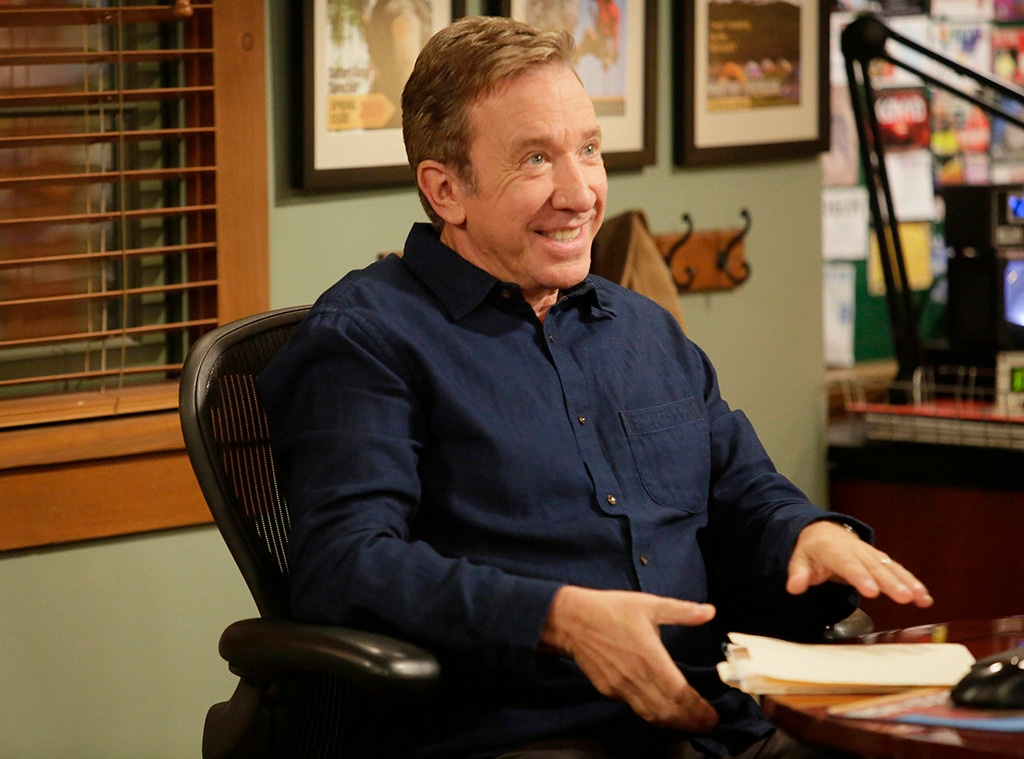 Fox
If you think Fox's decision to revive Last Man Standing a year after the Tim Allen sitcom was canceled has ABC second-guessing its decision to part ways with the series after six seasons, think again.
"The decisions that we made last year in terms of canceling Last Man Standing were made with the best information that we had at the time," Channing Dungey, president of ABC Entertainment, told reporters when asked if the success of Roseanne made her wish she still had the series to pair it with during a conference call ahead of the network's big 2018 Upfronts presentation to advertisers in New York on Tuesday, May 15. 
While some fans and Allen himself alleged at the time that the decision to axe the series was due to Allen and his character Mike Baxter's conservative politics, Dungey maintains that simply wasn't the case. Rather, it had everything to do with the fact that the network didn't own the 20th Century Fox Television production. "We'd had a couple years running where we came down to the wire in terms of being able to make a deal with our studio partners and unfortunately, that year were not able to come to terms and we were not able to bring the show back," she explained. "But I wish them every success in the return of that show on Fox."
As for ABC's own successful revival with a touch of conservative politics, Dungey remains proud of what Roseanne has achieved this season, despite the controversies that have surrounded the series thanks, in part, to star Roseanne Barr's, shall we say, outspoken behavior, which she believes is coloring some folks' reaction to the show. 
"I think that the show, yes we certainly did touch on some of that in the first episode in a very funny way. I think it allowed us, between the differing political views of Roseanne and Jackie, to address some issues that we think have been conversations at other family dining tables across the country," Dungey noted about the show's premiere episode. "That said, having kind of touched on that in the first episode of the season, I think when you look at the subsequent episodes of the run, the focus is not really on politics and much more on family and the everyday trials and tribulations this family faces that still bring them together."
As for whether or not next season, which Dungey revealed is just a 13-episode order, despite its fall return, will focus on Roseanne's politics yet again, the exec admitted she doesn't think it will. "I think they are going to continue on the path they were on towards the latter part of the season, which is away from politics and more focused on family," she said.
Here is ABC's schedule for the fall. (Note: New shows are bolded.)
MONDAY
8 p.m. Dancing With the Stars
10 p.m. The Good Doctor
TUESDAY
8 p.m. Roseanne
8:30 p.m. The Kids Are Alright
9 p.m. black-ish
9:30 p.m. Splitting Up Together
10 p.m. The Rookie
WEDNESDAY
8 p.m. The Goldbergs
8:30 p.m. American Housewife
9 p.m. Modern Family
9:30 p.m. Single Parents
10 p.m. A Million Little Things
THURSDAY
8 p.m. Grey's Anatomy
9 p.m. Station 19
10 p.m. How to Get Away With Murder
FRIDAY
8 p.m. Fresh Off the Boat
8:30 p.m. Speechless
9 p.m. Child Support
10 p.m. 20/20
SUNDAY
7 p.m. America's Funniest Home Videos
8 p.m. Dancing With the Stars Juniors
9 p.m. Shark Tank
10 p.m. The Alec Baldwin Show
MIDSEASON: Set to return later in the 2018-19 season are Agents of S.H.I.E.L.D., For the People, The Bachelor and American Idol, along with new series Whiskey Cavalier, Grand Hotel, The Fix and Schooled.