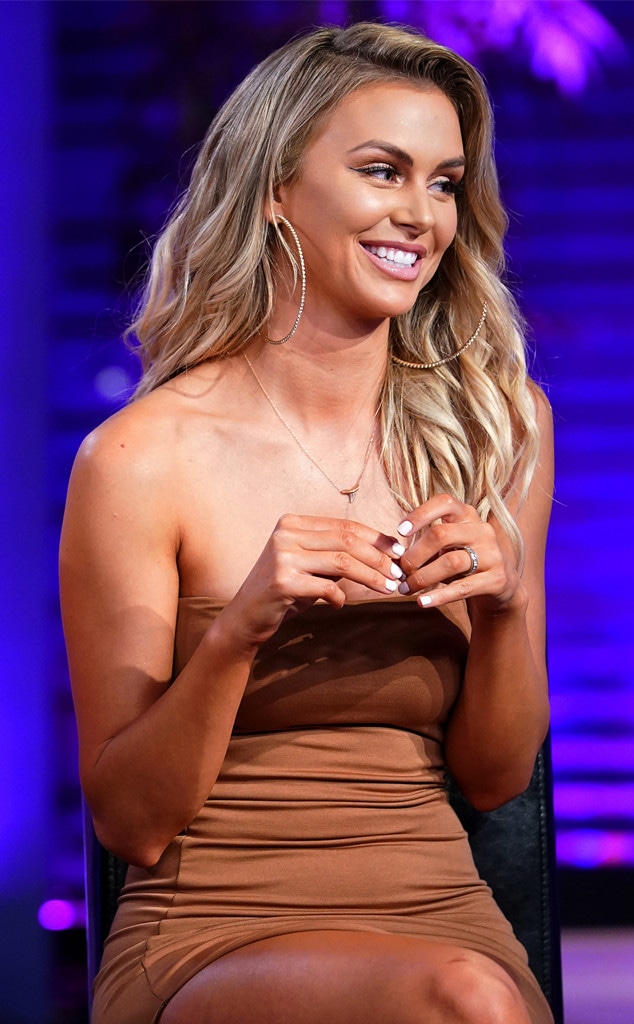 Nicole Weingart/Bravo
Lala Kent has taken her relationship with Randall Emmett public. But, as she said in Part 2 of the Vanderpump Rules reunion Monday, Kent did not break up his marriage to Ambyr Childers.
"You've been together for a while. You're clearly very happy. You denied over the years all of the allegations that your boyfriend was married," Andy Cohen, who moderated the reunion special, reminded her. "It seems that maybe he was married when you started dating, correct?"
"Well, when I met...Rand...he had a legal separation," explained Kent, who took a long pause before actually uttering her boyfriend's name on TV. "So, I don't see how I did anything wrong."
Emmett, a film and TV producer, finalized his divorce in December; he has two kids with Childers. All of the Vanderpump Rules cast members confirmed they have since met Emmett.
Asked to reveal how Emmett spoils her, Kent said she's received cars, purses and shoes.
"Materialistic things," Scheana Marie whispered, rolling her eyes.
Firing back, Kent yelled at her frenemy, saying, "Everyone can sit there and be like, 'Her man does this; her man does that.' It's like, 'OK, you're just mad 'cause your man doesn't do that!'"
"Whenever I make music, it comes out of my pocket. My rent? My man gave me a cap, which, we are well above the cap, so mama payin' a lot for rent. As far as my cars go, it's like, 'Here's the lease, but you best be payin' insurance,'" added Kent, who is currently driving a BMW i8. "Like [Lisa Vanderpump]," she explained, "I have it for a few months just to, like, dink around."
"Not like Lisa," Vanderpump said. "Lisa works for it and doesn't have somebody paying for it."
Later in the reunion special, Kent was asked to defend her specific "brand" of feminism. "I love Lala," Vanderpump argued, "but she's not exactly the quintessential feminist if she's talking about, 'Well, I give a BJ, and I get the jewelry.'" In response, Kent reminded her boss, "Keep in mind I am blowing my boyfriend. I'm not blowing some random guy for the jewelry. Come on!"
Part 3 of the Vanderpump Rules reunion airs Monday at 9 p.m. on Bravo.
(E! and Bravo are both members of the NBCUniversal family.)