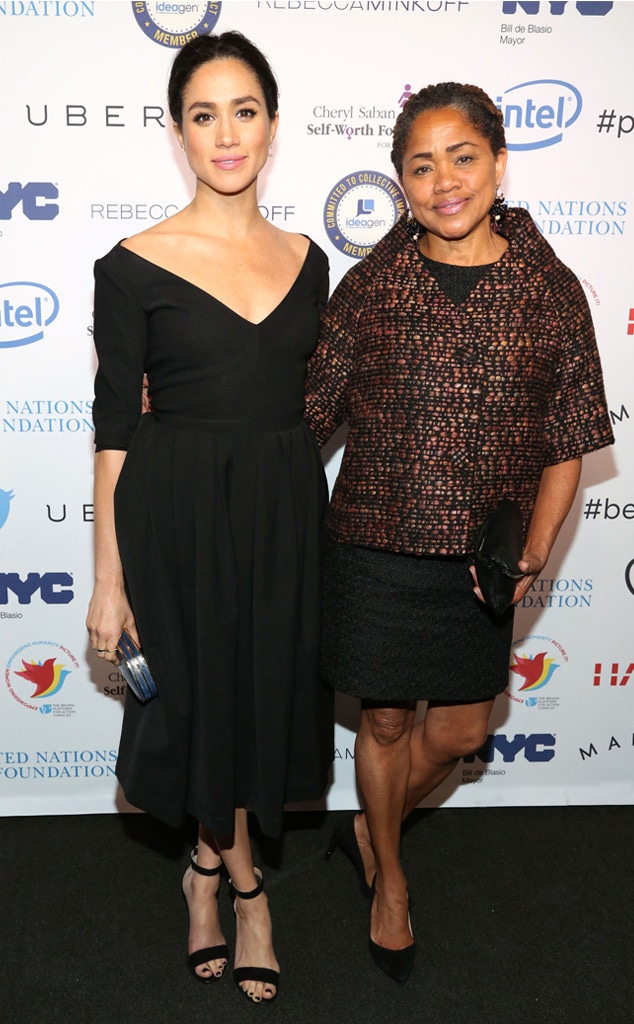 Sylvain Gaboury/Patrick McMullan via Getty Images
As the world is gearing up for the pomp and circumstance of this Saturday's Royal Wedding between Prince Harry and Meghan Markle—the families of the betrothed couple are dealing for the realities of the having the world watch the blessed event.
And it looks like there's been some major upheaval in Markle's family ahead of the nuptials. Earlier today, amid some major paparazzi drama, Meghan's father Thomas Markle said he would no longer be attending the royal wedding due to a heart attack. Meanwhile, Meghan's mom Doria Ragland, has been undergoing some major changes in the area of her career.
E! News can confirm that Meghan's mother has left her job at a mental health facility in Los Angeles. She is a social worker that specializes in the geriatric community.
Didi Hirsch Mental Health Services confirmed to E! News that Ragland is no longer employed at the facility.
According the website, "Didi Hirsch Mental Health Services transforms lives by providing quality mental health care and substance use treatment in communities where stigma or poverty limit access."
Us Weekly first reported the news and added that source had said, "It was Doria's decision to leave. She has talked about starting her own private practice, focusing on working with elderly patients."
While it is still unknown if Thomas Markle will actually attend his daughter's momentous event—we can be certain that Doria will be there. The two have a famously close relationship, Doria even sweetly nicknaming her daughter "Flower."
In a post called "Love Letter," written back in 2014 on the now-defunct blog The Tig, royal-in-training wrote this, "Dreadlocks. Nose ring. Yoga instructor. Social worker. Free spirit. Lover of potato chips & lemon tarts. And if the DJ cues Al Green's soul classic "Call Me," just forget it. She will swivel her hips into the sweetest little dance you've ever seen, swaying her head and snapping her fingers to the beat like she's been dancing since the womb. And you will smile. You won't be able to help it. You will look at her and you will feel joy. I'm talking about my mom."