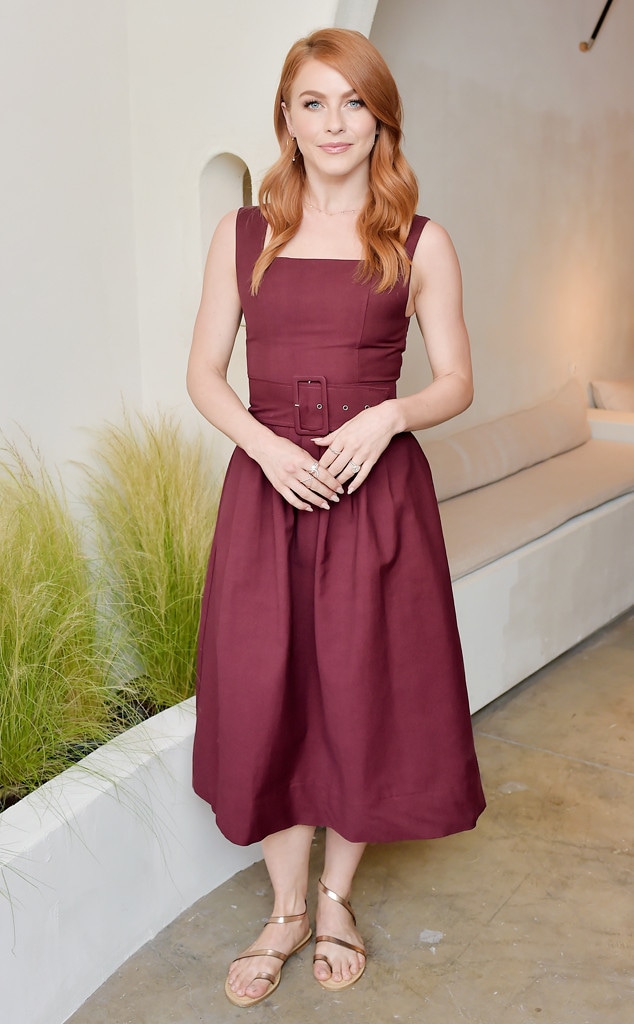 Stefanie Keenan/Getty Images for Amanu
While Julianne Hough's footwear may be pretty, she's trying to keep her eco-footprint pretty small.
The Dancing With the Stars judge joined forces with her loved ones, longtime stylist Anita Patrickson and husband Brooks Laich to connect philanthropy and fashion in a way that makes sense for everyone. 
Anita, the owner of eco-friendly shoe brand Amanu and stylist to celebs like Chanel Iman, Eiza Gonzalez and Camila Alves, recently opened a shoe store in West Hollywood, California that creates custom flat sandals on site, cutting waste from the production. Retailing between $160-$285, customers can build their dream pair using a variety of materials and styles.
Now, they're the star's must-haves: "I picked the standard go-tos—the staples you need in your closet," Julianne told E! News, reminiscing on her first visit to the store. "It's amazing because you can customize them to be whatever you want. And, the best part is you feel like you're doing something good for the world."
Wearing Style 07 in rose gold, a strappy sandal with a toe ring-like feature, Julianne also revealed she has Style 02, which has two wide leather straps in nude and Style 03, a feather-accented sandal. She calls them "casual chic."
Her husband Brooks is also in full support of Anita's mission. Beyond being excited to make a "mandal" (yes, they're a thing now), the philanthropist, partnered with Love United, co-hosted a dinner celebrating the great cause and the launch of the footwear brand just last week.
Stefanie Keenan/Getty Images for Amanu
At the event, Anita told us, "As a stylist, especially with Jules going to so many red carpets, we do so much damage, especially in the fashion industry, with all of the fittings and things you can't avoid. I wanted to do something that wasn't going to add to the problem."
Her shoe store also solves another problem she's had as a stylist: "Normally, I'd have to source a hundred shoes to find the right ones, but now I can just make them."
Now that the industry is shifting away from heels and towards sneakers and flats, she stated it's the perfect time to start her business.
"You don't need to being wearing sky-high heels anymore," she shared.
Julianne is right. These shoes are benefitting everyone.