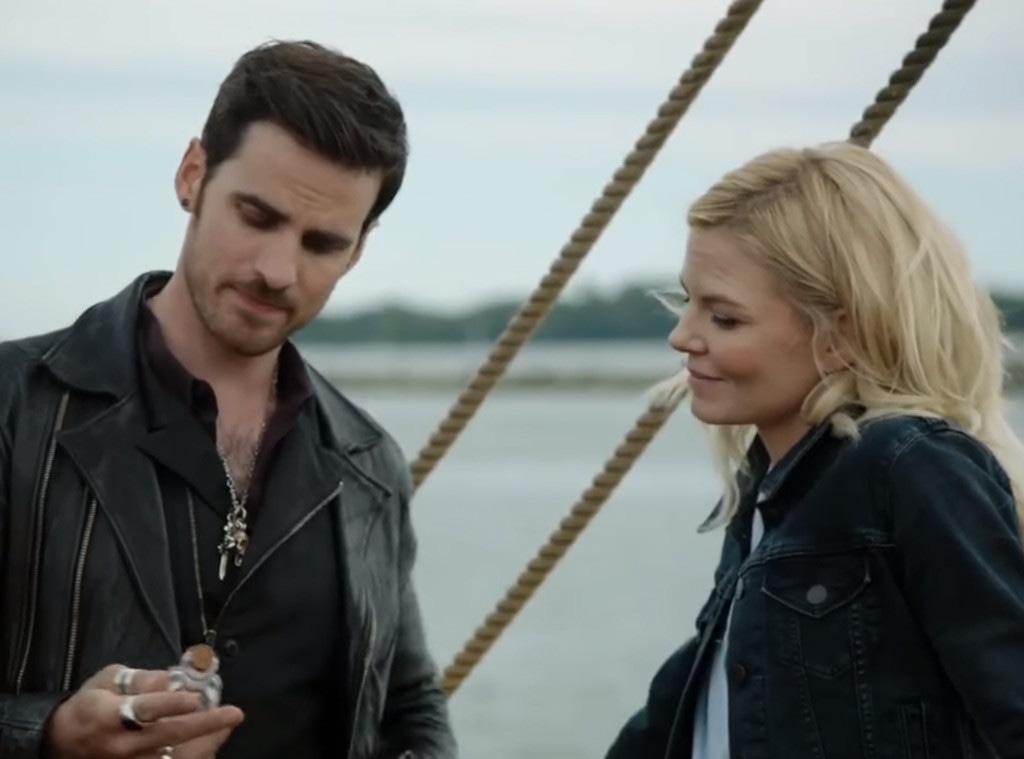 ABC
It's been seven years since we were introduced to the magical world of Once Upon a Time and this week it all ends.
Over the past seven seasons fans have been taken to places they never could've imagine. Yes, we all know the traditional storybook tales of Prince Charming and Snow White, but OUAT took it a step further. They mixed and matched, shifted and switched all of our favorite childhood fairytales into one big enchanting story.
We've seen Robin Hood and the Evil Queen fall in love and saw Rumpelstiltskin marry Belle. There have been friendships between Ariel and Mulan and Snow White and Prince Charming actually have a family together.
Through it all fans have been transported to different realms and crossover worlds. They've seen Wonderland and Neverland as well as the Underworld AKA Hades' realm and are now witnessing life in a Seattle town called Hyperion Heights. It all however began back in Storybrooke and that's where we first got hooked on these amazing characters. Now that the show is coming to an official end—the finale is this Friday—we're not sure we're ready to bid farewell to all of the show's characters.
Since we already said goodbye to a few characters last season—some of which have made surprise cameos this season—we're sort of ready for this series finale. That doesn't mean however that we're not going to miss the biggest characters from all the seasons. In fact we love so many of them we had to know your input once and for all on which OUAT character is truly the best.
Vote for your favorite character from Storybrooke and beyond on Once Upon a Time below. Don't forget tune in as we say goodbye forever to these fairytale characters this Friday!
Evil Queen/Regina Mills:
Lana Parrilla has played many characters on Once Upon a Time, including her season seven role of Roni, but it's the Evil Queen and her Storybrooke alter ego Regina Mills that we're going to miss the most. Actually, it's Regina because she evolved so much over the course of this series. She now knows love, family and how to save the day instead of destroying everything.
Rumpelstiltskin/Mr. Gold:
Like Parrilla's characters, Robert Carlyle has portrayed so many characters that we love to hate. We're probably going to miss Mr. Gold the most since he's the one who won over Belle, fell in love and mastered being Rumpelstiltskin while looking out for the town time and time again.
Captain Hook:
Yes, we love Colin O'Donoghue no matter who he plays but Captain Hook is the best. He's sassy, sexy and is a pirate. What's not to love? Oh, and he's a hero!
Snow White/Mary Margaret:
Not seeing Snow White/Mary Margaret this season has been the worst. Both characters are beloved—and played by Ginnifer Goodwin—and equally as awesome. We'll miss Snow White the most however because she isn't a damsel in distress. She's a fighter and she holds the whole Charming family together.
Prince Charming/David Nolan:
David (played by Josh Dallas) is kind of blah, but his real persona Prince Charming is well, charming. He can sword fight like no one else, loves his family and is a great role model for anyone in Storybrooke.
Emma Swan:
Who doesn't love the original savior? Emma Swan (Jennifer Morrison) was the heart and soul for the first six seasons of OUAT and we will never stop loving her. That red leather jacket, the yellow bug she drives and her ability to kick some serious butt are all great qualities.
Young Henry Mills:
Henry Mills always has faith no matter what his age. For the first six seasons he was played by Jared Gilmore and that's when he hooked us in. We followed his journey of finding his real mom and helping his adoptive mother find herself. He was the truest believer and a great character.
Adult Henry Mills:
This season has been all about adult Henry Mills played by Andrew J. West and we also are fans of his. He is also a believer but has a more complicated backstory since he can't actually remember his story. His persistence throughout the season and romantic side have really made him memorable.
Zelena:
Zelena (Rebecca Mader) started off as a villain—like her sister Regina—but eventually won over Storybrooke and OUAT fans. She is now a hero and it's just made her even more of a badass. 
Belle:
Who doesn't love Belle? Emilie de Ravin's portrayal of this iconic character was always so spot on. Belle brought out the best in everyone, especially Rumple and for that she's one of the very best on the series. Plus, she loves to read which is a great character trait. 
Robin Hood:
Sean Maguire hooked fans from the moment he was first seen as Robin Hood. His character is complicated, strong and has a soft spot for Regina. We love his ability to put her at ease and at the same time make her fiercely protective.
Lucy:
This season we've met a lot of great new characters that will be missed once the show wraps. Lucy (played by Alison Fernandez) is definitely one of them. She's so stinking cute. Plus, she has a knack for detective work and is a true believer, which as we all know is necessary to survive curses. 
Jacinda/Cinderella:
Lucy's mom Jacinda (Dania Ramirez) AKA Cinderella is another character we wish we would've met years ago. She is feisty, strong and never backs down. Whether she's Cinderella or Jacinda this girl is her own hero…although we love that she's finally found love with Henry.
Tilly/Alice:
Alice in Wonderland is one of the greatest fairytale stories ever so when we finally met Alice (Rose Reynolds) and her alter ego Tilly this season we were obsessed. If we had to choose Tilly is the character by Reynolds that we'd miss the most. She's unique, passionate and full of surprises.
Which Once Upon a Time character will you miss the most once the series finale airs this week?