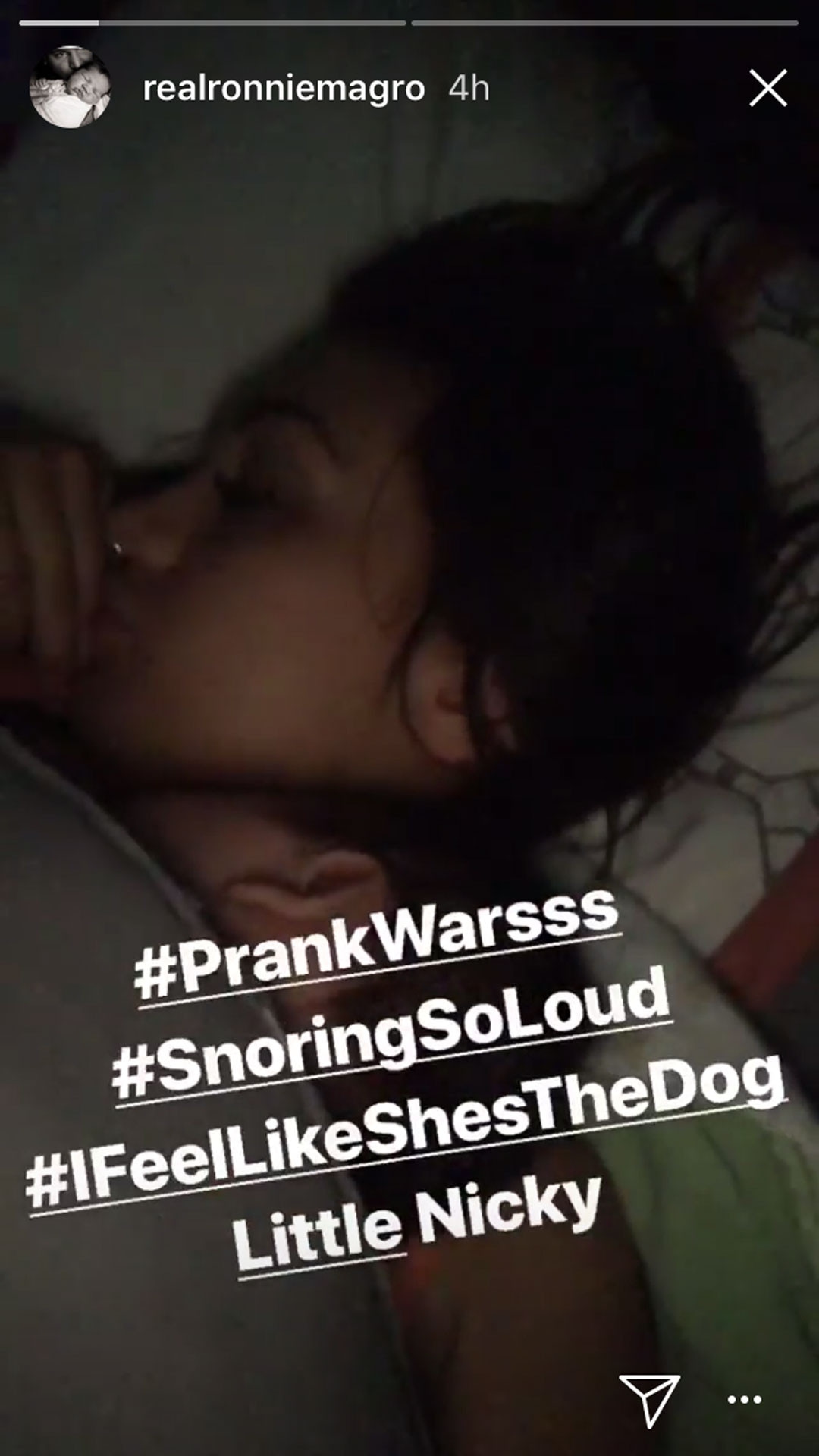 Instagram
Ronnie Magro-Ortiz and Jen Harley appear to be on good terms, considering they just spent Mother's Day weekend together.
On Sunday, the Jersey Shore star posted to Instagram Story, showing his followers that he was with Jen in bed. The posts showed Jen asleep with their baby girl, Ariana Sky.
"#PrankWarsss #SnoringSoLoud #IFeelLikeShesTheDogLittleNicky," he captioned one post. While another read, "#SoundsLikeABearHavingAOrgasm #SheAlwaysSaysISnore."
This comes exactly two weeks after Ronnie and Jen had their first vicious fight on social media, during which Ronnie wrote on Instagram Story, "Note to self, can't turn a natural born HOE, into a HOUSEWIFE, if you find them in the gutter then leave them in the gutter."
Ronnie later apologized, writing, "I want to apologize for earlier to my fans and especially to @tater_tot_kitty I acted out of my gut and not rationally. I should've never acted in such a manor [sic]. My deepest apologizes [sic]."
The next day, the couple got into another argument, which was broadcast on Instagram Live. Following this argument, a source told E! News that Ronnie and Jen had broken up.
"They are broken up," a source shared with us on Apr. 30. "They're done."
On May 8, an insider told E! News that Ronnie and Jen are trying to keep things "calm and civil" for the sake of their daughter.
"They are not back together. That said, Ron has been able to spend time with his daughter and things with Jen are peaceful for now," a source told us at the time.
"His daughter is his biggest priority so he just wants to keep things as calm and civil with Jen for the baby's sake," the insider continued. "They both really regret how ugly and public their split was so they're doing everything they can to keep things private right now."
Later on Sunday, Ronnie shared a video to Instagram Story which showed him and Ariana in the hospital.
"#CaliFamilyBeachTripFail," he captioned the video. "At our 2nd hospital in 24 hours #MyPeanutsNotFeelingWell."