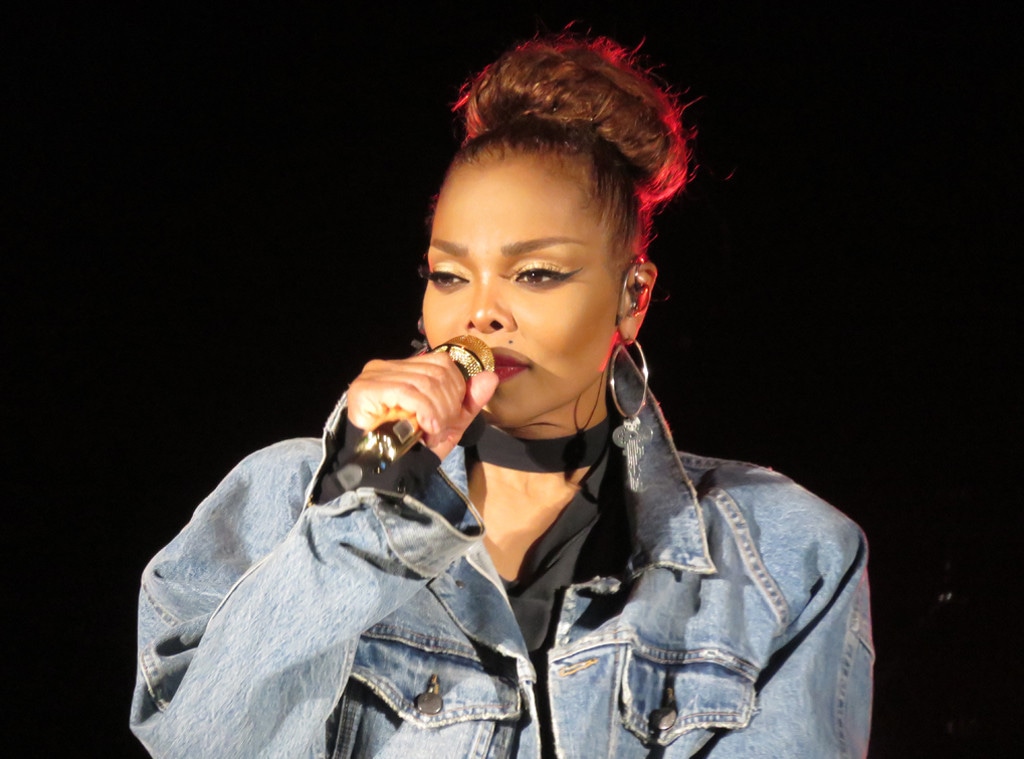 Splash News
Janet Jackson never has to set foot on stage again if she so chooses.
Her legacy as a pop goddess is secure, her hits enduring, her five Grammys, 11 American Music Awards and 10 Billboard Music Awards still shiny.
But the enigmatic star is not done doing what she loves—what her fans love—anytime soon. In fact, she's in the middle of ramping it up again after slowing down to focus on becoming a mom. 
Jackson is celebrating her 52nd birthday today and, while past year has had its challenges, at the same time it's been among the most transformative of her life. 
Within the course of a few months in early 2017, Jackson welcomed son Eissa Al Mana after a difficult pregnancy and then split up with his father, her husband of five years, Wissam Al Mana.
The breakup with the Qatari-born retail tycoon had been a long time coming, the pair sharing a desire for privacy but not always on the same page as far as how they wanted to live that shared life behind closed doors.
"One of the many divorcing factors was their religious beliefs," a source told E! News. "Wissam and Janet did not feel that they were on the same page when it came to this and the way they wanted their child to get raised. Janet is more of a free spirit than Wissam. Cultural difference and backgrounds played a major role." (Al Mana is Muslim and Jackson was raised Jehovah's Witness but, like her late brother Michael Jackson, set off on her own spiritual journey years ago.)
"I believe in God. I feel that spiritual connection," Jackson told Parade back in 2008. "But, most of the time, I didn't pay attention in the Kingdom Hall. I was asleep. I know that's awful. I was so tired, so busy, so knocked out, I'd fall asleep." Mother Katherine Jackson always talked to us about keeping our feet on the ground," she added. "Be thankful. Success is a gift from God. That doesn't necessarily mean that what you are doing right now will last forever.
"When I was younger, I thought you had to be in control of your own life. That takes a lot of discipline, hard work and focus. You just can't let it all fall by the wayside. Later on, I learned that God is really in control of everything. But you still have to put your best foot forward and be the best you can possibly be. I feel everyone is put here for a reason. Everyone has a calling. I always thought my real calling was to help other people."
So Jackson couldn't have had a more symbolic spring in 2017, celebrating her first Mother's Day and the life she brought into this world, as well as embarking on her own period of rejuvenation.
"The next chapter in Janet's life should be epic," an insider told us a year ago, adding that Jackson was training hard to get back in concert-ready shape and just couldn't wait to perform again. "This birthday is about new beginnings and she can't wait for what's in store. All of her friends and family have been the best, and so supportive."
While relishing her first year of motherhood, however, she did still have to get down to the business of divorcing. 
On her own Jackson is rumored to be worth upward of $175 million, but for a change that wasn't enough to make her the big breadwinner in the relationship. Al Mana, who co-owns the Al Mana Retail Group with his brothers, is reportedly a billionaire—and Page Six reported last year that family sources said Jackson was entitled to $100 million after five years of marriage per the terms of their prenuptial agreement, or double that if they had a child.
But although some paperwork had been signed beforehand, the exes had to go to court in London last summer to hammer out a custody agreement.
Despite the stresses that caused, at the end of the day Jackson didn't regret her time with Al Mana, especially considering that love that resulted in a healthy baby.
"Janet feels like she has broken free from her old life and is slowly starting over," a source said in September. "Her baby has brought so many new beginnings and life back in Janet. She wants to connect with her fans again and make her concerts something that her fans will remember and love. Janet's confidence is back."
Sure enough, that month she kicked off her State of the World Tour—on an emotional night two, she donated the proceeds from her show in Houston to Hurricane Harvey relief—and was on the road almost nonstop through Dec. 17. 
To get ready to power through two-plus hours of her intensely choreographed live show—which, vintage Janet, emphasizes her decades-old message about the importance of people doing what they can to make this world a more peaceful, loving place while also shining the spotlight on her enduring strength—the artist lost about 70 pounds after giving birth.
"She looks incredibly healthy," Jackson's trainer, Paulette Sybliss, told E! News in November. "She actually looks smaller in person than the pictures. If you see her and think she looks small, you stand next to her and she's even smaller." Sybliss attributed the impressive results to "very intense" 45-to-60-minute workout sessions at least four times a week, plus (advising that nutrition is about 80 percent of the weight-loss process) an everything-in-moderation approach to eating.
So Jackson got her body back, embarked on a tour and is happier than ever thanks to little Eissa, who turned 1 on Jan. 3.
Meanwhile, 2018 has presented a big of a mixed bag in the music world in general.
Fans and those generally interested in cosmic justice were hoping that Jackson would make an appearance with Justin Timberlake during the Super Bowl Halftime Show in February. It would have been a sweet return 14 years after her exposed breast turned average TV viewers into FCC-haunting puritans and CBS insisted on making Jackson apologize, while Timberlake faced pretty much no fallout whatsoever.
Alas, though between Pepsi, the NFL and NBC someone must have tried to make it happen, it wasn't meant to be. A source told E! News that Jackson was happy to hear J.T. had gotten the call to headline the show, wished him nothing but the best and knew he'd be great as always. 
Up until a week ago Jackson had been slated to headline Los Angeles' FYF Fest in July, a usually punk and hard-rock heavy show that heralded the pop star as more of a punk visionary than we might have realized, but then the whole festival was canceled due to poor ticket sales. (Festival founder Sean Carlson had been accused by multiple women of sexual misconduct last November, but the show seemed primed to go on after promoter Goldenvoice let him go. Of four women's stories, Carlson told Spin that two were full of misstatements but his conduct as far as the other two was "inexcusable.")
"The evolution of Janet's career and what it allowed and inspired other artists to do—it's really punk in my mind," Jennifer Yacoubian of Goldenvoice, which also puts on Coachella and enjoyeod an embarrassment of culturally significant riches just last month with the success of "Beychella," told the Los Angeles Times in announcing Jackson's gig in March.
But though one door closed for Jackson, another door is wide open and she'll be storming through it this weekend.
On Sunday, 25 years after janet. debuted at No. 1, she'll receive the Billboard Music Awards' Icon Award, as well as perform on TV for the first time since 2009.
And in July, Jackson will be headlining the 2018 Essence Festival in New Orleans. In honor of Mother's Day this year, she teamed with Essence to surprise four local single moms at a thank-you dinner hosted by the magazine. The promise of tickets to the festival and a makeover alone left some of the ladies in tears, so when a personal video message from Janet popped up, they were ecstatic.
Then it's back on the road until Aug. 12, when she'll close out her State of the World Tour in San Francisco. Meanwhile, her personal state of affairs is looking as good as ever. Jackson was spotted with Eissa on the swings at a park in Beverly Hills on Mother's Day, enjoying the best gift of all—quality time with her son.