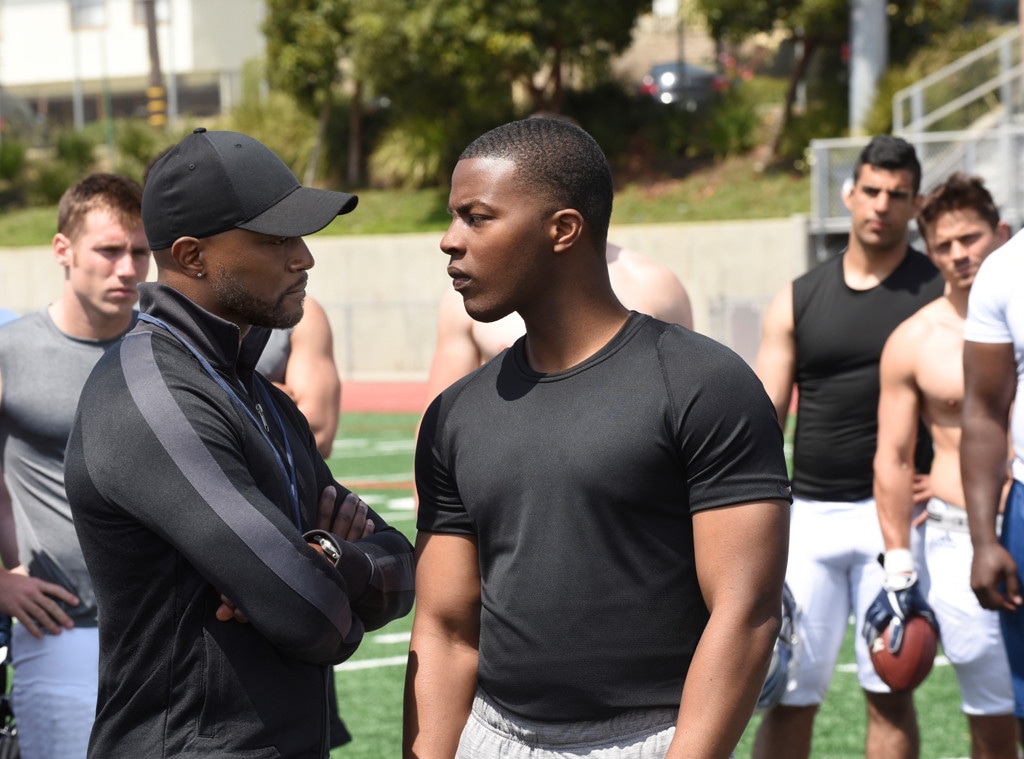 CW
You only get one chance to make a first impression.
It's the most wonderful time of year for TV fans: At their respective Upfront presentations, ABC, CBS, Fox, NBC and the CW will present the first look at their new series for the 2018 fall TV season, giving viewers a small taste of what they can expect from the shows. 
And now that the CW has unveiled the first looks at two of their new fall dramas (Legacies, the Vampire Diaries spinoff, doesn't have a pilot and therefore does not have a trailer to debut), it's time to see how they stack up against CBS' five new series, the three offerings from NBC, as well as the two from Fox and four from ABC.
16. The Cool Kids: To be honest, we were expecting more from EP Charlie Day's retirement home comedy about three friends whose "cool kid" status is shaken by the arrival of a rebellious lady, and we were especially expecting more from a show replacing one of three beloved comedies axed from Fox. (Airs Thursdays at 8:30 p.m. on Fox.)
15. The Neighborhood: We're hear for more diversity on CBS and this one seems quite at home on the network—for better and worse. Hard to really judge this one much further, though, considering Josh Lawson has been replaced by New Girl alum Max Greenfield. (Airs Mondays at 8 p.m. on CBS.)
14. Rel: We love Lil Rel Howery, so we feel like we could love Rel, the comedy inspired by Howery's real life about a man whose wife cheats on him with his barber. This strangely lit trailer isn't amazing, but we have done some giggling over "loose boots" and we'll definitely be tuning in for more. (Airs Sundays at 9:30 p.m. on Fox)
13. Happy Together: Damon Wayans Jr. and Amber Stevens West seem to be having a lot of fun here, with the Happy Endings alum seemingly tapping into his character from that beloved series for his work here. It's not hard to see why everyone wanted the guy to star in their pilot this season. (Airs Mondays at 8:30 p.m. on CBS.)
12. Manifest: A TV drama about a group of strangers coming together after a mysterious plane incident? Hm...where have we heard that before? The Lost comparisons abound in this new drama starring Once Upon a Time's Josh Dallas, but instead of an island, the passengers return home after experiencing turbulence only to find they were MIA for five years. It seems like Manifest is adding a dash of This Is Us vibes, hoping to break the curse of being "the next Lost" which has often proved to be a new series demise. Remember The Event, Flash-Forward, The Whispers, etc. (Airs Mondays at 10 p.m. on NBC.)
11. God Friended Me: This one, some kid of treacly mash-up of Joan of Arcadia or Kevin (Probably) Saves the World, will live or die by the charm of star Brandon Michael Hall alone. Also, who is still using Facebook? (Airs Sundays at 8 p.m. on CBS.)
10. The Kids Are Alright: This period comedy feels right at home in ABC's solid stable of family sitcoms, and it'll pair nicely with Roseanne on Tuesday nights. However, we can't help but feel for poor Mary McCormack, who's apparently the only female in this series. Here for that Nixon/"phony news" joke though. (Airs Tuesdays at 8:30 p.m. on ABC.)
9. FBI: What does a Dick Wolf series look like when it's not made for NBC? Turns out a bit more cinematic-looking than his usual fare. However, this is standard procedural stuff, nothing more, nothing less. Should fit in well on the network, especially following NCIS. (Airs Tuesdays at 9 p.m. on CBS.)
8. Charmed: This feels very much like a show that should be on air at the moment, with the emphasis on sisterhood and female empowerment, but this trailer seems a little too much like the old Charmed. The CW boss Mark Pedowitz said there are differences and some similarities, but the former is not on display here. Seems like been there, done that. Bring on the fresh twists, please! (Airs Sundays at 9 p.m. on the CW.)
7. New Amsterdam: A new medical drama? For fall? Groundbreaking. OK, maybe that's a little harsh, as Ryan Eggold, from off of The Blacklist, is pretty compelling in this trailer about America's oldest hospital being shaken up by his arrival. But the reveal of his cancer diagnosis felt unnecessary and a little gimmicky? (Airs Tuesdays at 10 p.m. on NBC.)
6. Magnum P.I.: Like Hawaii Five-0 and MacGuyver before it, this will probably succeed whether any of us like it or not. Jay Hernandez is an inspired choice to assume Tom Selleck's iconic lead role. This is the definitely CBS' most CBS pilot of the season, it seems. (Airs Mondays at 9 p.m. on CBS.)
5. The Rookie: Castle is a cop now! Not just any cop, but a rookie cop, hence the name of the show. This will be your mom and dad's new favorite show. An established show and a broad enough concept to truly capture the TV audience. (Airs Tuesdays at 10 p.m. on ABC.)
4. A Million Little Things: Friends From College meets This Is Us with an extreme amount of melodrama…could be a winner. This trailer takes itself very seriously, perhaps even more seriously than its obvious inspiration (NBC's This Is Us). Hard to tell where this goes from here, especially in tone, but we love a good character drama and the network that brought us thirtysomething and Brothers & Sisters has enough of a track record to have us intrigued for now. (Airs Wednesdays at 10 p.m. on ABC.)
3. Single Parents: Wow, Leighton Meester is here with a true nugget: "We're single parents. We don't volunteer, we just try to survive until a time in the day when it's appropriate to open wine." She steals this trailer right from Taran Killam. Give this one more of a chance, ABC (and ABC viewers)! (Airs Wednesdays at 9:30 p.m. on ABC)
2. I Feel Bad: Funny, we feel the opposite of bad after watching the trailer for NBC's only sitcom for the fall, which comes from executive producer Amy Poehler. Starring Blockers' Sarayu Blue as a woman not even pretending to have it all figured out as a wife, mom, daughter and boss, nearly all of the jokes in the trailer landed for us and we're excited to spend time with this new family come September, inappropriate butt-taps and all. (Airs Thursdays at 9:30 p.m. on NBC.)
1. All American: Suddenly, we're feeling very patriotic. The latest from producer Greg Berlanti looks like the mash-up of Friday Night Lights and The O.C. that we never knew we wanted, but suddenly aren't sure we want to live without. Daniel Ezra looks like one of the finds of the season in this fish-out-of-water football drama inspired by NFL player Spencer Paysinger's life. And anything that puts Taye Diggs back on TV is already a winner in our books. (Airs Wednesdays at 9 p.m. on the CW.)
(E! and NBC are both part of the NBCUniversal family.)