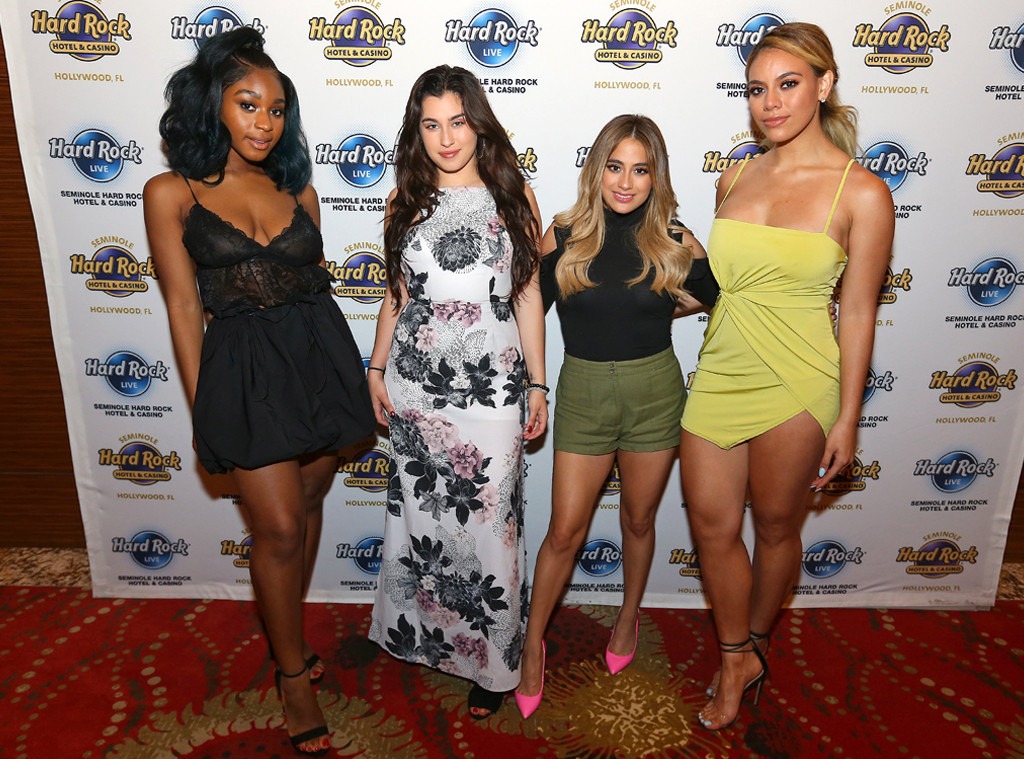 Ralph Notaro / MEGA
Fifth Harmony has taken their final bow.
Before their indefinite hiatus, Fifth Harmony hit social media to thank fans and say goodbye following the group's final show. 
From their official Twitter, the foursome wrote, "We couldn't have asked for a better final show, thank you to everyone who came out tonight! Florida, we love you! You're forever in OUR hearts."
The four-person girl group based in Miami has recently been composed of Ally Brooke, Normani, Dinah Jane and Lauren Jauregui. Camila Cabello exited from the group on December 18, 2016.
On Friday night, Ally, Normani, Dinah and Lauren posed for photos before they took to the stage together at Hard Rock Live at The Event Center Hollywood, FL.
Their final bow was caught by fan @Ana5HBiebvato, who wrote thank you for everything you've done for me the past 6 years. I dont know where I would be without you girls in my life. I cant wait for these next chapters. its definitely no goodbyes, just see you later."
Many Harmonizers shared emotional messages following the final show.
Twitter user @hashtagcatie wrote, "But really @FifthHarmony thank you for an amazing 6 years as a girl group that wasnt scared to embrace girl power and sexuality."
Fan @benn_eccles tweeted, "Does anyone else think fifth harmony should do a reunion already i mean i miss them so much already."
Fan @JeremiahNeil_V wrote, "Can't believe #FifthHarmony is really over."
But they aren't the only ones expressing their sorrow.
Before their final show, the gals also hopped on social media to share their personal tributes to the rest of the group.
On Friday, Normani posted a black and white photo of the gals and wrote, "FOREVER & ALWAYS. I love you more than you'll ever know. Thank God for all of it."
Ally Brooke posted a fun-filled photo of the fab foursome and wrote, "I love you."
On Sunday, Dinah Jane tweeted a photo of the group and wrote, "'til next time x @FifthHarmony."
Meanwhile Lauren Jauregui posted a candid pic from their last night and simply wrote, "Thank you."
On March 19, the girls shocked fans when they announced they'd be taking an indefinite break.
"Reflecting on the past six years since we started on X-Factor, we've realized just how far we've come and we appreciate everything so much, more now than ever," a note from the group said, citing their start on the competition show. "We've really had one hell of a memorable journey together and can't begin to express our gratitude to y'all for coming along with us on this wild ride!"
The note continued, "After six years going hard, non-stop, we also realized that in order to stay authentic to ourselves and to you, we do need to take some time for now to go on a hiatus from Fifth Harmony in order to pursue solo endeavors."
They added, "We are all very excited and grateful to be able to take this time to learn and grow creatively and really find our footing as individuals. In doing this we are allowing ourselves to gain new experiences, strengths and perspectives that we can bring back to our Fifth Harmony family."
They then thanked their fans.
"To our Harmonizers, thank you for everything we have been able to build as Fifty Harmony. With your love and encouragement we will continue to build on ourselves, support ne another in everything we do, and keep making you proud, each other proud and ourselves proud."
They concluded, "We do have some upcoming shows through the end of the year which will still happen as planned, and we can't wait! All our love, from the bottom of our hearts, Dinah Jane, Lauren, Normani and Ally xoxoxo."
Till next time, ladies!