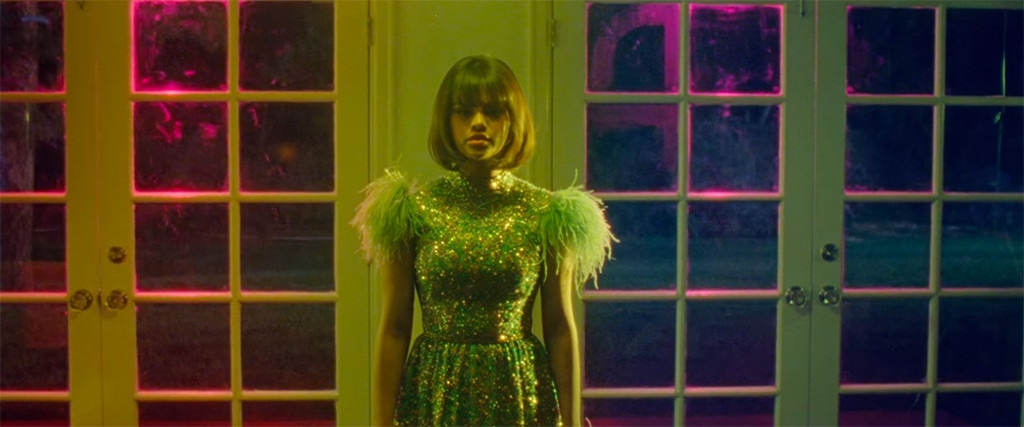 YouTube
Selena Gomez is a music video queen!
The 26-year-old singer hasn't released a full album in quite some time, but thanks to 13 Reasons Why, which Gomez is an executive producer on, we have been gifted with a recent track and follow-up music video.
Over the summer, the Texas native dropped the video for her single, "Back To You" and it was amazing. It was like watching Gomez act in a mini movie and then as a bonus from time to time she would sing. What more could you want?
This music video was such a big deal that it has earned the artist a finalist spot for the E! People's Choice Awards Music Video of 2018 category. Pretty great, right?
Not only is Gomez a finalist in that category, but she is also up for Song of 2018 for "Back To You," Social Celebrity of 2018 and her film Hotel Transylvania 3 is a finalist for Family Movie of 2018 as well. 
Since we can't wait until the People's Choice Awards airs on Sunday, Nov. 11 to get more from Gomez and to see if she does in fact win any of these categories, we've rounded up her best music videos to date.
Why not relive all of the former Disney Channel star's fantastic videos in order to celebrate the fact that she is a serious PCAs contender this year? It sounds like the perfect plan to us!
Gomez has a lot of hits so it won't be easy to decide which video is the best of the best, but once you choose your favorite cast your vote in our poll below.
No matter what you choose, you know it'll be fun to go back through the "Bad Liar" singer's videos because it's like taking a trip back through your childhood AKA it's a win-win!
"Back To You"
Gomez released this mini movie in June 2018 and it was an instant hit. Not only is the track catchy, but the story super fun. Within the video you see Gomez meet a guy at a party and then proceed to runaway to steal a car and then go on a romantic adventure. To make it even more interesting, the video is shot like a silent film with Gomez continually facing the camera and subtitles coming onto the screen to explain what she is saying to her new love.
"Bad Liar"
The 2017 video for "Bad Liar" is one of the most movie-like videos Gomez has ever done. It takes you back to the '70s with the style and as Gomez goes through her school day it's totally relatable. Plus, Gomez plays all of the leads including a man, a cool girl—complete with Farrah Fawcett locks—and your average teen.
"Hands to Myself"
If you thought Gomez couldn't do sexy then you haven't seen this music video. "Hands to Myself" is saucy, sexy and full of spice from the singer. She shows off her killer bod in her lingerie, dances in a Risky Business ensemble and rides a motorcycle with Christopher Mason, who is extremely good looking. This is all before she lounges in her tub and channels her inner pop diva.
"Kill Em With Kindness"
Sometimes the simplest videos are the best. That is the case with "Kill Em With Kindness." It begins with Gomez sitting and singing with a photography backdrop behind her. You then see roses and flashes and simple dress changes, which just works. The entire video is in black and white and it's just so sophisticated.
"Come & Get It"
We will never stop loving this music video. Gomez's style in this video is impeccable. From her corseted black dress to the saucy red number we are in love with her ensembles. The fashion mixed with the epic dance moves in beautiful locations make this one of the artist's best videos ever.
"Fetish"
Okay, so "Fetish" is a little bit of a confusing video, but from beginning to end you're intrigued. What's happening? The character that Gomez portrays is a little bit of a mess and we're not exactly sure what time period this is supposed to be. The photography is funky and fun. Paired with Gomez's great acting skills and outbreaks throughout the video has us hooked…even if we're lost.
"Slow Down"
This song is such a party jam and the video fits that vibe perfectly. Seeing Gomez looking fierce in a car on her way to a club and then watching the dance scenes are so fun. We want to dance every time we hear this track and clearly that's the point based on the video. It's fierce and shows Gomez as a total boss.
"Love You Like a Love Song"
This song is an oldie but goodie and the video is top notch. Gomez takes over the karaoke stage in this video with big and bold curls and wow. She then gets trippy on us and goes into a whole different world complete with purple backdrops and warrior duds. Oh, and who could forget Gomez's Marie Antionette costume in the middle? It's so bizarre and wonderful at the same time.
"The Heart Wants What It Wants"
The best thing about this video is the realness of it. It shows the raw and soft side of Gomez and it pulls at our heartstrings. The pain in Gomez's face is moving and hits us hard no matter how many times we've watched this video.
"Good For You"
Gomez strips down throughout this video both literally and figuratively. She goes nude in a shower scene and stays in simple and minimal outfits to keep the music at the forefront. It's a fresh-faced Gomez, which we love on a real and intriguing level. It might be a little boring compared to her action-packed videos but we like the break from action.
"Wolves"
When Gomez teamed up with Marshmello for "Wolves" we expected something unique and we weren't disappointed. The singer looks glamourous as she sits in a locker room and struts her stuff in that fabulous glitter gown. It's animalistic, fresh and electric. PS: That diving board scene is amazing.
Selena Gomez's Best Music Videos